Find Tile Roof Repair Contractors near you
Please enter a valid zip code
MyHomeQuote puts you in touch with trusted roofing contractors in your area. Complete our short questionnaire to get clear-cut roofing quotes at no cost.
Tile roof repair near me: Locate contractors with MyHomeQuote
Did you notice chips or cracks on your tiles? It's time to hire a contractor specializing in roof tile repair near you. With MyHomeQuote, you can find a reliable roofer without breaking a sweat. We've tapped into a network of roof tile repair experts across the USA, from coast to coast. Thus, whether you live in Washington, D.C., or San Diego, you can quickly locate the best contractors in your area with us. MyHomeQuote is a boon for homeowners in quest of tile roof repair contractors. Need a professional with a specific skill set and experience? Fill in the form below! We'll consider all your requirements when screening out specialists in tile roof repairs near you. To narrow down the area of the search, specify your ZIP code!
GET ACCURATE ESTIMATE
Including price quotations from local pros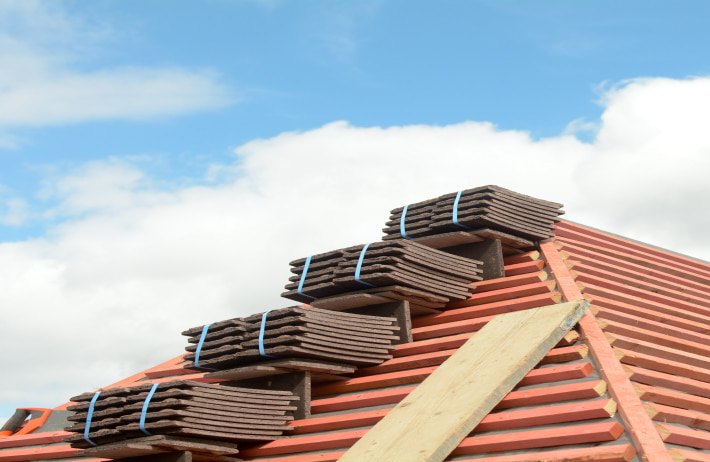 Streamline Your Roofing Project With MyHomeQuote

Step 1
Discover Top Local Roofers
Complete the form to book certified roofers in your county, ready to repair or replace your roof.

Step 2
Get Free Project Estimation
Calculate your roofing project by specifying your needs, preferences, and location.

Step 3
Get Custom Roofing Quotes
Get up to 4 offers from local roofing pros and pick the best bid based on your budget and expertise needs.
Transform Your Home with Expert Roofing Contractors

Locate Roofers for Free
Browse through local roofing professionals, acquire their rates, communicate, and book appointments without no cost upfront

Compare Roofing Quotes
Review proposals for your roofing project, assess bids, and examine contractor profiles and qualifications - all in real-time

Hire Vetted Roofers
Partner with top-rated professionals in the local market, renowned for their exceptional work and complaint-free reputation
12.000 +
homeowner requests processed daily
80.000 +
renovation projects performed annually
73%
homeowners get back to us for more quotes
3 out 5
contacts with contractors end up closing a deal
Here's what clients who found local roofers through MyHomeQuote say
roofing
Love the way this platform works
I'm writing to express my gratitude to the support managers who helped me find a professional roofing crew in Atlanta.
roofing
My roofing installation project was completed successfully
I hired roof installation guys through MyHomeQuote. No suggestions for the platform work. Will definitely use it again.
roofing
Prompt service, clear-cut quotes
I found handy roofing contractors in Charlotte's suburbs through this platform.
roofing
The work is done okay
I experienced no trouble booking contractor services. Fair pricing for the job provided.
roofing
It worked out well for me
It took them time to find good roofers for me. But I ended up hiring an expert roofing contractor in Omaha.
roofing
The more services like this, the better
I found a crew of skilled roofers here for less than an hour. They did a great job. I would recommend MyHomeQuote to friends.
What is the role of MyHomeQuote in matching homeowners with clay roof repair contractors?
As roofing services aren't something you often employ, searching for a credible company may become a tough job. You can ask your friends or neighbors to share the contacts of specialists in clay tile roof repair near you, but it'll hardly work out. Firstly, your project may require a different level of competency or specific equipment that not all companies possess. Secondly, you may be more interested rather in a top-rated clay roof repair company than a mediocre one.
MyHomeQuote is a platform of choice to locate the best-matching contractor. We carefully analyze your request for tile roof repair near you to ensure:
Vetted contractors. We verify the state-level licenses and credentials of the specialists we connect you with. All of them are qualified to perform the required scope of work.
Positive reviews. MyHomeQuote has a Sherlock Holmes or two on board. They are responsible for collecting customers' reviews and handpicking the best options.
Budget-friendly quotes. Once you send your request, you'll get at least 5 quotes from multiple contractors. Compare services and prices to select the most cost-effective option.
Roof tile repair near you: When it's better to consider replacement instead
Many homeowners pull out all the stops to put off roofing replacement because of the financial costs involved. Even though, sometimes, it can be enough to schedule tiled roof repairs near you to nail the issue, there are situations where it's better to invest in a new housetop from the outset. The list can include but is not limited to:
Age of the roof. If you haven't replaced your housetop for the last 25 years, repairs won't help in the long run. Tiles can become brittle due to the harsh weather conditions.
Extensive damage. Replacement can be more reasonable and cost-effective if over 45% of tiles are cracked and broken.
Leaks. If you have noticed multiple leaks, you may not do without a roof replacement, as its underlayment can be damaged too.
Mold or rot. A simple repair can't help you deal with extensive mold growth. Thus, replacement is the best solution.
Enjoy pro-level roof repairs near you with MyHomeQuote
In 7 out of 10 cases, a roofing project feels like a burden, but you can lessen it with professional assistance. An experienced roofer can help pinpoint all problem areas and suggest the most effective strategy so that you can save time and money. Have no idea what clay roof repair company can be just the ticket? MyHomeQuote is here to help you connect with the best-matching one.
When you fill in the form, specify all the details of your roofing project and services you would like to schedule. If you are unsure about the scope of work necessary, include an inspection on the list. We'll search for the ideal candidate based on your demands.
FAQ
What key factors should I consider when hiring a tile roof repair contractor?
Previous experience reflected in testimonials and reviews is one of the most valuable things. You should also ask about the presence of a valid license and insurance. Plus, find out whether you'll get a satisfaction guarantee.
How do I verify the qualifications of a potential clay roof repair contractor before hiring them?
Check whether the contractor is licensed to work in your state and has certifications from trade organizations. Use Google and Yelp to learn more about their completed projects. Monitor their communication style to notice red flags like impoliteness.
How to compare the quotes provided by different tile roof repair contractors effectively?
Compare the scope of work to understand what exactly you are paying for. Pay attention to whether the quotes include both labor and materials costs. If you detect the latter, check their quality
Find thoroughly assessed and
approved local professionals
for major home improvement tasks
Please enter a valid zip code