Top-Performing Gutter Installers Near Me
Please enter a valid zip code
MyHomeQuote puts you in touch with trusted gutter contractors in your area. Complete our short questionnaire to get clear-cut gutter quotes at no cost.
Experienced Gutter Contractors Near You - Explore Top-Quality Local Services With MyHomeQuote
Gutters, as the core components of the drainage system, collect water from the roof, directing it away from the base and protecting the foundation from damage. If your house still lacks properly functioning gutters, installing new ones by an accredited gutter contractor should be at the top of your agenda. Otherwise, you may encounter roof damage, landscape erosion, and even foundation cracks. The starting point of your gutters update journey is to find a dependable gutter company near you that can accomplish the installation project in accordance with the local building norms while considering the structural features of your home. MyHomeQuote is an online service designed to help you hire the best local contractors. Complete our request form today to get personalized offers from gutter installers near you. It's free and swift!
GET ACCURATE ESTIMATE
Including price quotations from local pros
Streamline Your Guttering Project With MyHomeQuote

Step 1
Find Local Gutter Experts
Discover certified gutter pros by placing your request on our platform and selecting the best offer from the available.

Step 2
Estimate Gutter Project
Are you looking to update your gutters without going over the budget? Get gutter replacement estimates with us.

Step 3
Get Free Guttering Quotes
Get our FREE guttering quotes and discover the best opportunities to protect and repair your drainage system.
Affordable and Reliable Guttering Solutions for Your Home

Find Local Gutter Pros
Locating skilled guttering contractors in your area is now a hassle-free process. Our service connects you with local experts who specialize in providing top-tier guttering solutions tailored to your unique requirements.

Get Free Guttering Quotes
Safeguard your home from potential water damage with reliable assistance from top-rated guttering professionals nearby. Request their quotes for free and compare them in real time.

Book Best-Matched Services
Book gutter installation and replacement services from our vetted guttering professionals operating nearby. Select the right pro for your needs and experience top-class service and support every step of the way.
12.000 +
homeowner requests processed daily
80.000 +
renovation projects performed annually
73%
homeowners get back to us for more quotes
3 out 5
contacts with contractors end up closing a deal
Here's what clients who found local gutter contractors through MyHomeQuote say
gutter installation
Agreeable quotes, instant feedback
I got my damaged gutter replaced in 2 hours. The HQ's staff was super efficient in responding to my request. Seems like a very good service.
gutter installation
No problems along the process
Everything went smoothly. The gutter protection pro was found instantly. Will recommend this service to my neighborhood community members.
gutter installation
I'm pleased with their efficient service
First, these guys did a perfect sales job. Second, their gutter installation offers were relevant and affordable. My multiple questions were diligently answered, and finally, the contract was signed.
gutter installation
Responsive customer service
I got a detailed phone consultation on my gutter issue with the MyHomeQuote representative. We agreed on the best solution as well as the day and time when a technician should show up and overhaul my gutter protection system.
gutter installation
I'd highly recommend MyHomeQuote
I left my request, and within 12 hours, they responded and provided me with a written estimate for new gutters and gutter guards installation. It was a pleasure to work with their call center staff.
gutter installation
Dozens of gutter cleaning and repairing pros
I was amazed to come across so many gutter cleaning and repairing specialists on this platform. I accomplished a short questionary on this website and got 7 estimates the next day. Great that they cooperate with so many guttering pros in my city.
Compare Top-Rated Gutter Contractors Near You with MyHomeQuote
In a world replete with choices, making the right decision can often be overwhelming. This is especially true when it comes to gutter companies. With many professing expertise and promising stellar outcomes, the challenge is discerning real value from clever branding. In order to prevent untimely damage to your house, like leaks and foundation issues, making the right choice is imperative. That's where MyHomeQuote steps in! Our notable contractor-matching service, with thousands of certified gutter contractors on board, improves your odds of identifying the ideal match for your unique requirements.
Here at MyHomeQuotte, we sift through heaps of service providers countrywide to provide you with only those who adhere to stringent quality parameters. With the advantage of verified reviews, you can locate gutter companies near you that have proven themselves through numerous successful projects.
What makes this even better is that you don't have to know everything about gutters to choose wisely. MyHomeQuote presents you with a whole set of tools to learn about and compare providers of gutter services near you. With us, you can make an informed decision based on cost, customer service, and quality of work. Remember that investing in a reputable local gutter company can save you a lot of inconvenience and expenses down the road. Choose wisely, choose with MyHomeQuote!
How Does Our Contractor-Matching Service Work?
The MyHomeQuote contractor-matching service aims to accelerate the process of finding the right professional for your home project needs. Whether kitchen renovation or gutter installation, our network counts hundreds of thousands of pre-screened contractors in every demanded segment of the home improvement services market. Look below to discover how our service works
Project Description
Everything starts with completing a request form on our website. You should specify your project type, ZIP code, contact info, and your guttering project specifics. The given data helps us match you with gutter contractors near you who best meet your budget and expertise expectations. Our system can locate narrowly focused specialists with proven proficiency in working with specific gutter types. Our efficient matching process eliminates the time and stress involved in manually searching for the perfect contractor for your guttering needs.
Matchmaking
Once the project information is received, our sophisticated algorithm starts to analyze it to discover the best matches for the given requirements. Thanks to our ever-growing selection of gutter installation crews, the precision of the match will be extremely high. We not only factor in the contractors' proximity to your location but also evaluate their expertise and suitability for your project. Consequently, we aim to offer you top-notch gutter contractors who can handle your specific type of work remarkably well.
Quotes Request
For your convenience, you get verbal price quotes directly from the selected contractors. The offers are non-binding, and you can compare them at your own pace. On top of that, we provide an estimated gutter cost guide, helping you understand what fair pricing looks like. These price quotes give you a clear picture of what to expect in terms of cost, allowing you to make budgetary adjustments if necessary. It's important to note that these quotes take into account different factors, such as the project's complexity, the contractors' expertise, and local market rates, among other factors.
Hiring Decision
Based on the quotes received and the information available, you can make an informed decision and hire the best contractor who installs gutters near you. The strength of our system is reflected in the careful selection process used to filter gutter contractors, ensuring they are trusted and hold an excellent record of customer satisfaction. Furthermore, by focusing on quality and reputation, MyHomeQuote prioritizes superior workmanship, lifting the standard of excellence across all projects.
By handling the legwork of researching contractors, we make it easy and convenient to find and hire a high-quality gutter installation company for your project. Leave your request with us to reveal the whole scope of advantages our service offers.
What Guttering Services Can You Book With MyHomeQuote?
When it comes to the broad spectrum of guttering services, our contractor-matching service emerges as a one-stop solution provider for all your requirements. As you navigate our platform, you'll discover that our partner contractors offer far beyond installation. Whether routine maintenance, crucial repairs, replacement of worn-out systems, or setting up gutter guards for increased longevity, MyHomeQuote ensures that every integral aspect is well catered to. Through our network of skilled local gutter companies, we commit to delivering optimum results, regardless of your guttering needs.
Here are the guttering services you should expect to get from our vetted professionals in your area:
Gutter Installation
The primary specialization of our gutter pros is undoubtedly installation. They possess years of experience in this field, regularly improving their knowledge and skills. If you seek the best gutter installation near you, no doubt, MyHomeQuote is the answer. Our pros have an eye for detail that ensures perfect installation, avoiding mishaps in the future.
Besides gutters, they also install essential accessories to keep your home's drainage system intact. Whether you need gutter guards, downspouts, end cups, or splash blocks, they will order and install these elements following the highest quality standards.
Gutter Replacement
Replacing gutters with MyHomeQuote's guttering experts is always about quality, respect for deadlines, and comprehensive support. Our pros always start a project by performing a thorough inspection and providing an accurate assessment of whether the existing gutters need to be replaced or repaired. They safely remove the old gutters, take measurements, and then install new units with high precision to ensure they are properly aligned and securely attached. Finally, they clean up debris and conduct a final inspection.
The best part is that our gutter installation companies are trained to work with systems of all types and configurations, including widespread half-round and seamless gutters. Plus, they have a good understanding of each gutter material's properties and best installation practices. From lightweight and rust-resistant aluminum gutters to premium-quality and elegant copper gutters, you can expect our contractors to provide you with the best solution for your house needs.
Book gutter replacement near you now to enjoy ultimate convenience and safety of mind about the quality and durability of your newly replaced guttering system. The first step is to fill out the request form on the website.
Gutter Repair
Our certified contractors have years of experience in gutter repair under their belts. They have encountered various gutter issues, and this experience ensures they can handle repair or any scale and complexity. You can rest assured they know all aspects of gutter repair, from safety codes and standards to the latest technologies and techniques. That is why entrusting them with repairing your damaged or overflown guttering system will bring you the expected rewards.
Locating top-rated gutter service near you will be much easier with MyHomeQuote. Just complete the request form on our website and get free price quotes from vetted local professionals.
How Can You Benefit by Hiring Gutter Companies Near You With MyHomeQuote?
MyHomeQuote is a reliable nationwide service that makes homeowners' lives easier by automatically connecting them with local contractors who meet their budget and skill needs. Our company never stops raising the bar, putting a premium on client satisfaction, and offering win-win solutions for local businesses and homeowners.
Here is why MyHomeQuote is your one-stop online platform to discover the best gutter companies near you:
Verified contractors. We ensure that our professionals are licensed, insured, and background-checked. That is why searching for companies providing gutter installation near you via MyHomQuote is always a safe bet.
Wide network of pros. We boast a vast network of gutter contractors operating nationwide, allowing you to find the perfect fit for your needs.
Ease of communication. We make it easy for homeowners to communicate directly with gutter installation companies near them, fostering transparency and clarity.
Fair pricing. Our in-depth pricing guides help homeowners get an idea of the actual cost of a gutter project and plan their budgets accordingly.
FAQ
What Factors Determine the Cost of a Gutter Installation Job?
The cost of new gutters is primarily determined by their type and material, as well as the size and design of your home's roof and the labor required for the installation process. Additionally, if existing gutters need to be removed, it will add to the cost.
What Does the Gutter Installation Process Encompass?
The gutter installation process begins with an assessment of the current drainage system. This is followed by taking measurements to plan the gutter system. Once the planning is complete, the gutter sections are then cut to fit these specifications, securely fastened, and properly sealed.
What Steps Should I Take to Prepare for My Gutter Installation Project?
To prepare for your gutter installation project, you should contact a professional gutter installation company to assess your home and provide a cost and time estimate. Clean and clear the surrounding area where the work will take place to speed up the process. Informing your neighbors about the upcoming work could also avoid any potential disturbances.
What is the Typical Cost of Gutter Installation?
The cost of gutter installation may vary depending on the type and material of a system as well as the size of your home. Factors like local labor rates and the selected brand of a guttering system also affect the estimated project cost. The average price homeowners typically spend on new gutters varies from $600 to $1,750. High-end gutter installations can cost up to $2,500. The per-foot cost of gutters can range from $3 to $30.
What are the Signs that Gutters Need Replacing?
If you notice that your gutters are sagging or pulling away from your house, it could indicate that they're full of water and pulling away under the weight, signaling a need for replacement. Similarly, any cracks, splits, or signs of rust on your gutters are telltale signs. Regular overflow, water damage signs, or mildew near the foundation are other indications your gutters may need replacing.
Do I Need a Permit to Install Gutters?
Almost no states require you to have a permit to install gutters on your home. Nevertheless, it's always a good idea to check with your local building codes office to make sure, as regulations can vary depending on your location.
What Should I Consider When Looking for a Gutter Contractor?
Look for a contractor with substantial experience and positive customer reviews. They must be licensed and insured for your protection. They should offer a written estimate and warranty. The quality of materials they choose and their ability to explain the installation process speaks to their expertise in the field.
Do Gutter Contractors Usually Provide an Initial Inspection/Estimate for Free?
Yes, most gutter contractors offer free initial inspections and estimates as a part of their standard service. This helps them understand the complexity and size of the job to provide an accurate quote. MyHomeQuote is a convenient tool to get free quotes from local gutter professionals. By filling out a brief form, you can receive free, no-obligation quotes from multiple pre-screened contractors in your area.
What Maintenance is Required After the Gutters are Installed?
After gutter installation, regular maintenance is necessary to ensure their longevity and efficiency. This includes cleaning the gutters at least twice a year to remove debris and leaves that can cause clogs. Look for and repair any leaks or holes promptly. Make sure the downspouts are directing water away from the house foundation. Finally, check that the gutters are securely fastened and replace any worn-out hardware.
Is it Worth Paying for a Professional Gutter Installation?
Yes, investing in professional gutter installation is worth it. Professionals have the right tools, expertise, and skills to ensure the job is done correctly and safely. Properly installed gutters protect your home from water damage, saving you significant repair costs in the long run.
Does a Gutter Installation Come With Any Warranty?
Yes, most gutter professionals provide a warranty on their installation services. The terms can vary depending on the contractor and the materials used, but it is common to see warranties from one to several years for workmanship. Guttering system manufacturers may also provide a separate warranty that covers defects in the materials, which can extend up to 50 years.
Should I Choose the Same Material for My Downspouts as My Gutters?
It's typically recommended to choose the same material for your downspouts as your gutters, especially from an aesthetic point of view. Similar materials will match better and provide a more cohesive look. Also, using the same material ensures the same level of durability and weather resistance for both components.
What are the Warning Signs of a Poor Gutter Installation?
Warning signs of a poor gutter installation include sagging or hanging, visible gaps or leaks between gutter sections, and water pooling or signs of water damage around the home's foundation. Plus, you can notice your gutters are poorly pitched and don't direct water to the downspouts properly. If gutters are overflowing during rain or if there is frequent clogging, it might also indicate an improper installation.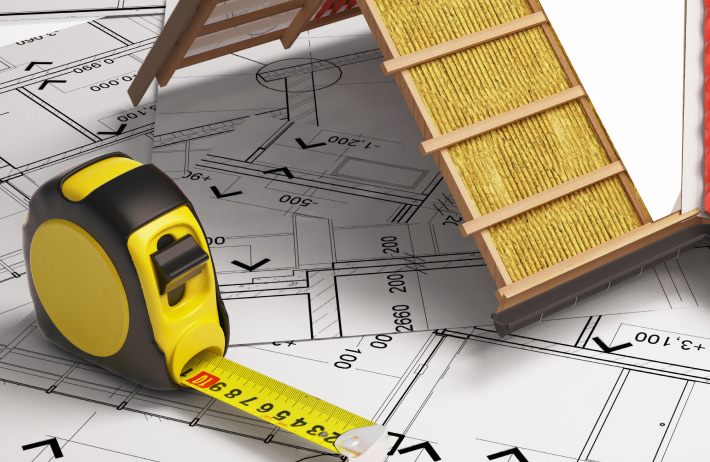 Find thoroughly assessed and
approved local professionals
for major home improvement tasks
Please enter a valid zip code