Ten years ago, flat roofs were mainly used for commercial buildings and business hubs. They freed up interior space for tenant offices and significantly reduced energy costs. Over time, these properties have been appreciated by many homeowners. Therefore, space-enhancing flat roofs are increasingly being used in residential projects today. Despite all the advantages, materials used for flat housetops are prone to wear. At some point, replacing a roof is a more cost-effective solution than repairing it. In this case, you should know what to rely on when planning a budget.
The typical homeowner bill for a flat roof replacement is $10.800, while the national average cost ranges from $4.000 to $16.800. Nevertheless, the total project cost might be as high as $30.000 for large and complex projects.
| | |
| --- | --- |
| National average cost | $10.800 |
| Low-end cost | $1.000 |
| High-end cost | $30.000 |
| Average price range | $4.000 - $16.800 |
The cost to replace a flat roof per square foot
When budgeting your project, the roof size is the first critical factor. The larger it is, the more materials and the roofer's efforts are required. Since the size is different for each building, you can target a flat roof replacement cost per square foot of $3 - $11 on average. Counted separately, materials can cost you between $0.15 - $8.00, while the installer charges $2.00 to $4.50 per square foot. But note that you can be charged per square, that is, 100 square feet. In this case, the total price is $300 - $1.100.
| | |
| --- | --- |
| Flat roof material cost per sq. ft. | $0.15 - $8.00 |
| Flat roof labor cost per sq. ft. | $2.00 - $4.50 |
| Average total cost per sq. ft. | $3 - $11 |
| Average total cost per square | $300 - $1.100 |
The cost of a new flat roof by its size
Getting the final estimate is only possible after discussing all project details with a professional roofer. However, if you know at least the square footage of your roof, you can multiply this entity by the cost of a flat roof per square foot and get the approximate budget.
| Roof size | The average cost range |
| --- | --- |
| 1,000 | $3.000 – $11.000 |
| 1,500 | $4.500 – $16.500 |
| 2,000 | $6.000 – $22.000 |
| 2,500 | $7.500 – $27.500 |
| 3,000 | $9.000 – $33.000 |
| 3,500 | $10.500 – $38.500 |
Flat roof replacement cost calculator
Replacing a roof is essentially reinstalling it. That's why some homeowners who have experienced installation rely on their previous budget when it comes to replacements. However, prices for materials and labor tend to change annually. So it makes sense to study the current prices and, based on this, plan your budget anew.
The labor cost of a flat roof replacement
Qualified roofers know the features of a flat roof, have the right equipment and tools, and in most cases, provide guarantees for their work. Professional roof replacement services can make up 60% of the total estimate and should always be considered when budgeting.
Contractors working with flat roofing systems often charge $2.00 to $4.50 per square foot or $200 to $450 per square. Nevertheless, their services can also be billed by the hour, with average rates ranging from $60 to over $90.
Please note that the final flat roof estimate may include more than just hours spent directly replacing it. Contractors also take time for preparatory work, including roof inspection, to assess its condition and make repairs if necessary.
| | |
| --- | --- |
| Labor cost per sq. ft | $2.00 - $4.50 |
| Labor cost per hour | $60 - $90 |
Fluctuation in labor costs by location
The state where you hire a contractor always matters when determining the cost of a flat roof replacement. For example, California or New York are characterized by a higher cost of living than Colorado and Minnesota. Consequently, the hourly rates are also higher there. Besides, additional license fees and strict licensing regulations in some states raise roofers' rates.
The average labor cost to replace a flat roof
| Location | The average cost range |
| --- | --- |
| Minneapolis | $1.820 – $5.730 |
| Los Angeles | $2.880 – $7.770 |
| Miami | $3.830 – $10.710 |
| Long Island, NY | $3.210 – $9.470 |
| Denver | $2.790 – $8.440 |
Locating trusted roofers in your state is always simpler and quicker with MyHomeQuote. Just leave your request to compare the rates of qualified roofing professionals in your area and choose the best fit.
Flat roof replacement cost by type
Materials used for flat roofs have a huge price range from $2 to $16 per square foot. When shopping around for the best roofing for your home, remember that the material price increases along with its service life and strength level. Therefore, by installing more durable options initially, you are likely to avoid frequent repairs.
| Material type | Average cost per sq. ft installed |
| --- | --- |
| Built-up tar | $3.50 - $7.50 |
| Modified bitumen | $4.00 - $7.50 |
| Spray foam | $4 - $7 |
| Fiberglass | $3.50 - $7.50 |
| | $4 - $10 |
| | $5.00 - $12.00 |
| | $4.00 - $10.00 |
| Flat Concrete | $4.00 - $15.00 |
| Metal | $5.00 - $16.00 |
| Rolled asphalt | $2.00 - $5.0 |
Built-up tar
The principal value of this roof lies in its fire resistance. In the event of a fire, it prevents it from spreading throughout your home and allows you and other residents to gain time and evacuate. In addition, its service life can reach 30 years, but only with a quality installation, which can cost you $3.50 - $7.50 per square foot.
Modified bitumen
If you choose this type, expect to pay $4.00 - $7.50 per square foot. The weak point of modified bitumen roofs can be the seams that connect self-adhesive rolls. If loosened or damaged, they can cause leaks. But this rarely happens with proper installation.
Spray foam
Also known as polyurethane, spray polyurethane foam roofing is relatively lightweight compared to metal or concrete options. As a result, it simplifies installation and reduces stress on the structure, minimizing the risk of its damage. In addition, since it has no seams, you don't have to worry about them loosening up and causing leaks. The price per square foot ranges from $4 to $7.
Fiberglass
Fiberglass or GRP roofing is primarily famous for its service life, reaching 50 years. Each installed square foot may cost about $3.50 - $7.50. The only caveat is that this type is hardly suitable if you have a large roof. When installed over large areas, it can cause ponding and subsequent cracking. And this, in turn, threatens to leak.
Rubber EPDM
Due to its flexibility, rubber EPDM material can quickly adapt to your roof, regardless of its configuration and shape. First, it simplifies installation. Just as important, this flexibility prevents cracks often resulting from thermal expansion and contraction. This material and its installation will cost you about $4 to $10 per square foot.
PVC membrane
PVC does not qualify as budget material as its cost per square foot starts at $5.00 and can go up to $12.00. But this is the case when the investment pays off. It can last up to 30 years, unlike EPDM, TPO, or modified bitumen alternatives. Moreover, it reflects up to 95%, lowering your energy bills by 30%.
Thermoplastic polyolefin (TPO)
TPO has a typical flat roof lifespan of 10-25 years. But during this time, you do not have to bother maintaining it. As a plus, it can withstand ponding water for up to 72 hours, so the drainage system has enough time to remove water. With this material, a flat roof cost per square foot is $4.00 - $10.00 installed.
Flat concrete
Flat concrete roofing is widely used in commercial, residential, and industrial projects. The main reason for the high demand is the 50-60 year service life. Another advantage is that this roof can serve as a functional space. For example, you can use it for a seating area or a rooftop garden. When choosing this material, be ready to pay $4.00 - $15.00 per square foot.
Metal
Metal surpasses all other materials on this list in terms of durability, as it can last up to 80 years. If you have a contemporary style home, this material perfectly suits it. Although you can pay $5.00 - $16.00 per square foot, you will unlikely consider replacing your flat roof again. In addition, a metal roof is one of the value-adding features when reselling a home.
Rolled asphalt
If you are on a tight budget or want to avoid investing a lot in your roof replacement project for some reason, rolled asphalt will be your solution. With this material, flat roof cost per square foot will be $2.00 - $5.00. But the low price comes with the same low service life of 5-20 years.
Other factors that affect the flat roof cost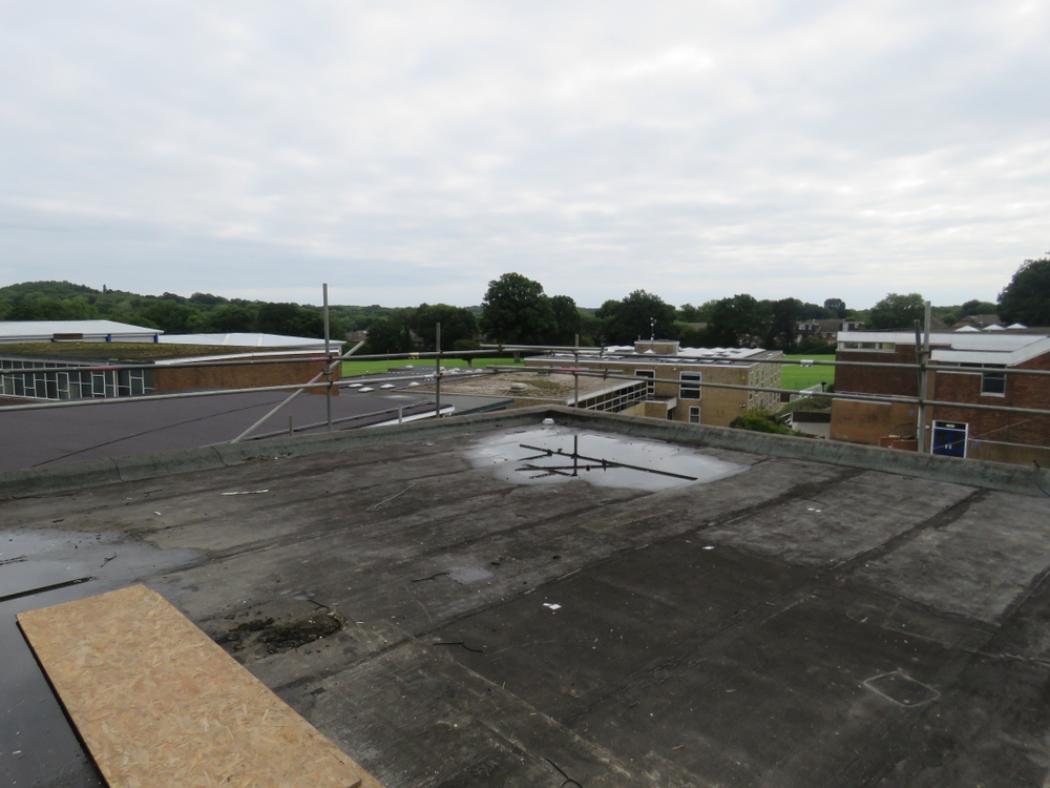 When discussing the details with the contractor, you can find that your project requires additional costs beyond those you considered in the original budget. Many of these may be necessary as they are related to protecting your roof from leaks. But your individual design preferences, such as skylights, also add to the final cost of a flat roof.
| Pricing factor | Average cost |
| --- | --- |
| Getting building permits | $150 - $500 |
| Roof inspection | $120 - $300 |
| Removal of old roofing materials | $1 - $2 per sq. ft. |
| | $300 - $1.250 |
| Sealing the surface | $50 - $500 |
| Coating the surface | $500 - $2.000 |
| Insulation | $1.000 - $2.000 |
| Venting system installation | $200 - $700 |
| Roof drains installation | $600 - $1.000 |
| Skylight installation | $500 - $3.000 per skylight |
| Flashing | $400 - $1.000 |
Getting building permits
Depending on your municipality, you may need some roofing permits. They add $150 - $500 to the final new flat roof cost, but you risk future fines and sanctions if you ignore this requirement. In addition, these permits are essential to insurance companies. They may deny you coverage if roof work violates local building codes.
Roof inspection
Getting permits often involves inspecting your roof at various stages of replacement. If so, you may pay $120 - $300. Their main goal is to ensure that the selected materials and the contractor's work comply with the building codes.
Removal of old roofing materials
Removal of a current flat roof is primarily necessary when its year lifespan has ended. Often this happens 10-25 years after installation. Other reasons for removing it may be significant wear or damage that cannot be repaired. This service will cost you $1 - $2 per square foot if needed.
Flat roof repair
If the damage isn't severe enough to replace the roof, you may get by with repairs costing between $300 and $1.250 on average. But do not try to determine the actual extent of the problem on your own, but rather entrust it to a professional. For example, you may be worried about a simple leak. But the contractor can determine that critical structural components have been weakened and the stability of your home is at risk.
Sealing the surface
Sealing has several vital functions, including but not limited to protecting against water damage, improving your roof's energy efficiency, and extending its lifespan. In general, many manufacturers and roofers recommend resealing a roof every 2-4 years. Although this service increases the total cost of replacing a flat roof by $50 - $500, it minimizes the risk of future leaks and related repairs.
Coating the surface
Roof fading and cracking are often the result of harmful UV rays. To avoid them, roofers coat the surface with a special sealant and charge $500 - $2.000 for this service. The coating is critical not only to preserve the appearance of your roof. It also serves as an additional barrier that protects the roof's underlying layers from water.
Insulation
Since the insulation prevents condensation formation, you are unlikely to experience such problems as rot, mold growth, and deteriorating air quality in your home. Plus, it keeps your home cool in summer and warm in winter, lowering your energy bills. Thus, having initially paid $1.000 - $2.000 for insulation, you save in the future.
Venting system installation
Ventilation installation costs $200 - $700, but it is an investment in your comfort and safety of roof materials. It releases the heat actively absorbed by the flat roof, which keeps the house cool even without air conditioning. Also, by minimizing temperature differences on both roof sides, ventilation prevents blistering and cracking.
Roof drains installation
In most cases, installing drains is an unavoidable cost item in a flat roof replacement budget. Due to its shallow slope, such a roof simply cannot cope with water outflow properly. As a result, water accumulates and seeps out, causing leaks. Drains, in turn, serve as a water-removing solution. Installing them ranges from $600 to $1.000, but it's still cheaper than fixing numerous leak-related issues.
Skylight installation
Aesthetic-enhancing skylights are considered energy efficient as you use artificial heating and lighting less frequently with them. They allow natural light to pass through, which improves your well-being and sleep. While each skylight can add $500 to $3.000 to the final flat roof replacement estimate, their presence increases the home's resale value.
Flashing
Flashing is one of the anti-leakage solutions vital with a flat roof. The price of its replacement and resealing is $400 - $1.000. But it dramatically protects seams and joints from water intrusion. In addition, being correctly installed and well maintained, flashing enhances your roof's look by creating a professional finish and smooth transitions.
Professional flat roof installation vs. DIY flat roof installation
A do-it-yourself replacement can save you a lot because labor costs make up the lion's share of the total expenses. However, the latest US roofing industry report shows that the roof replacement service is the most sought-after on the market. It means homeowners are still willing to hire professional roofers for this work. And there are some good reasons for that.
Expertise level
If you choose DIY replacement, you must learn the process and its steps from scratch. Despite the vast number of tutorial articles and videos, they can't reflect all the features/issues of your roof that play a critical role when replacing. In contrast, a skilled roofer has experience with this roof type and can adequately assess your home construction and roof condition to ensure a quality replacement.
Turnaround times
In addition to learning the flat roof replacement process, you will also spend time selecting and comparing materials as well as purchasing the necessary equipment. In turn, the hired roofer already has the equipment to start work, understands the pros and cons of each material, and knows which manufacturers offer the best quality. What is also essential is that you may have many questions and difficulties in the work process that will take additional time. But, an experienced contractor knows what complications may arise and is prepared for them.
Degree of responsibility
Flat roofs are more prone to leaks, especially if not properly installed or waterproofed. If you replace the roof yourself, you risk making a mistake that will lead to costly repairs in the future. In this case, all responsibility lies with you. If you hire a contractor, they are responsible for the quality of their work. Some even provide warranties or insurance coverage for your peace of mind. This way, you know who to contact if any problems arise with your new flat roof.
Find Flat Roofing Contractors Near You
FAQ
How long do flat roofs usually last?
Responsible maintenance and original installation quality greatly matter for the roof's lifespan. On average, it serves homeowners for 10 to 25 years. But this period may considerably vary depending on your chosen material. For comparison, rolled asphalt lasts 5-20 years. However, you can get a reliable roof for the next 80 years while choosing metal.
What are the common problems with flat roofs?
Leaks are a major pain for many homeowners who install flat roofs. But this is only a visible problem that may signal a more serious one. For example, leaks are often the result of water ponding, which is typical for this type of roof due to the minimal slope. In addition, a leak may indicate a damaged membrane, which is also quite familiar, given that a flat roof membrane is prone to cracking due to wear or external factors.
How to prevent flat roof leaks?
The first and most critical preventative measure is to hire a qualified roofer to install/replace it, as many leak-leading problems are due to poor installation. After that, inspect your roof at least twice yearly to find and fix issues before leaks bother you. Finally, check the drains regularly; if they become clogged, be sure to clean them out.