Not only does a worn-out-looking housetop deal a nasty blow to your home's aesthetics, but it also speaks of viable problems to come. Years of exposure to the elements make the roofing material fade and lose its integrity, developing map cracks. While a full-scale makeover is crushingly expensive, you can revamp your housetop with a fresh lick of paint. It'll expand your roof's lifespan, protecting your tiles and shingles from breaking down. And no, the roof paint cost won't break the bank.
You might have heard that roofers recommend repainting a roof every 5-7 years, depending on the material. The thing is that UV rays and temperature fluctuations negatively affect the paint layer, leading to premature deterioration. Thus, even though renewing your roof's coating may seem burdensome, this allows you to ensure optimal performance and avoid costly repairs.
The national average cost of roof painting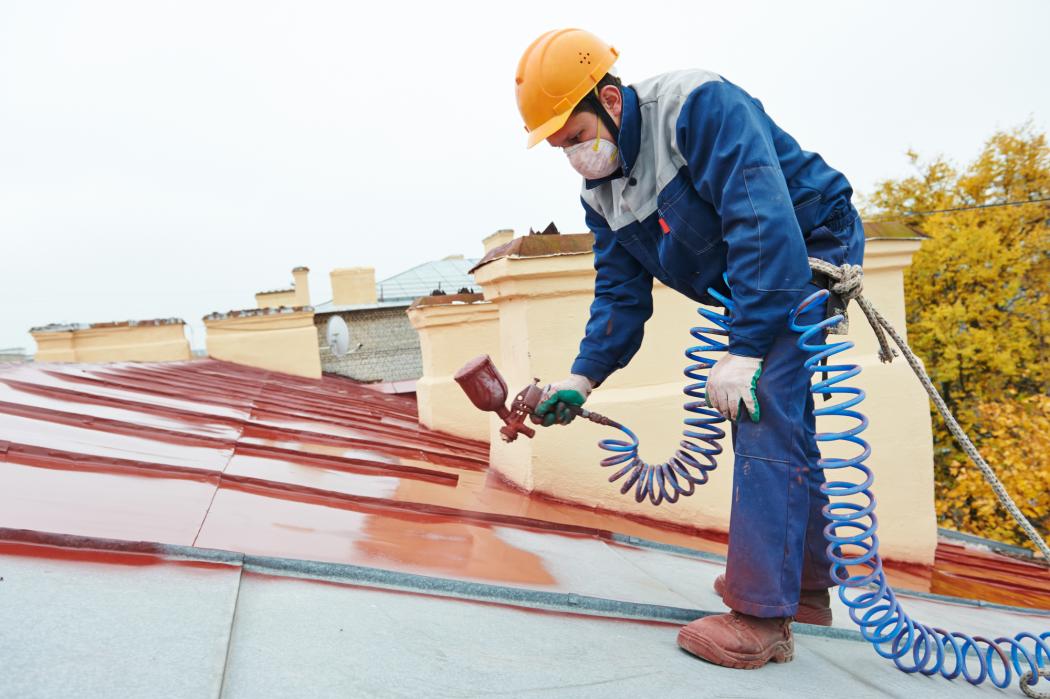 You can't use random roof paint prices and labor costs when budgeting for your housetop painting project. To make it a success story, you should consider an array of factors, from your roof material to slope to accessibility. For example, difficult-to-reach areas may require additional equipment, leading to higher fees. And a large roof with a complex design, including features such as steep slopes, valleys, or dormers, will call for more paint and labor to get the project done. It's not to mention that the cost to paint a tile roof and a metal one will also differ because of the prep work required.
If you live on a budget and can't afford many expenses, you can go for low-cost materials and a basic paint job without any added benefits like surface preparation. It may cost you about $1 to $1.5 per square foot. Those interested in premium services and paints that offer heat-reflective coating should be ready to pay from $3.5 to $6 per sq. ft. If your roofing needs are somewhere in between, the average cost of painting a roof will be from $1.5 to $4 per square foot. Please note that seasoned roofing contractors may charge about $50 - $90 per hour.
The cost to paint a roof per square foot
| | |
| --- | --- |
| National average cost | $1.5 - $4 |
| Low-end cost | $1 - $1.5 |
| High-end cost | $3.5 - $6 |
| The average cost per hour | $50 - $90 |
The roof painting cost by paint type
You can come across dozens of coatings available on the home improvement market. They come with different formulations and application methods, meaning you should know what option is eligible for your project. If you are at a loss, a seasoned contractor can give you the 411.
Acrylic roof paint
Whether for the Sunshine State or California, acrylic roof paint is the best bet because of its ability to reflect solar rays and withstand harsh weather conditions. The paint tile roof cost can be anywhere between $30 and $145 per gallon, depending on the brand and quality.
Elastomeric roof paint
Designed to protect and extend the lifespan of the rooftop surface, elastomeric roof paint offers weather resistance and energy efficiency. On average, it can set you back from $25 to $55 per gallon.
Polymeric roof paint
Excellent durability, waterproofing, and UV resistance are only a few features polymeric paint comes with. How much does it cost to paint a roof? One gallon can cost you between $30 and $60. As you need ballpark 20 gallons of paint to cover a 2,000-square-foot roof, you can expect to pay about $600 - $1.200.
Polyurethane roof paint
A high-performance and weather-resistance polyurethane paint ensures an uncompromising protective layer for wood and asphalt shingles, to name a few. As prices vary by brand, you can fork out between $30 to $55 per gallon – it can be enough to cover up to 300 square feet with one layer of paint.
Epoxy roof paint
Most homeowners choose epoxy roof paint for its longevity and outstanding waterproofing characteristics. You can find options with the presence of UV resistance or additional additives enhancing surface protection. One gallon can be sold for $65 - $150, meaning you can pay from $1.5 to $4.5 per square foot.
Liquid rubber roof paint
If you need your housetop to boast solar reflectivity and ozone resistance, cover it with liquid rubber paint. Depending on the brand, quality, and retailer, you can expect to pay between $45 to $140 per gallon.
Aluminum roof paint
Formulated to adhere to metal surfaces, aluminum paint can help protect your housetop from the elements. While budget-minded homeowners can pay $30 per gallon, those interested in specific features like added rust resistance should be ready to spend about $60 per gallon.
Silicone roof paint
Weather-resistant properties and energy efficiency are what you can get with silicone roof paint. The price per gallon may range from $60 to $110, depending on features like added reinforcement fibers.
Bituminous roof paint
For protecting your flat or low-slope roof from water damage, bitumen paint can be the best choice. You can come upon options that cost as little as $20 per gallon, but high-quality ones will have a double price. Based on your roof condition, you can create single-layer protection over 25 to 350 square feet with 1 gallon.
Cool roof paint
If you want your roof to reflect more sunlight to beat the heat at home, cool roof paint is ideal to do just that. The average price range lands between $25 and $40 per gallon, depending on the brand. But the cool roof paint cost can be slightly higher (up to $50) for top-class options.
The cost to paint a housetop by paint type
| Paint type | Average costs per gallon |
| --- | --- |
| Acrylic | $30 - $145 |
| Elastomeric | $25 - $55 |
| Polymeric | $30 - $60 |
| Polyurethan | $30 - $55 |
| Epoxy | $65 - $150 |
| Liquid rubber | $45 - $140 |
| Aluminum | $30 - $60 |
| Silicone | $60 - $110 |
| Bituminous | $20 - $40 |
| Cool | $25 - $50 |
The cost of painting a roof by the type of coated material
The paint type plays a significant role in determining the roof renovation costs, but you should also pay heed to the material your housetop is covered with. Every type has its peculiarities and comes with demands you need to meet. The cost to paint a roof based on its surface material can be:
Metal roofing. Improving efficiency and preventing rust damage are the main tasks with this type of roofing. You can expect to pay from $1.2 to $3.6 per sq. ft. for priming and painting.
Asphalt shingles. This type of roofing isn't suitable for painting as this can lead to moisture retention. However, you can still do that, spending from $1 to $2.7 per square foot.
Concrete tiles. You need to apply a primer and specialized paint for the best result. The roof tile painting cost may fall between $1.3 to $3 per square foot.
Clay tiles. If you are still determining what paint can become the best fit for your clay tiles, ask a contractor for advice beforehand. The cost to paint roof tiles may go between $2.5 to $4.2 per square foot.
Single-ply membranes (TPO, PVC, EPDM). As the performance of this roofing type highly depends on its chemical properties, painting isn't necessary. But you can recoat membranes for about $2.7 per square foot.
Fiberglass shingles. Even though fiberglass shingles aren't very suitable for painting, you can do that using water-based paint formulated specifically for this roofing type. The paint roof cost may be anywhere between $1 and $2.7 per square foot.
Wood shingles. Painting can negatively affect the ability of wood shingles to absorb moisture. That's why specialists recommend staining or sealing this roofing material instead. It may cost you around $1.5 to $3.5 per square foot.
Can't decide what paint is the perfect fit for your housetop? Turn to established local contractors for assistance. With MyHomeQuote, you can get their contact information in a blink of an eye as we team up with professionals nationwide! Fill in the form below to address your issue in no time.
The cost of painting a housetop by the roofing material
| Roofing material | Average costs per sq. ft. |
| --- | --- |
| | $1.2 - $3.6 |
| | $1 - $2.7 |
| | $1.3 - $3 |
| | $2.5 - $4.2 |
| Single-ply membranes | $1.8 - $3 *for recoating |
| Fiberglass shingles | $1 - $2.7 |
| Wood shingles | $1.5 - $3.5 |
The roof painting cost by paint application method
Whether for a DIY project or hiring a professional, you should select an application method that speaks to you and matches the preferred type of paint. Here are 3 main options to choose from:
Spray painting. It's the most popular method as it allows for achieving a smooth finish with no sweat. With top-notch equipment, you can cover large roofing areas in a timely fashion. But it requires an increased volume of paint. In this case, the painting roof tiles cost may be from $1 to $2.7 per square foot.
Roller application. This method is ideal for low slope and flat roofs and doesn't require expensive equipment. However, it can take specialists much time to cover a large housetop. The average national cost is between $0.85 to $2.2 per sq. ft. (both materials and labor included).
Brush application. Even though this method offers a higher level of control, completing the project requires a lot of time and effort. That's why it's more suitable for hard-to-reach or small roofing areas. You can pay from $1.3 to $2.8 per sq. ft. in total.
The cost to paint a housetop by the application method
| Application method | Average costs per sq. ft. |
| --- | --- |
| Spray | $1 - $2.7 |
| Roller | $0.85 - $2.2 |
| Brush | $1.3 - $2.8 |
Additional expenses involved in a roof painting project
The success of your roof painting project relies much on preparation. You can't just cover your housetop with a fresh painting layer and call it a day. When calculating the metal or tile roof painting cost, make sure to include:
Inspection. Before setting the ball rolling, it's worth scheduling a professional inspection to evaluate its condition and the potential scope of work. You should be ready to spend between $100 to $450, depending on your location and the contractor's fees.
Cleaning. Removing debris and algae before painting is essential, as even small particles can affect the paint's adhesion and longevity. This service may cost from $0.20 to $0.70 per square foot.
Repair. Your roof may need various repairs, from fixing leaks to caulking cracks to replacing damaged shingles. So, you may fork up from $250 to $1.200+, based on the scope of work required.
Priming. Not only does priming ensure better adhesion of the paint applied, but this creates an additional level of protection. You can pay from $0.90 to $2 per square foot.
The cost of additional expenses
| Additional services | Average costs per sq. ft. |
| --- | --- |
| Inspection | $100 - $450 *per project |
| Cleaning | $0.20 - $0.70 |
| Repair | $250 - $1.200+ *per project |
| Priming | $0.90 - $2 |
FAQ
What are the popular roofing paint brands in the US?
The US roofing market is jam-packed with small and big names. If you are eager to choose from the best in the business, pay attention to Sherwin-Williams, GAF, KARNAK, PPG, and Henry Company. They all have proven to produce high-quality roof paints.
How long will it take to paint a 2,000-square-foot gable roof?
The timing of a roof painting project will depend on the weather conditions as well as the paint and application method you choose. Plus, it's worth considering the prep stage, as cleaning alone can take a day. However, a professional roof painting crew (up to 3 specialists) can generally complete such a project in a day.
Can I paint my roof myself, or should I hire a professional?
Your experience, roof pitch, and safety considerations can determine whether you can handle the project yourself. If your home has multiple stores, you can hardly navigate the housetop safely without assistance. And professional roofers have all the necessary equipment and skills to do a quality job in no time.