Professional Walk-In Tub Installation Near Me
Please enter a valid zip code
MyHomeQuote puts you in touch with trusted walk-in-tubs contractors in your area. Complete our short questionnaire to get clear-cut walk-in-tubs quotes at no cost.
MyHomeQuote - Your Unlimited Source of Pre-Screened Walk-in Tub Installation Companies
If you're considering installing a walk-in tub in your home, locating reputable installers in your area can be daunting. But worry no more – with the help of MyHomeQuote, finding skilled walk-in tub contractors has never been easier. We connect you with pros with years of experience behind their belts, backed by brilliant portfolios and positive reviews. All you need is to complete a request form on our website, providing details about your project. It takes only a couple of minutes of your time. In return, you will get up to 5 personalized quotes from local walk-in tub installers specialized in the type and even brand of a tub you are about to install. It's simple and free. Complete our request form for free price quotes from local walk-in tub installation companies today!
GET ACCURATE ESTIMATE
Including price quotations from local pros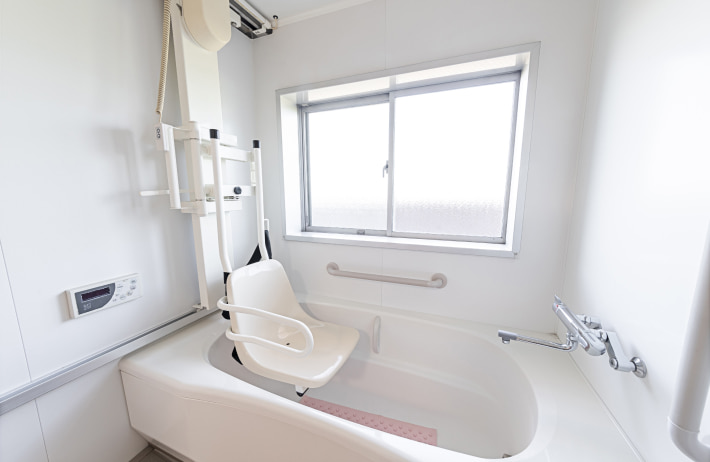 Streamline Your Walk-In Tubs Project With MyHomeQuote

Step 1
Find Walk-In Tub Pros
Thanks to our extensive network of walk-in tub pros, you can easily locate certified installers in your region and get their rates.

Step 2
Calculate Project Costs
Use our free service as your intuitive estimation tool, getting accurate quotes from local walk-in tub installers based on your requirements.

Step 3
Get Walk-In Tub Quotes
Don't miss out on the best walk-in tub offers in your area. You can easily navigate them with us and get the best bet for your buck.
Expert Walk-in Tub Installation Services at Your Fingertip

Connect with Walk-in Tub Installers
Browse local walk-in tub specialists, obtain their quotes, communicate, and schedule appointments without any extra cost

Compare Walk-in Tub Quotes
Examine proposals for your walk-in tub project from local plumbing experts and compare their bids for a more informed decision

Hire Walk-in Tub Pros With Confidence
Work with highly-rated professionals in the local walk-in tub installation market, renowned for their exceptional service and flawless track record
12.000 +
homeowner requests processed daily
80.000 +
renovation projects performed annually
73%
homeowners get back to us for more quotes
3 out 5
contacts with contractors end up closing a deal
Here's what our clients say about their experience
Walk-In-Tubs
I booked a tub/shower conversion and tub replacement
The service was booked from MyHomeQuote and accomplished by the installers from their partner's pool. I feel like I overpaid for the job, but I can't complain about the level of service and outcome. The only remark is that the process took more than I expected.
Walk-In-Tubs
We are happy with our tub
I'm grateful to this service for quickly matching us with the qualified walk-in tub installer in LA. We had zero problems with the installation, and our new tub works as it should, giving much-needed relief to tired muscles.
Walk-In-Tubs
My issue with hydro jets was solved immediately
The front-side hydro jets on my tub were out of order. That is why I ordered repair services through this website. The tech came the next day and fixed the broken jets in a couple of minutes. Everything works now. Recommend!
Walk-In-Tubs
Installers were great
My husband and I were glad to meet great tub installers from Birmingham. They answered our questions and did their job in less than 2 hours, leaving the area clean.
Walk-In-Tubs
I'll keep using this service
The installation of our new walk-in tub was carried out by two polite gentlemen who arrived on schedule and did their job in a professional manner. I'll keep using this service and recommend it to my friends.
Walk-In-Tubs
We're glad we booked a tub installation through MyHomeQuote
We're glad we found knowledgeable pros who know how to work with walk-in tubs. The process was quick and smooth. Besides, the installers did not charge me for disposing of my old tub.
What Sets Our Walk-in Tub Installers Apart From the Rest?
MyHomeQuote operates as a digital hub providing an obstructed connection between homeowners and home improvement contractors across various regions nationwide. We acknowledge the existence of numerous other companies that offer a similar set of services. Still, our distinguishing feature is our unwavering devotion to delivering exceptional benefits to both interest parties involved.
Walk-in tub contractors who partner with us can expect a steady stream of potential customers. On the other hand, homeowners using our platform can look forward to high-level services without compromising cost. Despite the competitive market, we ensure quality and affordable service, maintaining and enhancing our position
Our most valuable asset is our professionals, who strive to meet the highest industry standards by completing educational courses and getting certification from the best US manufacturers. They know the walk-in tub installation process like the back of their hand, ensuring each project is performed with precision, meticulous attention to detail, and adherence to safety protocols.
Here is why our walk-in tub installers are reliable to cooperate with:
Professional Advice and Consultation
Our walk-in tub professionals are more than just installers. They are also knowledgeable consultants. They will take the time to listen to your desires and concerns, providing accurate advice and relevant information based on their extensive expertise. That is why if you're on the lookout for walk-in tubs near you, personalized consultation from our pros will help you make informed decisions for an excellent result.
Exceptional Industry Experience
Due to the accumulated hands-on experience, our contractors are well-versed in all aspects of work with walk-in tubs, from repairing and installation to setting up and securing. Having solved numerous challenges in the field, they can effectively manage any situation that may arise. This assures you a smooth installation process from start to finish. Don't hesitate to hire walk-in tub installers near you with MyHomeQuote to enjoy quick and efficient service and save the time and trouble of searching for local pros on your own.
Unparalleled Craftsmanship
Our contractors exhibit extraordinary craftsmanship in their work. Every project they undertake is handled with utmost care and precision, ensuring that the final result meets and exceeds your expectations. Each installer has a unique, well-honed skill set that contributes to creating flawless installation results. You're welcome to check the previous projects of our walk-in tub contractors by requesting their portfolios on the MyHomeQuote platform.
Customized Installation Solutions
We recognize that every homeowner and property has its own set of unique characteristics, consequently necessitating personalized installation solutions. Whether you're grappling with limited space, have particular design preferences, or require special accommodations for elderly or disabled household members, our professional installers are skilled at crafting innovative solutions. Thus, every aspect of our service is tailored to cater perfectly to your needs, including modifying spaces to make them more accessible and comfortable for older people and those with disabilities.
Use of High-Quality Materials
We are dedicated to ensuring customer satisfaction and product durability by utilizing tried-and-true tubs from leading industry manufacturers. These walk-in tubs have been tested for their strength and longevity, ensuring they can withstand regular use for years to come. This commitment leads to a premium finished product you can truly depend on. Enjoy peace of mind, knowing you get unparalleled quality by booking a walk-in tub installation near you with MyHomeQuote.
Post-Installation Support and Maintenance
The best of our service is that it does not end with the installation. We are committed to providing post-installation support and maintenance as well. Our walk-in tub contractors will be available for any inquiries, assistance, or services you may need following the installation. This ensures the continued smooth operation of your newly installed walk-in tub.
FAQ
What Factors Should I Consider Before Hiring a Walk-in Tub Installer Near Me?
Before hiring a walk-in tub company, consider their reputation and experience. Client testimonials and years in business can provide a good picture of their reliability and professionalism. Licensing and insurance are also essential to ensure they are following safety and building regulations. Compare costs and warranty options from different companies. Furthermore, consider their availability and the duration for project completion. Finally, check if the company offers after-installation services and maintenance for your walk-in tub.
How Do I Find a Credible Professional for My Walk-in Tub Installation?
Consider using MyHomeQuote to find a local walk-in tub pro who meets your requirements. We represent a reputable platform where you can find licensed and insured contractors with ratings and reviews from previous customers. You can also compare quotes from different walk-in tub installers, letting you choose one within your budget.
What are the Key Benefits of Installing a Walk-in Tub?
The key benefits of installing a walk-in tub include enhanced safety, as the low threshold reduces the risk of slips and falls. It also offers therapeutic benefits due to its hydrotherapy features, aiding in pain relief. Plus, a walk-in tub provides increased accessibility, making it a suitable choice for seniors and individuals with mobility issues.
How Do I Choose the Right Size of a Walk-in Tub for My Bathroom?
Choosing the right size of a walk-in tub requires knowing the exact measurements of your bathroom. Measure the length, width, and height of the space where the tub will be installed. Also, consider door width for tub entry. You must also take into account the user's size, comfort, and mobility needs. Always confirm these measurements with your walk-in tub contractor before purchase.
How Long Does It Take to Install a Walk-in Bathtub?
The installation of a walk-in bathtub typically takes one to two days. This time frame includes removing the old bathtub, installing the new walk-in tub, and making necessary plumbing and finishing adjustments.
What are the Energy Requirements for Installing a Walk-in Tub With Jets or Heaters?
or Heaters? A walk-in tub with jets or heaters generally requires a dedicated 15-20 amp GFCI-protected circuit. Heated models may need more power, potentially warranting a dedicated 30-amp circuit. Always consult with a certified electrician or the tub manufacturer for specific requirements
How Should I Prepare for a Walk-in Tub Installation?
Start by clearing the bathroom of personal items and creating a clear path for the workers to maneuver. Ensure your current plumbing and electrical systems meet the tub's requirements. Consult with your walk-in tub installer about any adjustments needed. Lastly, confirm the installation appointment and ensure timely delivery of the tub.
Why Should I Hire a Professional Walk-in Tub Contractor to Install My New Tub Rather Than Do It Myself?
Hiring a professional walk-in tub contractor ensures proper installation and safety. They possess the necessary experience, skills, and tools to adhere to building codes and manufacturer instructions. They can handle the plumbing, electrical, and structural modifications required. Also, professional installation usually comes with a service guarantee, ensuring any issues that might arise will be fixed.
Can I Install a Walk-in Tub in a Small Bathroom?
It is possible to install a walk-in tub in a space-restricted bathroom, but it's essential to choose the right size tub. There are compact models specifically designed to fit in tighter spaces. A professional installer can guide you through the selection and installation process to ensure an ideal fit.
Are There Brands of Walk-in Tubs that Professionals Recommend More Often?
Manufacturers highly recommended by professionals include Kohler for advanced features and warranty, American Standard for various therapeutic options, Walk-In Tub Designs for size diversity, Ella for dual-drain technology, and Safe Step for customization options and lifetime warranty.
Find thoroughly assessed and
approved local professionals
for major home improvement tasks
Please enter a valid zip code