Find Concrete Roofing Contractors Near You
Please enter a valid zip code
MyHomeQuote puts you in touch with trusted roofing contractors in your area. Complete our short questionnaire to get clear-cut roofing quotes at no cost.
Spot the best concrete roofing company with MyHomeQuote
If moisture-resistant measures weren't taken on schedule, the integrity of concrete tiles can be diminished. Mildew growth, cracks, and color fading are only a few reasons to contact a concrete roof repair company. And it can take you no time to locate one with MyHomeQuote, a customer-centric contractor-matching platform. Whether you need a concrete roof repair or replacement services, we can connect you with the right specialists for free. You now don't need to waste time googling or conducting a poll on the best roofing experts in your area. With us, you can get estimates from the best local concrete roofing contractor who has successfully passed the screening process in a flash. Fill in the form below, and quotes won't be long in coming.
GET ACCURATE ESTIMATE
Including price quotations from local pros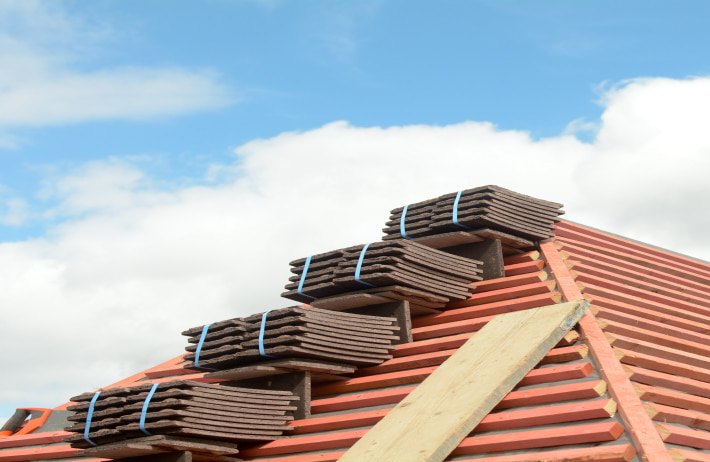 Streamline Your Roofing Project With MyHomeQuote

Step 1
Discover Top Local Roofers
Complete the form to book certified roofers in your county, ready to repair or replace your roof.

Step 2
Get Free Project Estimation
Calculate your roofing project by specifying your needs, preferences, and location.

Step 3
Get Custom Roofing Quotes
Get up to 4 offers from local roofing pros and pick the best bid based on your budget and expertise needs.
Transform Your Home with Expert Roofing Contractors

Locate Roofers for Free
Browse through local roofing professionals, acquire their rates, communicate, and book appointments without no cost upfront

Compare Roofing Quotes
Review proposals for your roofing project, assess bids, and examine contractor profiles and qualifications - all in real-time

Hire Vetted Roofers
Partner with top-rated professionals in the local market, renowned for their exceptional work and complaint-free reputation
12.000 +
homeowner requests processed daily
80.000 +
renovation projects performed annually
73%
homeowners get back to us for more quotes
3 out 5
contacts with contractors end up closing a deal
Here's what clients who found local roofers through MyHomeQuote say
roofing
Love the way this platform works
I'm writing to express my gratitude to the support managers who helped me find a professional roofing crew in Atlanta.
roofing
My roofing installation project was completed successfully
I hired roof installation guys through MyHomeQuote. No suggestions for the platform work. Will definitely use it again.
roofing
Prompt service, clear-cut quotes
I found handy roofing contractors in Charlotte's suburbs through this platform.
roofing
The work is done okay
I experienced no trouble booking contractor services. Fair pricing for the job provided.
roofing
It worked out well for me
It took them time to find good roofers for me. But I ended up hiring an expert roofing contractor in Omaha.
roofing
The more services like this, the better
I found a crew of skilled roofers here for less than an hour. They did a great job. I would recommend MyHomeQuote to friends.
What services does MyHomeQuote offer to help refine my search for a concrete roof repair contractor?
Homeowners' needs are pillars we have built MyHomeQuote on. We always put your interests first and do our best to provide you with the contractor-matching service you deserve. That's why the search for a suitable concrete roof replacement company near you is a multi-stage process that involves:
Advanced filtering. We strain the contractor list, following your requirements and roofing needs. For example, it can be about the type of services you need or the cost ranges you are okay with.
Verification. Our team checks the state-level licensing and certificates of all professionals we will connect you with. Thus, you can hire a qualified concrete roof installation contractor.
Rating check-ups. We examine the ratings of each candidate selected. This allows us to pinpoint hidden red flags and get insight into customer service.
Perfect matching. MyHomeQuote is a boon for US homeowners interested in matching with top-rated pros in their city or nearby. You only need to complete the questionnaire, providing essential information about the roofing project.
Multiple quotes. You don't need to team up with a concrete roof installation company if you aren't happy with their rates. With us, you can get multiple estimates and compare them in the cold light of day.
Vital factors to consider when hiring a concrete roof replacement contractor
Concrete roofing stands out with longevity and fragility at the same time. That's why you should only hire a concrete roofing company that knows the ins and outs of the industry's best practices and building codes. If a contractor has little to no experience installing and repairing concrete tiles, look further. You need a company with a proven track record of high-quality performance.
The durability and curb appeal of your brand-new housetop greatly depends on the quality of materials utilized. That's why it's worth discovering what brands and types the concrete roofing contractor uses. Even though premium materials come with a higher price tag, they are worth your investment.
Even though basing your decision solely on price is a slippery road, you need to know what services are included in your quote. The optimal package should include materials, labor, and inevitable extras like old roofing removal. Plus, don't forget to check if a concrete roof installation contractor provides a money-back warranty. Or they offer to fix everything for free if any issues occur.
FAQ
What questions should I ask a concrete roof installation contractor before hiring them?
It's worth finding out how many years the company has been around, what kind of guarantee it offers, what your payment schedule may look like, and when your roofing project can be completed.
How much do contractor-matching services like MyHomeQuote cost to find and hire a concrete roofing contractor?
MyHomeQuote offers its services free of charge. You won't pay a penny to get quotes from the best-matching contractors in your area.
Is using MyHomeQuote more effective than conducting my own research to locate a concrete roof installation company near me?
Each approach comes with an array of pros and cons. But it's undeniable that MyHomeQuote can save time and effort in your search for the right concrete roofing contractor as it has a vast network of specialists across the USA.
Find thoroughly assessed and
approved local professionals
for major home improvement tasks
Please enter a valid zip code