Find Tile Roofing Contractors Near You
Please enter a valid zip code
MyHomeQuote puts you in touch with trusted roofing contractors in your area. Complete our short questionnaire to get clear-cut roofing quotes at no cost.
Tile Roofing Contractors
Willing to add a touch of luxury to your home by installing a tile roofing system? Turn to MyHomeQuote for the best tile roofing companies near you. Our platform is designed to help homeowners get in touch with local professionals who know their way around tile roofing. Whether for clay tile roof repair or replacement, locating the right specialists is a breeze with us. Can't wait to get going on the expert search? All you need to do is share your project details so that we have a better understanding of what tile roofing contractors can become a good fit. It'll take no time to fill in the form on our user-friendly platform. Streamline your search for roof tile specialists with MyHomeQuote! Enter your address for the most accurate result.
GET ACCURATE ESTIMATE
Including price quotations from local pros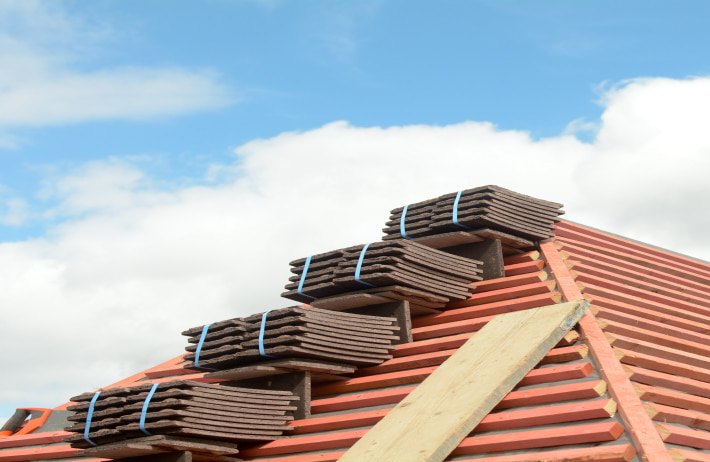 Streamline Your Roofing Project With MyHomeQuote

Step 1
Discover Top Local Roofers
Complete the form to book certified roofers in your county, ready to repair or replace your roof.

Step 2
Get Free Project Estimation
Calculate your roofing project by specifying your needs, preferences, and location.

Step 3
Get Custom Roofing Quotes
Get up to 4 offers from local roofing pros and pick the best bid based on your budget and expertise needs.
Transform Your Home with Expert Roofing Contractors

Locate Roofers for Free
Browse through local roofing professionals, acquire their rates, communicate, and book appointments without no cost upfront

Compare Roofing Quotes
Review proposals for your roofing project, assess bids, and examine contractor profiles and qualifications - all in real-time

Hire Vetted Roofers
Partner with top-rated professionals in the local market, renowned for their exceptional work and complaint-free reputation
12.000 +
homeowner requests processed daily
80.000 +
renovation projects performed annually
73%
homeowners get back to us for more quotes
3 out 5
contacts with contractors end up closing a deal
Here's what clients who found local roofers through MyHomeQuote say
roofing
Love the way this platform works
I'm writing to express my gratitude to the support managers who helped me find a professional roofing crew in Atlanta.
roofing
My roofing installation project was completed successfully
I hired roof installation guys through MyHomeQuote. No suggestions for the platform work. Will definitely use it again.
roofing
Prompt service, clear-cut quotes
I found handy roofing contractors in Charlotte's suburbs through this platform.
roofing
The work is done okay
I experienced no trouble booking contractor services. Fair pricing for the job provided.
roofing
It worked out well for me
It took them time to find good roofers for me. But I ended up hiring an expert roofing contractor in Omaha.
roofing
The more services like this, the better
I found a crew of skilled roofers here for less than an hour. They did a great job. I would recommend MyHomeQuote to friends.
Discover tile roof companies near you with MyHomeQuote
Tile roofing is always red-hot and ideal for those who want to boost their home value. Being beautiful and long-lasting material, tiles allow for freshening up your house's curb appeal if installed correctly. Thus, you can't do without experienced tile roof contractors to make your home improvement project a success story. And that's where MyHomeQuote can be of service to you, simplifying the search process.
We screen dozens of tile roofers in your area to select the most suitable options. As they all come with different rates and offers, we provide you with up to 5 quotes to choose from. Simply put, MyHomeQuote saves the hassle of looking for an ideal tile roofing company, but the final word will still come from you. Don't hesitate to tell us what your best-matching roofing contractor looks like.
MyHomeQuote: Make a data-driven decision about roofing tile contractors
When you are new to the contractor recruitment process, all field-related companies may seem like twins. They may offer nearly identical material types, payment terms, and project deadlines. What is the most effective and time-saving way to hire a tile roof specialist? MyHomeQuote is the key to your roofing needs. We can pinpoint all the experts in tile roofing near you and ensure they have:
Extensive experience. Whether you fancy concrete, clay, composite, or slate tiles, we can connect you with roofers who know this material inside out.
Positive customer reviews. We embrace the power of the internet to give you valuable insight into the customer satisfaction level. Thus, you can have a better grasp of the tile roofing contractor's quality of work provided.
Reasonable rates. Contractors who cooperate with MyHomeQuote take part in the competitive bidding process. This encourages them to offer reasonable pricing, meaning you can save a fortune on your clay tile roof replacement project. Once you get quotes, you can select a company that offers the best value for your budget.
Red flags to look for when searching for a tile roof company
MyHomeQuote only teams up with time-and-tested contractors, taking red flags out of the equation. However, when you search for a tile roofer near you independently, you should take heed of:
Lack of proper licensing and insurance. The presence of all the necessary licenses is a must. Otherwise, this company isn't eligible to provide roofing services.
Little to no experience. You should only hire a tile roof company with a proven track record and expertise in installing and repairing this roofing material.
Overly aggressive sales tactics. If you feel pressure and have no time to review estimates, you must be cautious of such a contractor.
Too low rates. It can be tempting to save big bucks on your roofing project. But a significantly low estimate can be associated with subpar work and using materials of poor quality.
FAQ
How should you verify the expertise of a tile roof contractor before hiring them?
You can check their licensing and insurance by contacting your local licensing board. It's worth going online to examine customer reviews on Google, Yelp, or Angie's List. And you can ask them for references.
How to know if a tile roofing company provides proper insurance coverage during the project?
Ask the contractor for a copy of their insurance certificates to check their general liability insurance. Coverage limits are specified there. And you can contact the indicated insurance company for more details.
How do I find qualified and reliable tile roof contractors in my area?
MyHomeQuote is the most advantageous option. But you can also search online, talk to friends and coworkers, or contact local trade associations like NRCA.
Find thoroughly assessed and
approved local professionals
for major home improvement tasks
Please enter a valid zip code