Best-Rated Metal Roof Repair Companies Near Me
Please enter a valid zip code
MyHomeQuote puts you in touch with trusted roofing contractors in your area. Complete our short questionnaire to get clear-cut roofing quotes at no cost.
Locate professional metal roof repairs near you with MyHomeQuote
Residential metal roofs, whether made of light aluminum or robust copper, are not immune to damage and leaks. And while regular maintenance may reduce the likelihood of repairs, you should still be ready to invest in them at some point in a roof's lifespan. If you notice rust streaks on your roof or water stains on the walls, don't postpone hiring a metal roof repair contractor. The sooner you locate and fix the issue, the less likely it will disrupt the integrity of your home. MyHomeQuote is always on standby to find you vetted metal roof repair companies near you. With us, you can compare multiple local professionals and their rates for free. Entrust us to discover the best metal roof repair companies for your needs.
GET ACCURATE ESTIMATE
Including price quotations from local pros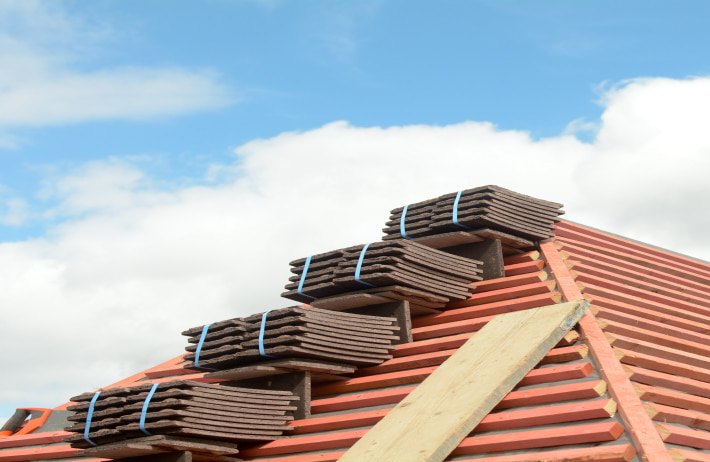 Streamline Your Roofing Project With MyHomeQuote

Step 1
Discover Top Local Roofers
Complete the form to book certified roofers in your county, ready to repair or replace your roof.

Step 2
Get Free Project Estimation
Calculate your roofing project by specifying your needs, preferences, and location.

Step 3
Get Custom Roofing Quotes
Get up to 4 offers from local roofing pros and pick the best bid based on your budget and expertise needs.
Transform Your Home with Expert Roofing Contractors

Locate Roofers for Free
Browse through local roofing professionals, acquire their rates, communicate, and book appointments without no cost upfront

Compare Roofing Quotes
Review proposals for your roofing project, assess bids, and examine contractor profiles and qualifications - all in real-time

Hire Vetted Roofers
Partner with top-rated professionals in the local market, renowned for their exceptional work and complaint-free reputation
12.000 +
homeowner requests processed daily
80.000 +
renovation projects performed annually
73%
homeowners get back to us for more quotes
3 out 5
contacts with contractors end up closing a deal
Here's what clients who found local roofers through MyHomeQuote say
roofing
Love the way this platform works
I'm writing to express my gratitude to the support managers who helped me find a professional roofing crew in Atlanta.
roofing
My roofing installation project was completed successfully
I hired roof installation guys through MyHomeQuote. No suggestions for the platform work. Will definitely use it again.
roofing
Prompt service, clear-cut quotes
I found handy roofing contractors in Charlotte's suburbs through this platform.
roofing
The work is done okay
I experienced no trouble booking contractor services. Fair pricing for the job provided.
roofing
It worked out well for me
It took them time to find good roofers for me. But I ended up hiring an expert roofing contractor in Omaha.
roofing
The more services like this, the better
I found a crew of skilled roofers here for less than an hour. They did a great job. I would recommend MyHomeQuote to friends.
Why entrust us with finding metal roofing repair contractors near you?
MyHomeQuote is a nationwide contractor-matching service that originated in Michigan. We pride ourselves on covering an ever-increasing range of locations, bringing value to homeowners who seek accredited metal roof repair contractors. We collect client reviews to compile contractor ratings and offer valuable insights into their experience and service quality.
Our customer-oriented platform is an absolute godsend to homeowners bone-tired searching for local metal roof repair companies with a good reputation. Thanks to the knowledgeable staff and an array of searching instruments, MyHomeQuote is a win-win for homeowners seeking repair services and roofers who perform them professionally. We allow interested parties to meet at the right time and get the utmost value from their cooperation.
Besides, we regularly add valuable articles and cost guides based on the market assessment and experience of the metal roof repair companies we partner with. These sources can simplify the process of materials selection and project budgeting. And last but not least, our dedicated support managers assist you every step of the way, from locating to hiring a metal roofing repair contractor near you.
Sounds appealing for you to dive in? Be sure to complete the request form on our website, specifying your location, contact information, and repair needs. It should take you around 5 minutes. As soon as the details of your request are analyzed, we will get back to you with verbal quotes from metal roof repair contractors near you. Go ahead with specifying your ZIP Code to keep your metal roof in mint condition for years to come, enjoying safe of mind and stable energy bills.
Undeniable advantages of booking professional metal roofing repair near me
Here are the top reasons why booking roof repair services with MyHomeQuote is the smartest decision you'll make this year:
Quick results. Locating the best metal roof leak repair near me with MyHomeQuote takes as little as 5 minutes of your precious time. All you need is your laptop or phone connected to the Internet. Once we get and process your request, we will get back to you with quotes from 3 to 5 local metal roof repair companies.
Guaranteed longevity. Our certified professionals boast a long track record in metal roofing repair and replacement services. That is why you can rest assured they will make their job right, extending the lifespan of your roof and securing it from further damage.
Cost-effectiveness. Investing in professional metal roof repair services saves you money in the long run. The cost of frequent DIY repairs and eventual full roof replacements far outstrips the investment in a specialist who can identify and fix issues efficiently.
Expert knowledge. Our skilled contractors have the know-how and experience to address various metal roof problems. From minor leaks to major structural damage, the roofers we partner with are equipped to handle any issue, giving you complete peace of mind.
FAQ
How to negotiate a price with metal roof repair contractors?
Begin by researching the market rates and gathering multiple quotes to understand the pricing range in your area. Then, discuss your budget and expectations with the chosen contractor, be transparent about financial constraints, and explore cost-effective alternatives or discounts. Maintain a professional and respectful demeanor while demonstrating flexibility in payment terms, and highlight the contractor's expertise and reputation to encourage them to be more accommodating with your budget constraints.
How to find the best-rated metal roof repair contractors near you?
Start by conducting an online search using keywords like "best metal roof repair contractors in my county" and "top roofers nearby," or add your current location to the query. Examine the available roofers and their offers through websites, directories, social media accounts, forums, and local community chats. Ask for recommendations from trusted friends, family, or neighbors who have had metal roof repairs done. And finally, check each company's reputation, experience, and licenses with the Better Business Bureau (BBB) or local authorities.
Is it worth using MyHomeQuote to book metal roofing repair near you?
Contractor-matching services like MyHomeQuote do not charge you a single penny while giving you ample choice of local contractors. That is why using MyHomeQuote as the main or additional means in the process of locating companies or individual contractors offering metal roof repair near you is definitely worth your time.
Find thoroughly assessed and
approved local professionals
for major home improvement tasks
Please enter a valid zip code