Licensed Flat Roof Repair Contractors Near Me
Please enter a valid zip code
MyHomeQuote puts you in touch with trusted roofing contractors in your area. Complete our short questionnaire to get clear-cut roofing quotes at no cost.
Flat roof repair companies near me - Fast and effective fixing solutions from qualified pros
Flat roofs are best for providing increased energy efficiency and a modern aesthetic. Nevertheless, their vulnerability to leaks might become a real headache, especially in rainy climates. Timely repairs are what can prevent homeowners from premature roof replacement. If you are looking for a reliable solution to your flat roofing needs, look no further than local flat roof repair contractors! Our network counts thousands of best-rated pros in every state, so you can always rely on MyHomeQuote to get up to 5 estimates for your roofing project. Stop racking your brain on where to find flat roof repair near you. Leave your request on our platform and get offers that best fit your needs. With us, you can book a flat roof repair company in your area in no time.
GET ACCURATE ESTIMATE
Including price quotations from local pros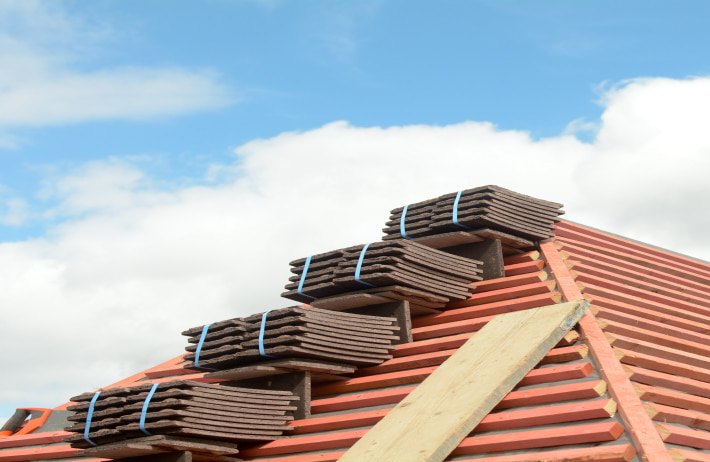 Streamline Your Roofing Project With MyHomeQuote

Step 1
Discover Top Local Roofers
Complete the form to book certified roofers in your county, ready to repair or replace your roof.

Step 2
Get Free Project Estimation
Calculate your roofing project by specifying your needs, preferences, and location.

Step 3
Get Custom Roofing Quotes
Get up to 4 offers from local roofing pros and pick the best bid based on your budget and expertise needs.
Transform Your Home with Expert Roofing Contractors

Locate Roofers for Free
Browse through local roofing professionals, acquire their rates, communicate, and book appointments without no cost upfront

Compare Roofing Quotes
Review proposals for your roofing project, assess bids, and examine contractor profiles and qualifications - all in real-time

Hire Vetted Roofers
Partner with top-rated professionals in the local market, renowned for their exceptional work and complaint-free reputation
12.000 +
homeowner requests processed daily
80.000 +
renovation projects performed annually
73%
homeowners get back to us for more quotes
3 out 5
contacts with contractors end up closing a deal
Here's what clients who found local roofers through MyHomeQuote say
roofing
Love the way this platform works
I'm writing to express my gratitude to the support managers who helped me find a professional roofing crew in Atlanta.
roofing
My roofing installation project was completed successfully
I hired roof installation guys through MyHomeQuote. No suggestions for the platform work. Will definitely use it again.
roofing
Prompt service, clear-cut quotes
I found handy roofing contractors in Charlotte's suburbs through this platform.
roofing
The work is done okay
I experienced no trouble booking contractor services. Fair pricing for the job provided.
roofing
It worked out well for me
It took them time to find good roofers for me. But I ended up hiring an expert roofing contractor in Omaha.
roofing
The more services like this, the better
I found a crew of skilled roofers here for less than an hour. They did a great job. I would recommend MyHomeQuote to friends.
What is the ultimate way to hire a flat roof repair contractor near you?
If you lack time to monitor local roofing companies and individual contractors providing flat roof repair services, set your sights on our free platform. We can conveniently connect you with local businesses providing exceptional roofing repair and replacement services at the best price. We hand-pick our partners to ensure every homeowner who applies to us gets unmatched service and stays happy with the result.
One of the impeccable advantages of using MyHomeQuote for hiring flat roof repair companies is that you receive free personalized estimates, allowing the chance to compare prices and services before making a decision. We give you ample choice and provide confidence in the quality of service you might expect, as only certified companies dedicated to flat roof repair are included in our databases.
And last but not least, our dedicated customer support managers walk you through every stage of the process, consulting on the best materials and rates, getting in touch with the best-fit flat roof repair contractors for your project, and arranging on-site meetings for your convenience.
So, utilizing our contractor-matching service provides a straightforward and seamless way of finding the right professional for your repair needs, ensuring efficient service, competitive prices, and, most importantly, peace of mind.
Is it worth booking flat roof repair contractor services with us?
Ordering flat roof repair services through our platform gives numerous advantages, making it a smart and stress-free option. Here is what you can expect by giving our free contractor-matching platform a try:
Vetted professionals. We only recommend flat roof repair contractors near you who have passed our stringent quality tests, assuring you the highest standard of service.
Free and non-binding quotations. Access free quotes from various local contractors to make an informed and budget-friendly decision.
A time-saving solution. We streamline the process, connecting you with a host of local flat roof repair companies quickly and efficiently, saving you precious time.
Quality assurance. We stand behind the quality of our professionals, ensuring they deliver top-notch repair services without setting exorbitant rates.
Nearby professionals. We prioritize local contractors operating in your ZIP area to ensure your convenience and safety. Plus, nearby pros better understand the local building codes, bringing regional expertise to the job.
By choosing MyHomeQuote to connect you with flat roof repair contractors, you're opting for quality, convenience, and confidence every time. Don't settle for less when you get first-class contractor-matching services free of charge.
FAQ
What are the common signs that indicate a flat roof needs repair?
Common signs that a flat roof may need some patching and sealing include visible cracks or splits, standing water, and blistering on the surface. Interior issues such as water stains and a musty odor can also indicate possible leakage from the roof.
Can all damages on a flat roof be repaired, or are there instances where replacement is the only option?
While many types of damage can be repaired on a flat roof, there are scenarios where replacement becomes the most viable option. This usually occurs when the roof has reached the end of its lifespan or when extensive damage from neglected repairs, severe weather conditions, or unrecoverable water damage is present. In these cases, continued patchwork fixes might be ineffective and cost more in the long run than a full replacement.
Do flat roof repair contractors offer any guarantees or warranties for their services?
The companies and individual contractors we partner with cover their services with workmanship warranties. The warranty offers vary from pro to pro. However, the least you can expect is a three-year limited warranty.
Find thoroughly assessed and
approved local professionals
for major home improvement tasks
Please enter a valid zip code