Your must-bookmark complete metal roofing guide
Homeowners needing to replace their existing roofing, either because of its poor performance or age, commonly seek to switch to a more durable and long-lasting material. For instance, if your 3-tab asphalt shingles roof brings you a lot of headaches, but you're not ready to overpay for the premium alternatives like slate or cedar shake, your best option is metal roofing. This robust material has been on the roofing market for centuries and remains the mainstream in our days. Roofs made of lead and copper appeared in the United States at the beginning of the 18th century. At that time, metal roofing panels were used for major public buildings like New York's City Hall. With the advancement of steel manufacturing, roofs covered with steel shingles became widespread all over the country. The 19th century was marked by the appearance of aluminum. This material began a new era of long-lasting roofings that could withstand the years of the elements' affection.
Since then, metal sheet roofing has been holding a high market share. For the last decade, its popularity has risen nearly four times. The reasons behind a strong metal roofing demand include its long life span (up to 50 years), superior weather resistance, appealing look, and a reasonable cost. It's proven that a home with a metal rooftop can be resold at a higher price that will entirely or partially cover the initial investment.
This all-encompassing guide highlights the types of metal roofing, their merits, flaws, and maintenance requirements. Besides, it dwells on the factors to consider in calculating roofing costs. This trove of information should help you decide whether a new metal roof is right for your house. Plus, you will be able to anticipate spending on the selected roofing material and the labor costs associated with its mounting on the roof.
Table of contents
1. Metal roofing - The basics
2. What are the styles and types of metal roofing?
3. Metal roof types and the average costs to install them
3.1. Aluminum roofing - Major features
3.2. Copper roofing - Major features
3.3. Steel roofing - Major features
3.4. Tin roofing - Major features
3.5. Corrugated metal roofing - Major features
3.6. Metal slate roofing - Major features
3.7. Standing seam metal roofing - Major features
3.8. Stone-coated metal roofing - Major features
4. Metal roof underlayment - costs and types
5. What to know about metal roofing maintenance?
6. Why does the DIY approach not suit metal roof installation?
Shingling the roof with metal panels, be it tin or aluminum, is a significant home improvement project that requires thorough consideration and budgeting. We recommend beginning with the basis of metal roofing and then plunging deeper into types and installation costs.
What is a metal roof?
In layman's terms, a metal roof is a part of the roofing envelope that serves as a separator between the exterior and interior parts of the building, shielding the home's contents from the elements and external factors. Besides, it contributes to the structural support of a house and its overall curb appeal.
Metal roofing comes in different variations, from sheet-like panels, which can be flat or profiled, to shingles that mimic slates or shakes. The primary components of a metal roof are sheets and coils. They come in roll-formed pieces made of stainless steel, standing seam, aluminum, tin, or any other metal variation. Most of them can be shaped into the desired profile.
What are the primary applications for metal roofing?
There's a common belief that metal roofs are used on commercial and industrial premises. Well, it's partially true. This roofing type serves well for non-residential properties as it offers the highest level of durability while being reasonably priced. However, most metal roofs like stone-coated and steel ones go far beyond commercial buildings with use on traditional one-story homes and luxury cottages.
Architectural buildings. As we said before, a metal roof represents a sheet that can be shaped or cut the way you want. If you're a creator, this roofing gives you complete creative freedom. You can select from a wide gamut of colors, shapes, and sizes, matching them and creating something unique and aesthetically pleasing.
Commercial buildings. You can notice aluminum and standing seam metal roofs on the state institutions like hospitals, schools and universities, police departments, military structures, and transportation buildings. Besides, metal roof coating of different variations is used on the tops of motels, churches, and shopping malls. A widespread commercial application of metal roofs results from their unmatched resistance to the elements, a relatively low upfront cost, and simple maintenance.
Residential buildings. These days we can see the tendency to install metal roofs on residential buildings. They are cheaper than slate and more durable than rubber and asphalt, offering homeowners a perfect blend of visual appeal and durability. Metal roofing tends to last for 50 years, but some makers give a lifetime warranty on their products. Shingles that look like natural cedar shakes and stone are especially popular for use in the residential segment.
The critical merits of metal roofing
Metal roofs have long become more than a coverage material for industrial and agricultural buildings. They now serve as a solid and energy-efficient addition to residential homes. Here are some of the primary advantages of opting for a metal roof:
Great durability. Your metal roofing installation is a worthwhile home upgrade as it brings a high return on investment. If you have had to replace the asphalt shingles, you might know that their average lifespan does not exceed 20 years. Metal roofing, on the other hand, can last for 50 years and more with the proper maintenance. This material is robust, rust-proof, and can withstand almost all weather extremes. It's not prone to cracking, denting, and corrosion and can preserve its initial look for decades.
Fire resistance. Metal roofing is non-combustible and has a Class-A fire rating. The highest fire resistance grade makes metal roofs suitable to install in areas prone to wildfires. Durability, together with weather and fire resistance, prove that metal roof installation is a reasonable investment.
Energy efficiency. According to the latest industry studies, metal panels maximize the reflective capacity of the roof, directing radiant heat away from the building and lowering utility spending by 10-25%. If you live in a hot climate, you may want to coat your roof with special paint that effectively blocks UV rays to save even more on cooling costs.
High resale value. Real estate agents confirm that homes with recently updated roofs made of energy-saving materials are sold twice quicker. Thus, depending on your region and the selected type of metal roofing, you could expect a 60%–85% return on your total costs.
Sustainability. If you care about environmental protection, you may want to install a long-lasting roof that can be recycled by the end of its service life. Most metal roofs are made of about 30%–60% recycled metal.
Rot & insect damage resistance. Metal roofs are impervious to rot and insect damage. You can bid farewell to the issue of termite infestation common to cedar shakes roofing. Besides, metal panels are resistant to rot, mildew, and algae. It simplifies their upkeep and extends their service life.
Simple cleaning. Metal roofing shingles are much easier to clean than asphalt and tile roofs. You can use pressure washing to remove leaves and dirt without the risk of damaging or bending the coverage.
Low-slope roof compatibility. Metal roofing can work on both high-pitch and low-pitch roofs, especially when it comes to standing-seam panels. This type of roofing is mounted on the top in sheets with raised and joined seams to prevent water damage.
The downsides of metal roofing
A famous saying goes, "There's something bad in everything good and something good in everything bad." This is also true for metal roofs. Here are the drawbacks of metal sheet roofing that can change your mind about this material:
Vulnerability to hail damage. When selecting metal as your roof covering material, you should consider the local weather pattern. Although metal roofing is solid enough to withstand high winds and rains, it is vulnerable to hailstorms. If your choice falls on copper or aluminum panels, you should know that they might be dented from big hailstones.
Noisiness. When rain drops or hail balls fall on the metal roof, they create a loud noise. Some homeowners don't find it a drawback, while others select roofing alternatives with better soundproofing. Nevertheless, there is a solution to minimize the noise level in the house. You can hire a roofer's crew to install more insulation layers on your metal roof.
Professional installation & repair. Most metal roofs are lightweight and can be installed by nonexperts. However, corrugated steel or stone-coated metal roofings are generally not advised to be mounted by DIYers. These materials are complicated to work with and require specialized skills.
Metal roofs come in different styles and types, varying in appearance, thickness, longevity, cost, and installation requirements. Take a look at their essential characteristics to make the right choice:
Standing seam. This roofing system refers to metal panels geared together at the edges to form a vertically-built seam. Roofs of this type are built using a fastening system covered by a rib or a seam. A concealed fastener installation method is a distinctive feature of this metal roofing type.
Exposed fastener. Roofing systems with visible fasteners are considered the most sought-after ones as they're affordable and easy to install. They're mounted the way the heads of the fasteners go directly through the metal and into the roof deck. Metal roofs of this type are typically used for industrial and agricultural premises.
Stamped profiles. Metal roofs with stamped profiles are best for those who seek to enhance their home's curb appeal with textured shingles but put a premium on durability. This type of metal roofing represents small panels stamped to mimic the look of shingles, shakes, and slates.
With such an abundance of metal roofs to choose from, it's essential to break them down by type, considering their advantages and installation costs. This way, you can pick the roofing option that suits your budget, durability requirements, and local climate.
This widespread type of metal roofing is eco-friendly, lightweight, corrosion resistant, and has a high strength-to-weight ratio. It is constructed from thin, malleable panels that are best for architectural roofing. Please note that aluminum roofing does not serve for low-slope roofs. The minimum required slope should be 3:12.
Aluminum roofing - Pros and cons
Pros
Long service life. Aluminum is not the most robust material among all options available on the roofing market. Nevertheless, it can serve from 35 to 50 years with proper installation and upkeep.
Lightweight. The average weight of the aluminum panels equals 5 lbs per square foot. This rate is significantly lower than steel or stone-coated metal roofs. Thanks to the light weight of aluminum roofing, it puts less stress on the home's structure and allows saving on roof reinforcement.
Energy efficiency. Aluminum roofing helps you to save up to 20% on utility costs. It does not overheat in summer and, if properly sealed, prevents warm air leakage in winter. That means you can keep a comfortable temperature inside the home without overpaying for electricity.
Eco friendliness. Like most other types of metal roofing, aluminum is recyclable. Depending on the manufacturer, aluminum roofs are 90 - 95% from recycled material.
Cons
Bending prone. Aluminum is soft and prone to denting material. It has poorer hail and wind resistance than steel and can be easily damaged by debris or while repairing.
Noisy. Like other metal roofing materials, aluminum creates much noise when something drops on its surface. You can expect aluminum panels to be noisy when there is a storm outside.
Prone to galvanic corrosion. Aluminum is one of the roofing materials that can experience galvanic corrosion by interacting with other metals. In the long run, one material will deteriorate and rust faster than the other, cutting the expected roof's service life.
Expand under the heat. An aluminum roof can expand while being regularly exposed to direct UV rays. It commonly results in damages and tears that make a roof vulnerable to leaks.
The national average aluminum roof costs
Aluminum is the best bet for those who seek a relatively inexpensive roofing option that can serve for decades without much maintenance. The cost of aluminum shingles ranges from $315 to $600 per square. The final estimate dramatically depends on the roofing sheet style, roof pitch, and job location.
Take a look at the average aluminum roofing costs, including materials and labor.
| Roof type | Cost (per square foot) |
| --- | --- |
| Corrugated aluminum roofing | $9 to $13 |
| Standing seam aluminum roofing | $11 to $17 |
Copper is one of the older roofing types, with its first mention dating back to Ancient Egypt. It has a unique appearance as it changes color over time, turning into a blue-green or brown patina. The longevity of a copper roof is higher than that of its aluminum and steel counterparts. You can expect it to serve from 60 to 100 years and more. With this unmatched durability, some householders may earn lower insurance rates, enjoying a higher return on investment.
Copper roofing - Pros and cons
Pros
Visual appeal. Copper comes in tiles, shingles, panels, and sheets. This roofing material has a stunning and diverse appearance. Copper amazes by its radiant look for the first years of use. And then it fades and turns its natural shining into a unique patina.
Lightweight. Copper is lightweight metal roofing. It is heavier than aluminum but lighter than authentic slate. The advantage of its lightweight is that it puts less stress on the home's structure.
Durability. Copper roofing is known to last for a century. This material becomes even more robust over time, creating a reliable shield from the elements and rust. Interesting to know that many European historical buildings with copper roofs last to this day, proving copper's endurance.
Corrosion resistance. The organic process of copper fading makes it look more charming and resistant to corrosion. The protective layer that develops keeps roofing from rusting and premature deterioration.
Cons
Denting prone. Copper has the same problem with denting as aluminum. Falling debris, hail, or roofers walking on the surface can leave dents on the roof surface, decreasing its aesthetic appeal and reducing service life. To avoid major denting issues, consider getting copper roofing of 20-ounce thickness.
Complicated to install. Copper roofs are not very widespread these days. That is why fewer contractors have the needed skills and experience to install them the right way. You should expect to spend more time searching for a roofer ready to take on your roofing project. Labor costs will be higher respectively.
Expensive. If your budget is tight, you better look for another metal roofing option. Copper is one of the most costly materials. Plus, its installation and repair require considerable spending.
The national average copper roofing costs
Copper roofs are the most expensive of their other metal counterparts. Zinc is the only metal roofing with approximately the same price per square. The average cost to install a copper roof on a typical 3.000 square foot home is $42.000, including material and labor. The high-end price might be $54.000, while the low-end one is $30.000. Factors that add to the metal roof cost include roof construction, its pitch, and the rates of local roofing professionals. The ultimate price quote also depends on the selected copper roofing type and thickness.
Take a look at the average copper roof cost, including materials and labor.
| Roof type | Cost (per square foot) |
| --- | --- |
| Standard copper roofing | $10 - $18 |
| Corrugated copper roofing | $19 - $28 |
| Standing seam copper roofing | $23 - $35 |
Steel is an alloy, the main component of which is iron. This durable material is widely applied in construction, accounting for over 50% of world steel demand. Steel is used to reinforce buildings' structures, clad exterior walls, and install commercials and residential roofs.
Steel roofing is lauded for its sturdiness and longevity (the average lifespan is 60 years). This material costs less than its aluminum, zinc, and copper counterparts. Plus, it does not require much investment in installation and maintenance.
Steel roofs come in three types - galvanized, galvalume, and weathering. They vary by appearance, durability, and cost. The most sought-after metal roofing, though, is corrugated steel roofing. It offers a fantastic combination of durability, lightweight, and long service life.
Steel roofing - Pros and cons
Pros
Rust resistance. Roofs made of steel are commonly coated in molten zinc or an aluminum-zinc alloy to prevent rust and premature deterioration. Besides, they can be painted for better moisture and algae resistance.
Eco-friendliness. Steel roofing is a green building material that can be recycled by the end of its useful life. Its initial manufacturing can be more energy intensive compared to zinc. Still, the availability of the metal alloy proves that the steel we use today is made from recycled material rather than new.
Longevity. The primary advantage of steel over other materials is its price-quality ratio. Although initially much more expensive than traditional low-cost roofing options like asphalt and rubber, a steel roof lasts much longer. Its average life expectancy starts at 50 and goes up to 80 years with proper installation and regular upkeep.
Wide application. The flexibility of use is another distinctive feature of corrugated steel roofing. Because of the lower service life and the higher prices of other metals, steel has been at the forefront of the construction world, serving as the primary solution for residential and commercial building projects.
Weatherproofing. Steel is one of the most robust metal roofing options that are less susceptible to leaking if installed correctly. It can be used in most weather environments as it reflects heat and works well in high winds, heavy snows, and hail.
Cons
Slippery surface. Steel roofs become slippery after every snowfall or rain, creating a safety risk to homeowners and pedestrians. While sliding by the slippery roof surface, snow creates a hazard of localized avalanches. That is why it's recommended to be very careful with steel roofs in areas prone to heavy snowfalls.
Noisiness. Steel roofs have a mutual drawback with other metal roofing variabilities. They can be loud during rainstorms or hail, lowering the comfort for homeowners. Nevertheless, the problem can be partially solved by installing additional insulation layers.
Uneven color. As we said before, steel roofs are commonly covered with a layer of paint for better durability and corrosion resistance. Nevertheless, the initial color can fade over time or become susceptible to staining.
Complicated installation. Metal roofing is installed in large panels that are more difficult to operate than individual shingles. Both steel roofing installation and replacement should be accomplished by certified contractors with plenty of experience behind their belts. If not mounted correctly, metal roofs bring a lot of headaches to their owners, including leakage and premature deterioration.
The national average steel roofing costs
We have recently mentioned that steel roofing comes in several types that vary by properties and cost. Galvalume steel has an aluminum coating that ensures its durability and appealing look. It's probably the most affordable of all three types of steel roofing, costing about $140 per square. Galvanized steel is coated with zinc for better corrosion resistance. It's a common choice for commercial and residential properties as it ensures unmatched durability, weatherproofing, and corrosion resistance. The average cost of a metal roof runs about $380 per square. Stainless steel is on the high end of the scale. This premium material is used to cover high-end commercial and residential properties. The cost per square is $800. Plus, stainless steel requires higher installation spending, ranging from about $12.50 per square foot.
Take a look at the average steel roofing cost, including materials and labor.
| Roof type | Material cost (per sq.ft.) | Installation cost (per sq. ft.) |
| --- | --- | --- |
| Galvalume roofing | $1.5 - $2.5 | $4 - $5.50 |
| Galvanized roofing | $3.35 - $4.25 | $8 - $10 |
| Stainless steel roofing | $10 - $16 | $12.50 - $15.50 |
You can see the term "tin roofing" in the context of steel or metal roofing, as they are often used interchangeably. Tin was introduced as a canning material and then adjusted by DIY enthusiasts who started using it as a roofing coverage.
These days, tin is rarely used compared to other metal roofing options. Sheets made of this material have been virtually phased out. However, there are still a lot of homeowners whose roofs are covered with tin. They stay loyal to this roofing due to its high corrosion resistance, unmatched durability, and classic look. Tin develops a gray patina over time that enhances its appearance and ensures a long service life.
Tin roofing - Pros and cons
Pros
Longevity. Tin roofs may serve from 40 to 70 years, depending on the coating material and the quality of installation. This is a good indicator of roofing material's robustness and durability.
Weatherproofing. Most metal roofs show their unmatched effectiveness in resistance to the elements. However, some materials are still better than others. Tin roofs are one of the best when it comes to weatherproofing. While costing much lower than premium metal and non-metal roofing solutions, they don't let rain, snow, hail, or scorching sun affect your comfort.
Heat resistance. Tin roofs are suitable for hot climates. They can keep your house from overheating while it's under the scorching sun for the whole day. The main component of a tin roof is terne which reduces the affection of high temperatures on the building, improving its thermoregulation properties. As a result, you will pay less for cooling your premises.
Reasonable price. Tin is cheaper than most metal counterparts like aluminum, copper, and zinc. However, you can expect it to serve the same number of years or even more.
Cons
High maintenance requirements. Tin roofing requires thorough upkeep to serve the maximum lifespan. Regular painting and sealing are essential to ensure your roof does not succumb to premature deterioration. Before deciding on this type of roof, consider additional spending connected with its maintenance.
Difficult to repair. Tin roofing comes in large sheets placed directly on the roof surface, usually over existing shingles. When it comes to any modification, it becomes a real headache. First, it is complicated to replace damaged sheets. Secondly, it is not easy to find the same materials that were used on the roof decades earlier.
The national average tin roofing costs
The price of installing tin panels can vary based on the selected material, roof parameters, and labor cost in your area. The low-end cost is about $3.00 per square foot, while the high-end one is $14 per square foot. The price of installing a new tin roof on a typical 3.000 square home ranges from $10.000 to $32.500.
Take a look at the average tin roofing costs, including materials and labor.
| Roof type | Cost (per square foot) |
| --- | --- |
| Tin roofing with a zinc coating | $8.50 - $14.00 |
| Tin roofing with a lead coating | $7.00 - $12.00 |
Corrugated roofing is manufactured from aluminum or galvanized steel. It comes in metal sheets that are shaped into alternate ridges and grooves. There are a few styles and patterns of corrugated metal panels, but they all have better structural strength compared to their flat alternatives.
Corrugated roofing has a high strength-to-weight ratio and can serve more than 60 years. This material is relatively inexpensive and simple to install and upkeep. These advantages, plus unmatched resistance to weather extremes, make corrugated metal sheets roofing the best fit for commercial and residential buildings.
Corrugated metal roofing - Pros and cons
Pros
Versatility. Corrugated metal sheets have a sleek design and can easily fit into any exterior, be it a contemporary commercial building, rural cottage, or urban setting. This material is also often used as an accent roofing element.
Durability. Due to the corrugation of the metal, these shingles have a long service life. If installed by a knowledgeable contractor, they can last for more than 60 years. Corrugated metal roofs are not susceptible to bending and corrosion and can preserve their initial look for decades.
Price-quality ratio. Corrugated metal is one of the cheapest metal roofings available on the market. It can be installed without a high down payment, especially on large roofs.
Energy efficiency. Corrugated metal sheets can be covered with a special coating to reflect sunlight and heat. They allow you to keep a premise cool even in the hottest summer months. This advantage of corrugated roofing helps save up to $150 on electricity annually.
Cons
Leakage tendency. Unfortunately, corrugated metal roofs are not immune to leakage. Due to their exposed fasteners construction, they have poor water resistance. Seams between panels often become vulnerable to water accumulation that seeps into the underlayment in the long run. These areas require regular maintenance to stay airtight.
Questionable aesthetics. Corrugated metal sheets are most commonly used for commercial properties as their u-shape pattern looks dull and does not add to the building's curb appeal. Nevertheless, it's a subject of personal opinion, and some people like how the panels look on the roof.
The national average corrugated metal roof costs
Most types of metal roofs can be made into corrugated sheets. However, galvalume and galvanized steel roofs are the most sought-after ones. They cost from $200 to $650 per square for materials plus labor. The price depends on the roof structure and size, the color and coating of corrugated sheets, and the rates of the selected roofing company.
Take a look at the average corrugated metal roof costs, including materials and labor.
| Roof type | Cost (per square foot) |
| --- | --- |
| Corrugated galvanized steel panels | $3.50 - $6.50 |
| Corrugated galvalume metal panels | $2 - $3.50 |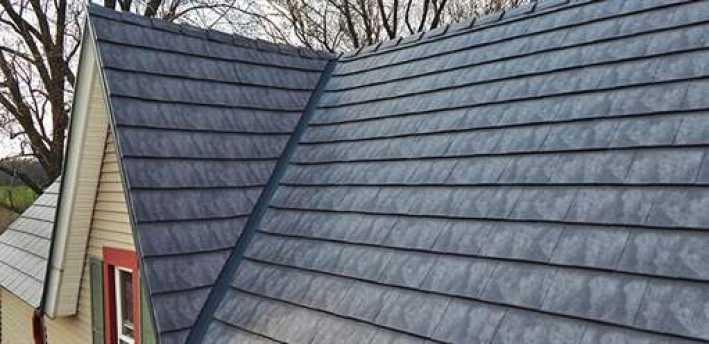 Architectural-grade metal panels are relatively new on the metal roofing market. They have become a top solution in exterior home design for the last few years as they match an appealing look and durability. Metal slate roofs mimic natural slate shingles but offer better flexibility and strength. Plus, they are more affordable and simpler to upkeep.
The material that forms the basis of the metal slate is steel covered with a reflective coating. This roofing option can serve up to 50 years and withstand the harshest weather conditions.
Metal slate roofing - Pros and cons
Pros
Lightweight. Metal slate roofing has a small fraction of the weight of natural slate. It can be used for re-roofing and installed over the existing layer of shingles. Besides, no roof structure reinforcement is required.
Durability. Metal slate roofs made from galvanized steel are durable and not prone to bending. They are not afraid of hailstorms and flying debris. That means they work well in hurricane-prone areas.
Weathertight. Roofs of this type come with concealed fasteners that make them better protected from the elements than corrugated ones. Besides, no regular maintenance is required.
Visual appeal. If you seek to introduce a rustic charm of natural slate to your home's exterior but are not ready to overpay for this roofing material, consider its metal alternative. Thanks to the double stamping, the metal slate looks dramatic and realistic.
Cons
Require professional installation. If not installed properly, metal slate shingles can fail at the seams and become prone to water damage. Consider hiring a certified roofing contractor to save yourself the trouble in the future.
Noisiness. As well as any other type of metal roofing, a slate-imitating one can be loud during hail storms and heavy rains. You can solve the issue by installing an additional insulation layer.
The national average costs of metal slate roofs
The average cost you should expect to pay for metal shingles that mimic slate ranges from $400 to $650 per square, material only. Some manufacturers include the trimming service at this cost. Please note that metal slate roofing is not a subject for DIY installation. You have to hire a pro to get the job done. The metal roof cost per square, including professional installation, will range from $1050 to $1650, depending on the size and complexity of the roof and the local labor rates.
Standing seam roofing is rather a type of panel than a material. Standing seam panels are made of different materials, but the most popular ones are steel, aluminum, copper, and zinc. They're characterized by a concealed fastener system and a vertically ribbed appearance. Panels vary by installation principle - some are snap-locked together, while others require special caps to be secured.
Standing seam metal roofs are weather-tight and rot-resistant. Their average service life is 50 years under proper installation, regular recoating, and adequate attic ventilation. The concealed design ensures better roof longevity as it does not let moisture and weathering affect fasteners. Another distinctive feature of standing seam panels is that their locking mechanism allows them to expand and contract as temperatures change.
Standing seam metal roofing - Pros and cons
Pros
Durability. Standing seam metal roofing has unmatched durability, especially compared to other popular roofing coverages like asphalt shingles or tiles. Most manufacturers offer a watertight warranty on their panels, ensuring that systems will not fail earlier than expected.
Energy-efficiency. Standing seam roofs are made from metal coil with reflective pigment. They can easily reflect sun rays, preventing roof overheating and keeping the premises cool even when it is a scorching sun outside. These standing seam roofs' properties allow to lower the load on cooling systems and skimping on the electricity costs.
Sleek appearance. Standing seam metal panels' laconic and clean look makes them a go-to choice for architects. They apply this roofing type in grand commercial projects and residential properties. In addition to sleek design, standing seam roofing comes in an abundance of stylish colors, including custom ones to introduce your design concepts to life.
Concealed fasteners system. Standing seam metal panels have no visible fasteners, meaning they are not exposed to the elements and direct UV rays. Besides, panels don't have holes that ensure better roof structure protection.
Cons
Higher initial cost. Standing seam roofing is usually more expensive than other metal coverages, especially those with exposed fastener systems. Plus, considering the labor intensiveness of its installation, you should be ready to spend around $20.000 to shingle a 1.700 square foot roof.
Complicated installation. Standing seam metal roofs require a more labor-intensive installation than exposed fastener systems. The metal coil roll forming is made on-site. Plus, the material is not put on the roof deck and then screwed but fastened with the clips. Both snap-lock and mechanical seamed systems require a professional roofer to be installed the way a manufacturer requires it.
Not matched with flat roofs. Standing seam systems cannot be mounted on roofs with a pitch below 0.5/12. When installed on flatter pitches, they cannot ensure adequate drainage system work, leading to premature deterioration.
The national average standing seam metal roof costs
As we said, standing seam roofing can be made from different materials, including aluminum, steel, zinc, copper, and others. The cost of a metal roof may vary depending on the selected material. The national average price ranges from $400 to $700 per square. Add labor to the material cost, and you will get about $1300 per square on average.
Take a look at the average standing seam metal roof prices, including materials and labor.
| Roof type | Cost (per square foot) |
| --- | --- |
| Aluminum standing seam roofing | $6.95 - $9.60 |
| Steel standing seam roofing | $3.50 - $7.75 |
| Zinc standing seam roofing | $7 - $17.50 |
| Copper standing seam roofing | $8 - $14.50 |
Stone-coated metal is a perfect blend of uncompromised durability and aesthetic appeal. This roofing material is made from steel panels covered with stone granules that allow for a wide variety of colors and textures. The distinctive feature of stone-coated metal roofing is that it imitates traditional roofing materials like shingles and shakes while preserving the original strength of steel.
Stone-coated metal roofing - Pros and cons
Pros
Aesthetic appeal. Metal roofs of this type are made to provide you with the golden mean between pristine quality and attractiveness. Stone-coated panels are about versatility as you can choose between multiple colors and textures. Whether you seek rural-style wood shakes or traditional asphalt shingles, stone-coated roofing likely has something for you.
Weatherproofing. Stone-coated metal roofing is made up of several distinct layers. Galvanized steel sheets are at the core. They are coated with epoxy primer and finished with acrylic paint. The next layer is stone chips that are finished with an acrylic overglaze for better gloss. This multiple-layer system protects stone-coated roofing from ultraviolet rays and moisture, making it highly resistant to weather variabilities.
Longevity. With the highest fire and impact resistance rating, stone-coated steel roofing has a 70-year potential lifespan. This robust material is made to survive the force of natural elements, from heavy winds to scorching sun and hailstorms.
Energy efficiency. Steel roofing of this type has an infrared-blocking coverage. If installed in the vented way, it helps avoid heat transfer to a house by more than 70%. Stone-coated metal roofing allows homeowners to save on their electricity bills in summer.
Lightweight. While multi-layered, stone-coated metal roofs weigh less than 2 pounds per square foot. Compared to other metal roofing options, this rate is incredibly low. Lightweight roofing is easier to install as you don't need additional reinforcement.
Cons
High initial costs. This roofing material comes to a premium class and requires high upfront spending on installation. If you have a tight budget, you better opt for tin or asphalt shingle roofing. Nevertheless, you should remember that investment in this enduring roofing material will bring good rewards.
The national average stone-coated steel roofing costs
Stone-coated metal roofing falls within costly materials that pay out in spades. Thus, you should expect to pay from $600 to $1100 per square for material only. The cost may differ from the style of panels. Homeowners spend an average of $780 per square for stone-coated roofing that mimics shakes or shingles. Barrel tile profiles cost around $810 per square. Installation costs around $12 per square foot and hinges on the roof shape and pitch, as well as local contractors' rates. Please note that sheathing and underlayment building can add to the final stone-coated steel roofing cost. To get an accurate estimate, refer to a local roofing company or send us your request by this link.
In plain words, roof underlayment is the protective roofing layer installed directly over the roof decking to keep it shielded from the elements and other external factors. Every roofing material requires a special underlayment that can withstand its weight and thermal expansion. It's highly recommended to select underlayment, not from the point of cost but its reliability and properties.
When it comes to metal roofs, underlayments are limited to three main options - high-temp, synthetic, and felt. Let us take a closer look at each type to weigh its merits and downsides.
High temp underlayment is a go-to option for metal roofs that produce more heat than other roofing systems, going back and forth during thermal expansion. This protective roofing material is composed of a top-grade, reinforced polyester fabric that ensures superior weatherproofing. High-temp underlayment suits low-slope roofs, protecting them from leakage and ice dams. This premium material costs around 20 cents per square foot.
Synthetic sheet underlayment is a relatively new roof protection technology that's become widespread in recent years. This material is made up by spinning together polypropylene with a polymer to create a protective layer between the roofing and decking. Synthetic sheet underlayment consists of thermoplastic polymers that make it durable and tearing-resistant. Besides, this material is lightweight and does not require special skills to be installed on the deck. It's also great to withstand high temperatures. The cost per square foot of synthetic underlayment ranges from 15 to 90 cents, depending on the manufacturer and material quality.
Felt underlayment, also called tar paper, is one of the most affordable and widespread protective roofing materials used for steep-sloped metal roofs. As its name implies, asphalt-soaked felt is made of a natural or synthetic base (cellulose or fiberglass) and covered with asphalt for better water resistance. Unfortunately, this protective material has drawbacks like poor heat resistance and reduced service life. The average cost of a 15-pound felt ranges from 5 to 7.50 cents per square foot, while its 30-pound analog costs around 12.50 cents per square foot.
Metal is a robust, long-lasting material that can serve for decades without much upkeep. Nevertheless, as well as any other roofs, metal ones should undergo annual inspections to prevent potential problems and premature deterioration.
Regular surface and structural upkeep are essential to keeping a metal roof in tip-top condition. Some of these maintenance tasks can be performed without professional assistance. However, it's critical to consider the slippery metal roof surface and take corresponding safety measures.
The scope of surface-level metal roofing maintenance tasks to perform annually:
Cleaning the metal panels off stains, dirt, leaves, and mildew
Trimming trees placed near the rooftop
Removing snow and ice from the roof in the winter season
Cleaning gutters and drains from debris and dirt
Removing debris and leaves from valleys and other dead spots
Looking for scuffs and scratches on the surface as well as excessive chalking
The scope of structural metal roofing maintenance tasks to perform annually:
Looking for any visual damage on the roof surface
Checking and eliminating scratches and corrosion
Inspecting and sealing water penetration point areas
Checking and fixing separating/ loose panel seams
Checking and adjusting damaged flashing materials
Metal roofs are one of the most complicated to install. Depending on the selected roofing type, panels can be heavyweight and require on-site cutting. Besides, they can be slippery when wet or freshly coated. Those metal roofing options that feature a concealed fasteners system are even more tricky to work with as a roofer should possess a specific experience to mount them on a top.
So, in addition to the safety risks that accompany working on a metal roof, an unprofessional installation can drastically reduce a roof's service life and bring unexpected spending on repair and replacement. Unless you have a special certification in working with a particular type of metal roofing, you probably don't have the needed equipment or knowledge to do the job right.
If you want to get the most out of your metal roofing, entrust its installation to proven contractors who have undergone special training and know all ins and outs of working with metal panels. MyHomeQuote is always here to connect you with trusted roofing crews operating in your area. We commit to providing you with price quotes from roofers with enough expertise and positive client feedback.
Leave your request on our platform for a quick metal roofing installation estimate. It does not take you a dime to learn the local roofing prices with MyHomeQuote.
Sought-after home repair services near you
WE DON'T SEND THE NEWS
GET THE ESSENCE OF RELEVANT HOME
IMPROVEMENT TOPICS IN LESS THAN 5 MINUTES
Please enter a valid email