Find Bathroom Tile Contractors Near You
Please enter a valid zip code
MyHomeQuote puts you in touch with trusted bathroom contractors in your area. Complete our short questionnaire to get clear-cut bathroom quotes at no cost.
Book Bathroom Tile Installation Near You with MyHomeQuote
A bathroom makeover isn't possible without retiling for most homeowners. If you are wedded to this idea, too, it's worth teaming up with an experienced bathroom tiling contractor. And the MyHomeQuote contractor-matching platform is the #1 place to search for home improvement specialists. Not only do we connect you with the best bathroom tile contractors near you, but we also do that for free. Let us know where you are searching for a specialist, and we'll take care of the rest. You can specify your home address, neighborhood, or ZIP code – we search within a 10-mile radius. Potential expenses are often one of the cornerstones of the decision-making process. That's why the selected bathroom tiling contractors will get hold of you with ready-made estimates. Lodge your request by filling in the form below.
GET ACCURATE ESTIMATE
Including price quotations from local pros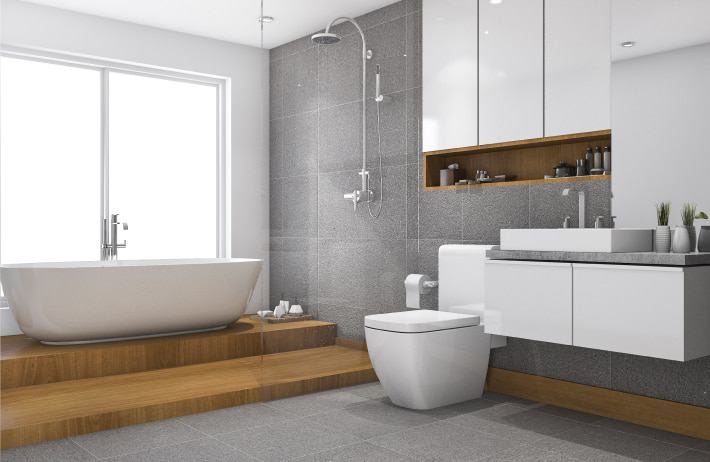 Streamline Your Bathroom Renovation Project With MyHomeQuote

Step 1
Find Local Bathroom Pros
Seek to hire licensed bathroom contractors to revive your space? With us, locating local pros and getting their FREE estimates takes a couple of clicks.

Step 2
Budget Bath Renovation
Get a ballpark cost of your bathroom makeover by specifying your needs and location. Our bathroom pros will contact you with personalized estimates.

Step 3
Get Free Bathroom Quotes
Get up to 4 estimates from bathroom contractors whose service area covers your region. You will be able to compare rates and get the perfect match at no cost.
Secure Top-Tier Bathroom Repair Services to Refresh and Customize Your Space

Find Nearby Bathroom Pros
Rely on our free contractor-matching service to discover the finest bathroom professionals in your area. With our expert recommendations, detailed customer reviews, and tailored search options, hiring a skilled professional will be a breeze.

Compare Bathroom Quotes
Compare quotes from vetted nearby bathroom professionals and secure the best value for your dream bathroom makeover. By evaluating multiple estimates, you can confidently hire a skilled expert who combines quality craftsmanship with budget-friendly solutions.

Hire Top-Rated Contractors
Elevate your bathroom experience by hiring a skilled local professional who understands your unique needs and style preferences. With MyHomeQuote, you can match contractor offers and pick the one who can ensure you a successful and stress-free renovation process.
12.000 +
homeowner requests processed daily
80.000 +
renovation projects performed annually
73%
homeowners get back to us for more quotes
3 out 5
contacts with contractors end up closing a deal
Here's what clients who found local bathroom remodelers through MyHomeQuote say
bathroom
Thank you for your recommendations
For those who seek bathtub installers in Austin, don't hesitate to leave your request on MyHomeQuote. They recommend worthy tradesmen companies you won't regret hiring.
bathroom
A fair bathroom renovation cost
We spent almost a month searching for local bathroom contractors. The prices have jumped twice since the last time we remodel our walk-in shower. However, we still managed to hire an affordable specialist via MyHomeQuote.
bathroom
Good experience
First time using this service. It was a positive experience. Will use it again for sure.
bathroom
Easy-to-use service
I find this way of seeking bathroom contractors quick and efficient.
bathroom
I ended up with great results
There is one bathroom in our flat, and it looked so shabby that we were forced to search for remodelers in pandemic months. Fortunately, we managed to find an independent tradesman via this platform.
bathroom
MyHomeQuote helps find great pros to do the job
MyHomeQuote pairs you with certified pros, not charging for its services. It's a cost-efficient option compared to subscription-based services.
How Does MyHomeQuote Know a Bathroom Tile Contractor Is a Good Fit for Your Project?
If you've ever searched for a credible handyman service, you know what a tough call it is. It may seem impossible to choose from multiple bathroom tile companies near you as they all offer similar services and rates. But MyHomeQuote is here to take up the gauntlet.
We've connected thousands of homeowners with perfect-matching contractors, meaning we have expertise in doing that. So, how do we know a bathroom tiling company is eligible for your project? We carefully analyze the info you provide and check whether the candidates have:
Relevant experience. A reliable contractor should have 3+ years of experience under their belt in the field. This guarantees they know the ins and outs of the tile installation process, whatever type you select, and can address any issues that may arise amid the project.
Required licenses and insurance. With MyHomeQuote, you can be sure to only interact with licensed bathroom tile contractors in your state. Uncertified amateurs are doomed to fail the document verification process. Thus, if any accidents take place, you'll be protected from any liability.
Portfolio of work. If you mention the type of tile you want to cover your walls with, we go all out to ensure that the contractors have already worked with it. We ask them to provide a portfolio to ensure their style and work quality align with your requirements.
MyHomeQuote: Get Multiple Quotes for Bathroom Tile Remodel Near You
When searching for a tile contractor, you may notice that many companies specify their rates on their websites. Even though these numbers can give an idea of how much you can spend on a specific service like old tile removal, you can hardly calculate your total real-life expenses.
MyHomeQuote allows you to take the guesswork out of the equation. With us, you can receive up to 5 bespoke estimates from local experts in bathroom tiling near you. Choose the one you fancy more, and you are good to go!
FAQ
How Can I Prepare a Bathroom Floor for Tiling?
You can start by thoroughly tearing off the existing flooring and cleaning the area. If you are an experienced DIYer, you can repair any damage to the subfloor and level the floor using a self-leveling compound. However, if you don't have any experience, it is worth hiring a pro from the off.
How Can I Calculate the Number of Tiles I Need for My Bathroom?
You need to measure the length and width of the area you are about to tile in feet. Once you multiply these two digits, you'll get the total square footage. As manufacturers specify how many sq. ft. one pack of tiles can cover, determining the number of packages you need to buy won't take much time. Please note that getting some extra tiles (10%) is necessary as there may be breakages and cuttings.
Can I Do Without a Bathroom Tile Contractor?
Yes, you can handle a bathroom tiling project if you are skilled in DIY projects and have the necessary tools. However, tiling is a labor-intensive task that leaves little to no room for mistakes as they may result in costly water damage repairs. So, it requires extensive experience for an optimal result.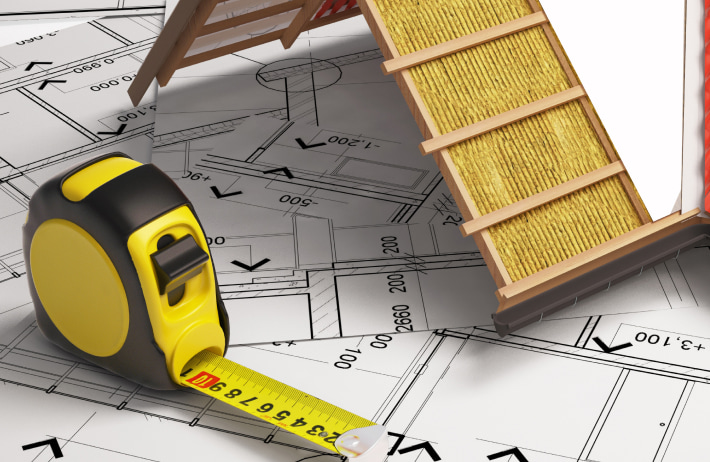 Find thoroughly assessed and
approved local professionals
for major home improvement tasks
Please enter a valid zip code