Window treatments are simple yet functional coverings often made of textile, wood, or synthetics that enhance the home's comfort and functionality. They are mounted on both the inner and outer sides of the window and can range from simple rustic models like faux wood blinds and cotton curtains to intricate and exquisite designs like Roman shades and silk drapes. Window treatments add aesthetic value to the room, complement the interior design, and often become a key decorative element.
Nevertheless, aesthetics is not the only reason we could hardly imagine any modern home without window treatments. They also have privacy enhancement, light control, and energy-saving functions, resulting in a cozier and better-insulated home. Current window treatments have also adopted technology, offering features like motorization and smart home compatibility for a more convenient user experience.
This article aims to answer your question about how much window treatments cost these days and what factors may affect the ultimate spending. Read on to make an informed decision about budgeting for your window treatments.
The National Average Cost of Window Treatments
The cost of window treatments varies greatly depending on the type of the treatment, be it curtains, drapes, blinds, shutters, or shades, the materials used, the size and number of windows to cover, the need for customization, and any unique features like motorization or smart home compatibility. The total installation cost of window treatments can also be affected by the location of the windows to be covered and whether the treatments are designed for the exterior or interior side of the unit. Pros often charge a higher rate for installing treatments on large or difficult-to-access windows. Energy-efficient, motorized, and smart window treatments could also increase the estimated cost.
Generally, you can expect to spend around $930 for professionally installed window treatments, with most homeowners spending from $170 to $1,780 per project. Installing new window treatments in all rooms in the house may cost $5,000 or more for custom-designed, high-end drapes or shutters. On the contrary, basic off-the-shelf blinds can cost as low as $50 per window.
The average window treatment prices
| | |
| --- | --- |
| Low-End Cost | $50 |
| National Average Cost | $170 - $1,780 |
| Average Cost Range | $930 |
| High-End Cost | $5,000 |
Window Treatments Cost Overview
The type and material of the window treatment generally make up the bulk of the budget, with additional costs arising from the installation process and the number of windows to be covered. Some homeowners opt to install window treatments themselves, but due to the complexity or volume of the job involved, professional assistance may be required. Installation costs vary based on geographical location and the cost of living in the area. Purchasing window treatments from a local artisan can be more expensive than a large-scale retailer. Furthermore, custom treatments tailored to specific window dimensions tend to cost more due to the increased labor.
Read on to understand the factors involved in estimating window treatment costs and predict the average cost you will need to spend updating window treatments in your home. This information will enable you to budget effectively for your window treatment upgrade.
The Average Cost of Window Treatments by Window Size
Not all windows are made the same. Each unit, from picture and casement to egress and bow, has its unique dimensions and requires specifically sized treatments to fit them accurately. That is why window treatments are often custom-made to meet the particular window size and shape requirements.
Customization is one of the factors that affect the total cost of window treatments. Thus, standard fabric blinds you can buy in the local brick-and-mortar store will cost you up to $200 per window, and more advanced roller shades up to $350. The cost of custom window treatments, though, may get as high as $1,800 per unit, depending on the type and amount of material needed for manufacturing. On top of that, if you opt for add-ons like motorization or smart controls, the cost for both standard and custom window treatments could be even higher.
The Average Cost of Window Treatments by Type
The cost of treatments varies significantly based on their type and style. Curtains and drapery, for instance, are typically pricier than Roman shades of equivalent quality due to the greater amount of fabric they require. Additionally, certain window treatments like motorized shades involve costly hardware and present more complex installation requirements, contributing to a higher price. It's essential to consider these factors when budgeting for window dressings. This section will provide an average cost breakdown for each type of window treatment to help you make an informed decision.
The Cost of Blinds
Blinds are widespread window treatments that come with an adjustment mechanism to either block out or let in the daylight. Depending on the configuration, they are made of multiple horizontal and vertical slats that are rotated to be tilted, raised, or lowered when needed. This ensures better privacy and allows control of the amount of light entering a room. The most popular blind options are made from wood, faux wood, and aluminum. However, you can also come across fabric, vinyl, and bamboo blinds performed in multiple styles, from rollers to vertical and panel ones.
The average cost you can expect to pay for professionally installed blinds is $750. However, the price may vary from as low as $210 to as high as $1,400 per window. Custom-made blinds made of hardwood are considered the most expensive ones.
Here are the average estimated costs of window treatments, specifically in the category of blinds:
| Type of Blinds | The Average Cost Range per Set |
| --- | --- |
| Mini Blinds | $10 - $115 |
| Micro Blinds | $7 - $90 |
| Venetian Blinds | $40 - $200 |
| Vertical Blinds | $30 - $120 |
| Roller Blinds | $75 - $230 |
| Panel Blinds | $50 - $200 |
| Custom Blinds | $150 - $350 |
The Cost of Shutters
Shutters are a popular and classic window treatment choice that enriches the home's architectural design. Composed of a framework of vertical stiles and horizontal rails with adjustable louvers, they offer a versatile solution for controlling light, enhancing privacy, and increasing security. While they are on the higher end of window treatment costs, they can add considerable value to a home, given their elegant design visible from both the inside and outside. Whether crafted from wood, faux wood, vinyl, or aluminum, shutters are celebrated for their durability, easy maintenance, and capacity to add a classic or contemporary aesthetic to any room.
Depending on the size and material, shutters cost from $1,200 to $4,000 per window, with most homeowners spending around $2,500 on their shutter installation projects. Thermalite and hardwood shutters of custom style and design cost the highest price.
Here is how much window treatments of this type cost:
| Type of Shutters | The Average Cost Range per Set |
| --- | --- |
| Plantation Shutters | $200 - $400 |
| California Shutters | $170 - $1,150 |
| Custom Shutters | $700 - $2,700 |
The Cost of Shades
Window shades belong to another type of popular window coverings, utilizing a continuous roll of fabric that can be adjusted using a cord or spring mechanism. Unlike blinds, they lack slats or louvers, offering excellent light blocking and privacy capabilities. They are available in various styles, such as roller, Roman, cellular, and solar, to meet different decor and functionality needs. Among their advantages are their sleek aesthetics, light control, and, in the case of some types like cellular shades, insulation properties. Additionally, they often come with cordless or motorized options, enhancing safety for households with small children or pets. Overall, shades provide a versatile and practical choice for window treatments.
The cost of window shades largely depends on the type, material, and whether they're custom or ready-made. On the lower end of the price scale, you'll typically find basic roller and pleated shades made of less expensive materials like vinyl or lightweight fabric, which can start from as low as $10 and go up to around $50+ per window. On the higher end, custom-made shades are made from luxury fabric or woven wood. Their cost ranges from $100 to $500+ per window. The total average cost homeowners spend on installing shades ranges from $950 to $3,800, with most projects nationwide meeting the highest range of $1,600.
Here are the average window shade costs by their type:
| Type of Shades | The Average Cost Range per Set |
| --- | --- |
| Solar Shades | $50 - $200 |
| Roller Shades | $15 - $190 |
| Roman Shades | $30 - $120 |
| Cellular Shades | $25 - $250 |
| Pleated Shades | $50 - $100 |
| Custom Shades | $1,000 - $2,500 |
The Cost of Curtains and Drapes
Curtains are a type of window treatment made from light fabrics. They hang from a rod and can be opened and closed to provide light control and privacy. Drapes, or draperies, are similar to curtains but are typically made from heavier fabrics. They are often lined for insulation and hang floor-length, creating a more formal look.
The average cost you should expect to pay for drapes and curtains ranges from $25 to $310 per panel for regular products and from $250 to $1,250 for custom ones. Additional accessories like curtain rods and rings will cost you another $90 - $150 per window.
Labor Cost to Install Window Treatments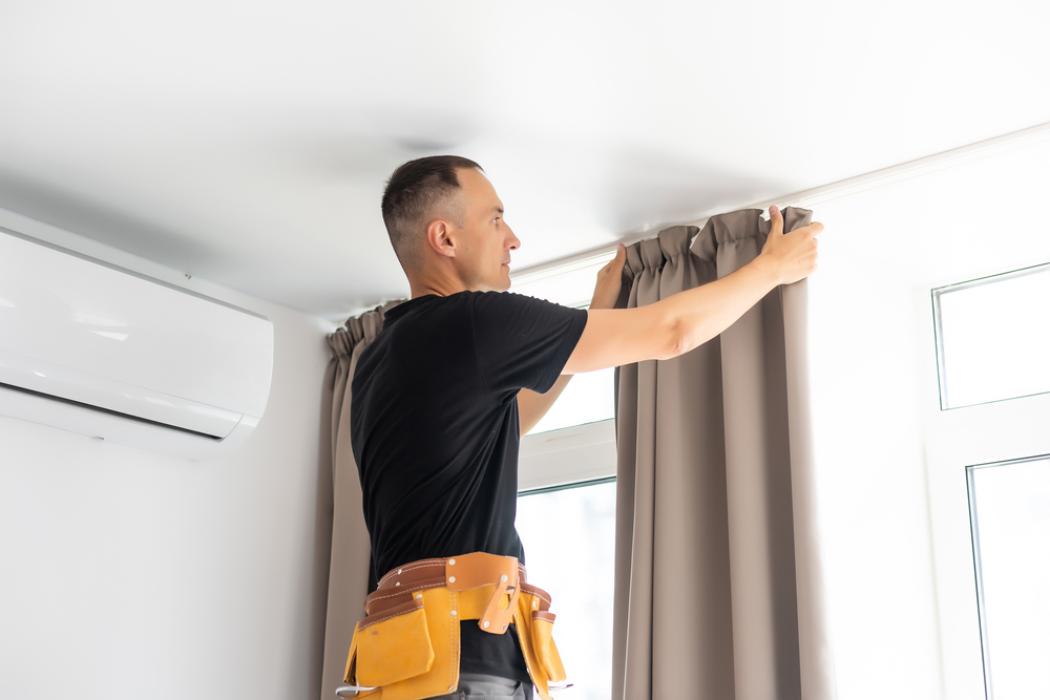 Although many homeowners undertake window treatment projects on their own, there are instances where it's more beneficial to entrust the task to professionals. Firstly, accurate measurements are crucial for a proper fit and function of the treatments, and professionals come equipped with the expertise to do this correctly. Secondly, installing motorized shades or rolls can involve complex steps such as ensuring level mounting for smooth operation, which requires proper tools and understanding. The more moving parts the system has, the more chances an unprepared homeowner will get lost in the process, resulting in wasted time and money.
You can expect to pay anywhere from $40 to $115 per hour to install window treatments in your home. Please note that installing a treatment for one window takes 20 to 45 minutes, depending on its size and the type of treatment.
FAQ
When Is It Time to Replace Window Shades?
Window shades are usually replaced when they no longer function properly - the mechanism is broken, they don't raise or lower smoothly, or they're damaged beyond repair. Additionally, you should consider a replacement if your shades are faded, stained, or looking outdated, negatively impacting the aesthetics of your space.
How to Save on Installing Window Treatments?
First, choosing blinds or shades can be a budget-friendly option as they usually cost less than custom curtains and drapes. Secondly, reducing the number of windows to be dressed or using more expensive treatments selectively for key windows can minimize the overall cost. Lastly, if you're considering a more decorative element like curtains or drapes, opting for valances could be a cost-efficient alternative since they cover only the top half of the window and require less material and installation work.
How Much Do Custom Window Treatments Cost?
Custom window treatments can significantly vary in cost depending on the type of treatment, material, size, and level of customization. On average, they can range from around $300 to $4,000 per window.