If it has been a long since you installed your windows, they might look worn out. Sun exposure and other abiotic variables can cause paint fading, making the units appear dull and outdated. You may also notice scratches, marks, or areas with chipping paint. Not only do all these things affect your home's aesthetic, but they also create an entryway for structural problems. If you want to ward off big-ticket repairs and replacements, give your windows a lick of paint. This won't break the bank but allow you to prevent further damage while creating a fresh, clean look.
How much does it cost to paint exterior windows? Experienced contractors can charge anywhere from $1.45 to $3.50 per linear foot. Thus, if you need to paint a standard-sized window, you should be ready to pay from $100 to $900, both labor and materials included.
Navigating Window Painting Pricing: An Expert Overview of Costs and Cost-Formation Factors
Many homeowners consider repainting their windows once they renovate their homes and discover that old units don't match the new aesthetics. Does it ring a bell? If you have found yourself in their shoes, it's crucial to discover aspects that affect how much to paint the windows in your area.
It is not a big deal if you don't know any reliable window painters, as MyHomeQuote is always here for you. We can help you locate specialists in your neighborhood who can make any ideas come true. Fill in the form below to get the ball rolling.
The Average Cost to Have Exterior Windows Painted
Knowing your house's type of exterior is essential when you are about to paint outdoor window frames. Otherwise, the process can turn into an intimidating scenario from square one. Thus, the cost to paint exterior windows can vary greatly depending on the type of primer and paint used, the job's complexity, window size, and your location. Materials alone can set you back from $120 to $475, so add labor costs from $30 to $100, and your expenses can land between $150 to $555 per window. Some contractors charge per linear foot from $1.50 to $4.
The Average Cost to Have Interior Windows Painted
You may be surprised to discover that painting units from inside is often costlier, as the house has more linear feet of interior trim, and it may take contractors longer to complete the project. On average, seasoned specialists charge between $1.70 to $5 per square foot. However, the cost to paint interior windows can fluctuate between various companies, as they all have different operation expenses. For a standard-size window, you can expect to pay between $200 to $670 per window.
Factors Affecting the Cost of Window Painting
Your home makeover can hardly be picture-perfect without a window refresh. Thus, you may make up your mind to change the units' color and hide minor defects. However, even such a small-scale project as painting can lead you down a rabbit hole if you overlook factors shaping the total cost to paint windows. The key aspects are specified below.
Window Size
You can find windows of various sizes throughout a standard American house. The cost can be higher or lower as they all will naturally require different time, effort, and materials to complete the painting project. While large units are known for gobbling up a lot of money, many small windows can do the same due to the complexity and time needed to paint each.
Window Type
The style and design of your units can also affect your expenses because some models are easier to paint than others. For instance, you will have to fork out more for painting complex, multi-pane windows than their flat counterparts. And how much does it cost to paint a window with intricate designs or unusual shapes? Considering the special precision and time required, the price may be doubled.
Frame Material
The material your window frame is made of defines whether preparation is required before painting. While vinyl (PVC) units offer the luxury of being an effortless paint job, wood ones can make contractors pull out all the stops. On top of that, you may have to cover the cost of additional materials like sealers and primers.
Frame Condition
If the frames have signs of damage or wear and tear, contractors will have to repair or sand them first. Thus, the cost to paint a window will be increased by additional services involved. Moreover, hard-to-reach units may incur extra expenses due to the need for specialized equipment.
Paint Color and Quality
The market is chock-full of different quality paints in all possible colors. If you select weather-resistant premium paint, it may last longer but cost you more. Lighter paint hues may require multiple layers to ensure an even and consistent surface, while dark colors may cover up in a few coats or less.
Additional Services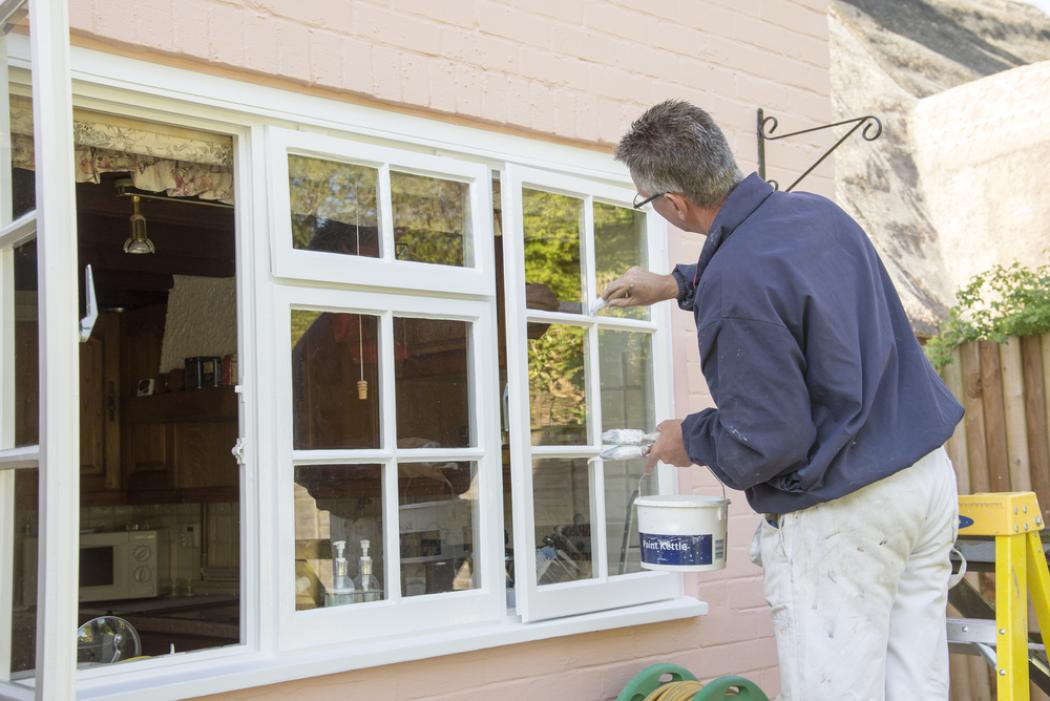 The final cost of having your windows painted can go beyond your expectations in the most overwhelming way. Contractors often can't just cover up your window frames with a layer of paint to make them look new. After all, painting is meant to improve your unit's appearance and prolong its lifespan. That's why professional restoration services may be required.
With MyHomeQuote, you can pinpoint the best window contractors in your area in a timely fashion and free of charge. Yes, you've got that correctly – you won't pay a penny. Everything you need to do is complete the questionnaire below, specifying your project details and region.
The list of additional services you may need can include:
Preparing the window frames. Whatever unit you have, contractors must clean the frame before covering it up. In the case of wood windows, the process may also include removing old paint and applying a primer for better coating adhesion. Each of these steps can be reflected in the window painting prices.
Repair window frames. Cracks and other visible surface damage must be fixed to extend your window's service life, eliminating water damage or insect infestation. Depending on the issue occurred, various techniques and treatments can be used. Even though this can increase the window painting cost, you can be sure your units are aesthetically pleasing and functional.
Scraping old paint. While owners of vinyl windows can skip this service, those with aluminum or wood units can't do without it. Even though this is a tedious and time-consuming process, it allows for achieving a smooth surface and ultimate final result.
Window sealing. A repainting window project can be ideal for improving your home insulation and lowering power bills. Proper sealing will prevent drafts and leaks.
Labor Cost to Paint Windows
As labor rates vary across the country, professionals can charge differently in the western and eastern states. Your expenditures can also hinge on the job complexity and type (and condition) of the windows you have. On average, you can expect to pay from $28 to $100 per hour. Please note that a standard-sized window usually takes 1-2 hours to paint, including prep time, priming, and painting.
FAQ
What Is the Average Cost to Paint Windows Black?
If standard white units no longer speak to you, you can paint your windows black. Hiring specialists to paint windows costs $1.9 to $5 per linear foot. Depending on the window size and materials selected, you can spend $160 to $430.
How Long Does Window Paint Typically Last?
The lifespan of window paint hinges on the quality of paint used and climate for the most part. Premium paint tends to remain in mind condition for up to 10 years.
Are There Specific Paints for Exterior Windows?
Yes, there are specific paints engineered to withstand harsh weather conditions and provide a long-lasting, durable finish. One of the most widespread options is 100% acrylic paint. It is UV-resistant, water-resistant, and more resilient to peeling, cracking, and fading issues.
What's the Difference Between Painting Wooden and Aluminium Windows?
The main difference comes down to the preparation of the surface and the type of primer and paint used.