How to make the most out of a small bathroom remodel?
If your house was built between 1970 and 1990, chances are that you only have the floor space for essentials in the bathroom. While some may say it's a godsend as you can remodel it much easier, faster, and cheaper, another one will call it nothing but a pain in the neck. Believe it or not, they both have a point. Remodeling a small bathroom can be a real chore if you don't develop the right strategy at the front end of the project. Whatever size your bath space is, you still need to hire professionals and shell out for materials to make dream-come-true renovations. But you have little to no room for error with a small bathroom. If you don't take accurate measurements and determine the scope of work beforehand, you can end up paying over the odds. On top of that, many products may look stunning on the Internet but turn out to be cumbersome for your tiny bathroom. To save the hassle of redoing your bathroom for the umpteenth time, think over all key aspects beforehand. Here are some things worth starting with for an eye-popping makeover from the off.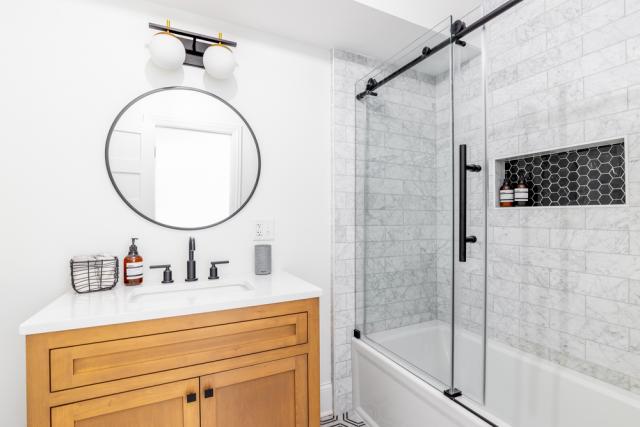 Considering the type of bathroom to remodel
When your living space features two or more bathrooms, identifying their 'target audience' is the first step to take. It'll be easier to narrow functional must-haves down and develop more effective design concepts. As a result, you can estimate realistic small bathroom remodeling costs and put the space to good use.
Half bathroom
Located usually near the dining or living room, a half bathroom (also referred to as a powder room) is meant for visitors. Here they can wash up and go to the toilet without invading your private zone. As a half or small bathroom is about 16-20 square feet, you can only equip it with a vanity unit and toilet pot. But you can add a personal touch with bold wallpaper, lighting fixtures, and decorative elements.
Full bathroom
As the name suggests, a full bathroom has all it takes to freshen up from head to toe. It can make for a stunning addition to a master room, a children's room, or a basement. To succeed with your renovation project, keep the main user in mind while designing. Thus, if you share the bathroom with kids, it's worth installing durable fixtures and water-resistance flooring as you can hardly avoid spills. If you want to make your small bathroom more spacious, consider converting your bathtub to a shower.
Guest bathroom
Even though a guest bathroom has all the attributes of a full counterpart, it stands out with low usage frequency. If you don't have regular overnight visitors, you can transform an unused bathroom into a welcoming retreat. To cut expenses, you can turn it into a DIY project and purchase affordable materials. However, if you want to make your house more comfortable and risk-free for senior family members, it's worth remodeling your guest bathroom by installing a walk-in shower and useful add-ons like a grab bar. You can maximize small space by removing unnecessary items or changing the layout.
Considering the available budget
Many homeowners delude themselves into thinking that they have enough money to renovate a small bathroom. That's why they remove large fixtures and gut walls before getting any clarity about the project. It's where non-so-pleasant surprises may come to light, upsetting all the plans.
Setting a realistic budget is vital for moving forward with your small bathroom remodel. Do you long for it only because of aesthetic reasons or functionality improvement too? Realizing your key goals can make it easier to calculate your project costs. However, don't forget to add another 20-25% in, as remodels almost always go over the budget. Price hikes, last-minute interior design changes, and increased scope of work are only a few things that can eat up your money.
How much does a small bathroom remodel cost?
With a 5x8 bathroom layout, you may expect to spend less money on the renovation project. But it's wishful thinking if you plan to hire professionals and purchase high-quality materials. Thus, the average small bathroom remodel cost is anywhere between $2.000 to $15.000. The room's size, labor, features, and required repairs affect the total price.
If you don't have a deadline for when the bathroom remodel must be over, you can manage the biggest part of the project. Search for design ideas that suit your tastes and DIY skill set on the Internet. However, if you have serious plumbing issues or want a multi-level renovation, it's worth hiring a certified contractor.
Bathroom remodeling costs by types
Do you have a limited budget, but two bathrooms need remodeling? You can either choose simple upgrades over a complete overhaul or give a complete facelift to one of them. As there are three main types of small bathrooms, let's find out how much money you may need to invest in each of them.
Half bathroom
If the project only suggests aesthetic design upgrades like retiling the walls and replacing the existing vanity unit and toilet, it can set you back about $3.000. You can keep your small bathroom cost low by saving on fixtures and materials, but don't tighten the purse strings too much so as not to regret it later.
Full bathroom
Whether you have a bathtub or shower that needs a tune-up, you should be ready to pony up big bucks for the bathroom remodel. Add here upscale materials – that you may be eager to buy for a master or children's bathing space – and new countertops, and the project can go as high as $15,000.
Guest bathroom
If you decide to transform your kids' bathroom into a guest one, it makes sense to convert a bathtub into a walk-in shower. You can cut expenses by using more affordable fixtures and finishes. The cost to remodel a small bathroom may fall between $2,000 and $10,000.
Overviewing the process of remodeling a small bathroom
Does it look like the best 80's TV shows inspired your bathroom design? It's time to breathe new life into it. And developing a scale drawing and determining the possible lead time is the right place to start. Please note that a full-scale remodel may require not only a lot of time and effort but also building permits.
Demolition and framing
The first stage involves a lot of dirty work – tearing out tiles, removing old fixtures, and ripping out all the elements you want to renew. If your project suggests a layout change, you may also need to tear down a wall. Once the demolition debris is taken out, you can do structural framing work. If it's your first DIY project, it's worth contacting a seasoned specialist.
Plumbing, wiring, and drywalling
If there are leaks or electrical issues, it's worth fixing them before they snowball. As plumbing and wiring require knowledge and hands-on experience, you can't do without professional assistance. Please note that the absence of visible problems doesn't guarantee they won't occur right after the renovation project is completed. Plus, you may want to add more lighting fixtures and new vent fans. Once the rough-in stage is over, you can install drywall.
Tiling and flooring
The lion's share of your budget and time will be devoted to tiling. You can cover both walls and floors with tiles or only install them in a shower zone. As this part of the project demands special precision, it can be hard for first-timers to achieve the picture-perfect result.
Today, there are dozens of flooring options to choose from. If ceramic tiles aren't your story, go for stones, laminate, cork, or vinyl materials.
Cabinetry and finishing touches
Once the key bathroom remodel works are completed, you can switch to the most exciting part – decoration. You can handle the installation of a vanity unit, mirror, shelves, and other accessories. To give your bathroom a perfect finishing touch, take care of hardware like towel rings or hooks, textiles, and artwork.
Tips for a small bathroom remodel
A limited footprint does affect your choice of bathroom fixtures, but it can't hold your creativity back. With well-thought-out design tactics, you can make the most out of your tiny space.
Here are a few things to consider in a small bathroom remodeling to create a style statement:
Make your bathroom feel larger and taller. An optical illusion can 'enlarge' any space. To make one, you can install narrow crown molding matching the color of your ceiling. You can also replace your old-school lighting fixture with pot lights and wall sconces to add more headroom.
Brighten up the dark space. Gloomy hues can make you feel like walls close in on you. That's why it's worth considering a light color palette in everything you choose, from tiles to paints to furnishings. Add accessories like towels, bathmat, and paintings if you fancy contrasting shades.
Incorporate organizing ideas. When choosing a vanity, consider your storage needs to keep the mess at bay. For example, if you like a wall-mounted sink, opt for a roomy basket to stash spare towels and extra toilet paper. Or you can rethink your layout and select a curved corner vanity to use all your snug space.
When you develop the ideal interior design of your bathroom and proceed to order fixtures, make sure to specify how you've made measurements. It'll allow you to avoid misunderstandings, get wall panels and other materials of the right size, and complete your remodel project on time.
Sought-after home repair services near you
WE DON'T SEND THE NEWS
GET THE ESSENCE OF RELEVANT HOME
IMPROVEMENT TOPICS IN LESS THAN 5 MINUTES
Please enter a valid email