How to get ready for bathroom demolition? - Cost of supplies and labor, course of action, process peculiarities
If this time you're planning to do more than just facelifting your bathroom, you will have to learn what a bathroom demolition is. This stage is essential on the way to a complete bathroom renovation and flooring plan amending. You must remove outdated bathroom fixtures, furniture, plumbing systems, flooring, lighting, and fittings, leaving bare walls for further remodeling jobs. There are different demolition lists depending on the bathroom update scale and the available budget.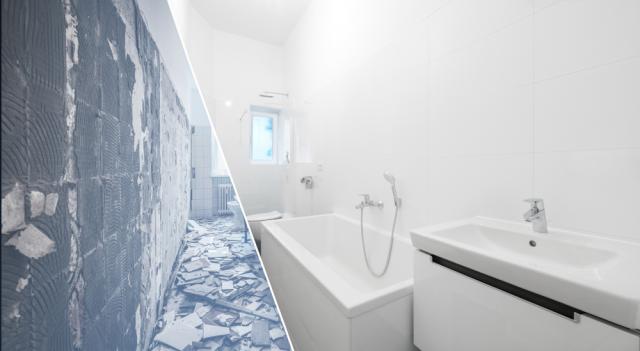 Here are the common reasons why homeowners go for a complete or partial bathroom demolition:
Bathroom upgrade. If a bathroom is outdated or no longer meets the functional requirements, homeowners may want to demolish it and start over with a new design that better suits their style and preferences.
Excessive water damage. Homeowners who have experienced water damage in their bathroom due to a leaky pipe, flooding, or other issues, may need to demolish the affected area and replace it with new materials.
Structural issues. If the existing bathroom has critical structural problems, such as cracks in the walls or floor, the only way is to demolish part or all of it to repair and reinforce the affected areas.
Bathroom extension. Homeowners who seek to make their bathroom space bigger may need to demolish a wall or other barriers to create more space.
Demolishing the bathroom takes a considerable part of a bathroom renovation budget, especially if you delegate this task to professionals. According to most online sources, the average cost of this job varies between $700 - $2.400. The square footage of the bathroom and the overall project scope are only a few of the criteria that affect bathroom demolition costs. Local labor costs, difficulties that might appear along the process, and many other aspects varying from project to project also serve as cost-formation factors.
This guide will look at how much money you may need to demolish your bathroom and what this process involves. So, keep reading not to miss valuable tips and essentials.
What are the pros and cons of handling a bathroom demolition process yourself?
Bathroom demolition is a tricky and messy part of bathroom renovation. It takes particular experience and handiwork to be accomplished, as things can go sideways if even the finest detail is missed. Besides, demolition requires a rather long list of tools and safety equipment. That is why handling bathroom demolition yourself could save you money but also bring many headaches. Below we'll outline the pros and cons of DIY bathroom demolition so that you can draw your own conclusion.
Here are the arguments for DIY bathroom demolition:
Affordable cost. The main reason homeowners deny hiring professional bathroom contractors is a cost-saving factor. As we said before, the average bathroom demolition cost this year is $2.000, while doing that job yourself can cost you as low as $260.
Flexibility. You can work at your own pace and schedule the demolition around your other obligations. You will determine the sequence of demolition steps yourself without rushing. Plus, doing the demolition yourself gives you complete control over the process and allows you to make decisions on the spot.
An ability to give a second life to the materials. When demolishing the bathroom yourself, you can salvage materials you want to reuse or sell. This is your chance to save money and reinvest them into bathroom renovation.
Here are the negative aspects of DIY bathroom demolition:
Safety risks. Demolition work can be dangerous, especially if you're not experienced or lack proper tools and protective gear. From dropping something heavy on you to discovering hazardous asbestos or lead paint during the work, you should be ready for unexpected dangers when demolishing the bathroom yourself.
Possible financial losses. A bathroom is a space where many plumbing systems are placed, and compromising their integrity can lead to leaks, messes, and higher remodeling costs. Plus, you can damage electrical wires, which will cost more than hiring a professional.
Mess and debris. Demolition can create a lot of dust and debris, which can be challenging to clean up. Professional crews usually include after-demolition mess-up clean in the estimate, so you don't have to care about it.
Time-consuming. Depending on the size of your bathroom and the extent of the demolition, the process can be time-consuming. Besides, the process requires thorough planning and understanding of future space update plans. If your further remodeling plans do not involve changing the flooring plan, you might be able to get away with demolishing your bathroom over the weekend. In other cases, it might take you weeks or longer to complete.
In summary, while there are potential cost savings and learning opportunities associated with DIY bathroom demolition, it's essential to consider the safety risks, mess and debris, time commitment, and potential for mistakes. If you decide to go ahead with DIY bathroom demolition, be sure to research the process thoroughly and take all necessary safety precautions.
How do I prepare my bathroom for demolition?
A bathroom demolition is a multi-step process that requires careful preparation. You should take a few preparatory steps before you start ripping things off to avoid failures along the way.
Keep reading to learn what you need to do before proceeding to the main demolition task, from equipping yourself with the required tools to turning off the voltage and water supply.
Step 1. Collect the tools and materials you'll need to accomplish the task
As bathroom demolish projects vary by orientation and scope, the needed tools and materials may also vary. Nevertheless, a must-have arsenal of equipment usually includes the following:
Demolition hammer
Plaster and power saws
Ladder
Tape measure
Utility knife
Pry bar
Screwdriver
Wheelbarrow
Shovel
Adjustable wrench
Power tools
You should also buy protective equipment before starting the demolition process:
Face mask
Ear muffs
Work gloves
Study boots
Plastic sheets
Safety goggles
The mentioned above list of tools is not the precise one. Depending on the systems you will need to rip off, you may need more of them. If you don't have most of them in your possession, you will need to buy or rent them. According to our estimations, getting the whole set of tools can be costlier than hiring a bathroom remodeling contractor.
Step 2. Turn the water supply and electricity off
Shutting down all the utilities connected to the bathroom is essential for your safety and your home's integrity. First, discover where the water meter and the breaking box are placed to avoid short circuits and floods. Then, turn off the bathroom's power by flipping the breaker box to the "off" position.
Step 3. Clear your bathroom of everything that could clutter it
Remove any bathroom furniture and equipment before you begin the demolition process. Dispose of or give away everything you're not going to use anymore. Transfer the stuff you're going to use in your updated bathroom to a safe place not to damage it during demolition.
What does the process of bathroom demolition involve?
Once the preparatory stage is over, you can move to gut the space. Here is what this process should involve:
Step 1. Sink and vanity removal
The tools you need at this stage include a bucket, an adjustable wrench, and a utility knife. Make sure to put the bucket under the sink drain to collect water that will flow from the drain trap. If your vanity is double-sink and made of marble or any other heavy material, you might need an extra pair of hands to handle it.
When dismantling your vanity, pay attention to the pipes that run into the walls. If they are corroded, replacing them might be your smartest solution. You will be grateful for that later, as timely tube replacement is the best prevention of floods.
Step 2. Toilet removal
Another step of bathroom demolition is dismantling a toilet. The tools you will need include an adjustable wrench and a utility knife. Besides, you'll also need a socket wrench if your toilet has been in place for a long time.
The process starts with locating an inlet supply pipe that is usually based under the toilet tank. Then you must disconnect a pipe from the tank and supply line valve. Once the tank is disconnected, remove it from the toilet base. To disconnect the base of the toilet and the floor, you have to remove the nuts and bolts. Utilize the utility knife to remove the caulking around the toilet base. Next, remove the toilet from the flange bolts. Scrape it away with the utility knife. Then, unscrew the flange.
Step 3. Tile removal
Dismantling tiles from walls and floor is the biggest and the most intensified part of a bathroom demolition. Except for being possibly dangerous, it can take a couple of days to be finished, especially if you work alone.
The tools you will need to dismantle bathroom tiles include a pry bar, hammer, chisel, and reciprocating saw. Cover doors and vents with plastic sheeting before getting to work.
Start the process by removing round tiles on the edge and across the top of your shower. The best way to do that is by chipping away straight sections with a hammer. Next, use a chisel or hammer and a chisel to pry the tiles off the surface carefully. Start at a corner or an edge and work your way across the surface. Put a pry bar into the seams and start pulling down parts of the tile and backing. Repeat the process for all the tiled parts of the bathroom.
Step 4. Remove your tub/ shower
The final step of bathroom demolition involves removing the existing tub or shower. It is still DIY-friendly, but you might need help lifting a heavy fixture unit. Below you will find two separate instructions on removing a shower and a tub.
To remove a shower, you will need tools like a hammer, pry bar, screwdrivers, utility knife, and reciprocating saw. The process should start with removing the shower door's hinges and setting the door aside. Next, utilize a screwdriver to remove the screws that hold the door frame in place, and then pull the frame off. Take off the shower head and arm, as well as the levers that control the water and the towel racks. You should cut your shower walls to make them easier to handle. You're reciprocating for this purpose. If your shower is made of fiberglass, cut each wall at the corner and the bottom to get three equal pieces and a floor.
You will need tools like a pry bar, utility knife, drywall saw, screwdriver, and jigsaw to remove a tub. The process should start with removing the remaining drywall around the tub with a saw. After that, you must remove the screws holding the tub to the wall studs. Next, the tub should be detached from the floor and pulled away from the wall. The tub is recommended to be cut in half for further disposal.
The time required for bathroom demolition
How long does it take to demo a small bathroom?
If your bathroom is 40 square feet and fits minimum fixtures, a complete demolition that involves stripping down to the wall studs, and pulling out the tub or shower and its surrounding tiling, will take 12 hours or so. Bathroom contractors can do the job quicker, working as a team and using professional tools.
How long does it take to demolish a big master bathroom?
The time it takes to demolish a master bathroom can vary depending on several factors, such as the size and complexity of the space, the materials used, the tools and equipment available, and the experience of the demolition crew. However, as a general estimate, it can take anywhere from a few days to a few weeks.
It may take longer to complete the demolition if any hidden damage or structural issues will appear along the process. Additionally, if the demolition crew needs to take extra precautions to protect other parts of the house from dust and debris, it may also add time to the process.
How much does it cost to demo a bathroom?
A full-fledged bathroom remodeling is a big home update project that takes considerable investment but usually pays off in enhanced comfort and increased property value. However, you won't get a brand-new space without gutting the old one. That is why your remodeling budget should also involve bathroom demo costs.
Unless you don't demolish your bathroom yourself, you need to discover relevant rates for this kind of bathroom renovation job in your area while in the budget planning stage. You can do it quickly with the MyHomeQuote contractor-matching service that connects homeowners and contractors nationwide.
The national average cost to demo a bathroom
The up-to-date national average price to demolish a mid-sized bathroom ranges from $500 to $2.200.
The factors affecting bathroom demo costs include the square footage of the bathroom, the number of fixtures needed to be removed, local labor rates, etc. Disposal of waste can cost up to $120 for the project. Cleaning services might not be included in the estimate. Ask your contractor about that before signing the contract.
How much does it cost to demo a small or half-bathroom?
The average cost for bathroom demolition of small size (3'x5' to 5'x8') ranges from $750 to $1.300, including debris disposal. If the demolition involves removing walls, flooring, and fixtures, the cost may be on the higher end of the range. Additionally, the cost can increase if any hazardous materials, such as asbestos or lead-based paint, need to be removed.
Renting a dumpster will cost you around $430 per week for a 15-yard dumpster. Asbestos tile removal costs $20 to $65 per square foot.
How much does it cost to tear out bathroom flooring?
The cost to tear out bathroom flooring can vary depending on the size of the bathroom, the type of flooring material, the condition of the existing subfloor, and the cost of labor in your area. Generally, the cost to tear out bathroom flooring can range from $2 to $10 per square foot.
For example, if you have a small bathroom measuring 50 square feet and want to remove vinyl flooring that costs $2 per square foot, the total cost for tearing out the flooring could be around $100. However, if you have a larger bathroom with a more expensive flooring material like tile that costs $10 per square foot, the cost could be around $500.
Remember that these are just estimates, and the actual cost can vary depending on your specific situation. Getting multiple quotes from licensed contractors in your area is always a good idea to get a more accurate idea of the cost.
How to save on bathroom demolition?
Bathroom renovation is one of the costlier remodeling projects you will encounter updating your home. It might take from $5.500 to $32.000 for material and labor, depending on the scope of the job, selected materials, and the square footage of the area to be remodeled. As the cost of bathroom reconstruction is skyrocketing, there is no wonder that homeowners seek a solution to skimp on it.
Demolition is a part of the complex job you can save a few bucks on; below, you will find how.
Do it yourself - wholly or partially. If you have the necessary skills and tools, you can save money by doing the demolition work yourself. This will involve removing fixtures, tiles, and other materials and disposing of them appropriately. If you lack experience, dare to do at least some minor part of the job, like dismantling the vanity and sink.
Salvage reusable materials. If you plan to install new fixtures, such as a bathtub, sink, or toilet, consider salvaging any materials in good condition. This could include tiles, cabinets, or even the bathtub itself, which can be refinished rather than replaced.
Plan ahead. Before beginning any demolition work, create a detailed plan of what needs to be done and what materials must be removed. This will help ensure that you don't remove any materials you will need later and will help you avoid costly mistakes.
Hire a contractor. If you don't have the necessary experience to do the demolition work, consider hiring a contractor specializing in bathroom remodels. Look for contractors who offer competitive prices and have experience working with the type of materials and fixtures you want to install.
Make sure to get multiple quotes before hiring a professional. With 3-5 cost estimates, you can make an informed hiring decision and reduce the risk of paying over the odds. MyHomeQuote is your trusted contractor-matching service to match multiple price quotes from local bathroom contractors in real-time.
Rent tools. Rather than buying expensive demolition tools, consider renting them instead. This will save you money on equipment costs and ensure you have the right tools for the job.
Dispose of waste responsibly. Proper disposal of demolition waste is important to avoid fines and legal problems. Check with your local waste management authority to find out how to dispose of materials safely and legally.
Sought-after home repair services near you
WE DON'T SEND THE NEWS
GET THE ESSENCE OF RELEVANT HOME
IMPROVEMENT TOPICS IN LESS THAN 5 MINUTES
Please enter a valid email