Tips for finding the best bathroom cabinets and vanities to spice up the space
A bathroom has become more than a utilitarian space in the contemporary world. It turned into a place of seclusion to relax and replenish your energy. Whether it's a spacious master bathroom or a half bath that fits a bare minimum of fixtures, it should be organized to meet the needs of people who will use it. Everything from layout to furniture should be adapted to your style and, therefore, to that of your home. Jump to this article to find out how to select new bathroom vanities and cabinets to make the space truly functional and comfortable.
What to consider when selecting bathroom vanities and cabinets?
Vanity is a focal point of any bathroom design that can make or break space attractiveness and functionality. The rest of your bathroom will suffer if it's made of mismatched materials or does not fit the room's style/ color scheme.
Here are the things to consider when you are on the lookout for a new vanity or a cabinet:
Size of the bathroom and vanity placement
The first thing to consider is the size of your bathroom and the space where you want to install the vanity. The room's floor plan and the plumbing fixtures' location determine the type of vanities and cabinets you can consider for installation. Factor in basic vanity dimensions like width, depth, and height to ensure it fits comfortably without overwhelming the room. Arm yourself with a tape measure to determine how high, deep, and long the vanity might be.
Height. The vanities are made up to 36 inches tall to fit the height of an adult person. Taller vanities are commonly installed in spacious master bathrooms, while standard and child-friendly low-height ones are often used in guest bathrooms.
Width. If your bathroom is less than 40 square feet, looking towards double-sink vanities does not make sense. Single or pedestal vanities 24 - 30 inches wide are best for half bathrooms.
Depth. The depth of vanities ranges between 17 and 24 inches. Consider installing custom cabinets of maximum depth to increase storage and counter space if the space allows. A deeper vanity can also provide more functionality, as you can use it to store larger items like hair dryers or electric shavers.
Here are some other bathroom space considerations to be taken before installing a custom cabinet or a pre-assembled vanity:
Ensure the spot you've selected for your vanity does not mess up the bathroom's traffic flow. You must leave adequate space around the vanity with open doors or cabinets.
The height of the vanity should be selected in accordance with the height requirements of the family members. Besides, you should factor dimensions of faucets, lighting fixtures, mirrors, and medicine cabinets.
Take into account the location of plumbing units and their proximity to the vanity. It should be at least 18 inches between the middle of the toilet and the cabinet edge.
Measure the space from the door opening to the vanity. If your bathroom door swings inwards and hits the vanity, it's uncomfortable and annoying. An open door should not block access to the vanity.
If your bathroom is equipped with a shower, measure the space between its door and the vanity. It should not block the shower door swing.
Consider the cleaning aspect. Can you access the surrounding areas and clean them with the new vanity installed?
If you find it challenging to visualize the layout with a new vanity, consider applying to professionals who will select and install the best-sized vanity for your bathroom.
Storage space of a bathroom vanity
The needed bathroom cabinet storage capacity depends on the space and the number of things you want to store. That is why you should decide on the amount of storage space you'll need in your new vanity before making a choice. The best way to do that is by inventorying what you store in your bathroom vanity.
You might need to make compromises depending on the space and what you want to store. For instance, squeezing the sink plumbing and a complete set of drawers in the limited vanity space might be impossible. Fortunately, you can always add storage space by installing wall cabinetry or cabinets on the counters.
Keep in mind a vanity configuration and your space possibilities. Drawers and cabinet doors take up a different space. Drawers extend out in front, and doors swing out and to the side.
Bathroom vanity styles
There are many different styles of bathroom cabinets and vanities to choose from, depending on your taste and the overall look you want to achieve in your bathroom. Here are some popular bathroom vanity styles:
Inset vanity style. This universal bathroom vanity style matches a wide range of architectural styles and interior design schemes. Inset bathroom vanities can be made from a range of materials, from solid wood to MDF to laminate. They are installed flush with the surrounding wall or cabinetry, giving the bathroom a clean, seamless look. The cabinet doors and drawers sit within the frame of the vanity rather than protruding out. This style is often seen in traditional or classic bathroom designs but can also work well in contemporary and modern spaces.
Beadboard vanity style. Beadboard is a decorative paneling material with vertical grooves or "beads" running along its length. Beadboard adds a charming, cottage-style touch to the decor when used in bathroom vanities. Bathroom vanities in this classic style mimic wainscoting and can be paired with natural wood or MDF cabinets. The paneling can be painted in any color to match the rest of the bathroom decor or left in its natural wood finish for a more rustic look. Beadboard can also be used to add texture and visual interest to the sides and back of the vanity, creating a cohesive design.
Louvered vanity style. This style of bathroom vanity features decorative slats or louvers on the doors and/or drawers of the cabinet. They mimic the look of plantation shutters, creating a distinctive design with increased bathroom ventilation. Louvered vanities can come in a range of styles, from traditional to coastal to modern. They are often made from wood, such as pine or oak, but can also be constructed from other materials like metal. The slats on the doors and drawers of a louvered vanity can be spaced tightly together for a more traditional, conservative look, or further apart for a more modern, streamlined appearance.
Distressed vanity style. Cabinets of this style feature an aged, worn, or weathered appearance, often created through a deliberate process of distressing the wood or other material used in the construction of the vanity. This vanity style is popular in rustic, cottage-style, or shabby-chic bathrooms and can add a charming, vintage-inspired look to the space. Distressed vanities work best for rustic, antique, or vintage bathrooms. Please note that the distressed vanity surface may require more maintenance than a smooth, finished one.
Flat vanity style. Vanities of this timeless design offer a smooth and minimalistic look without any decorative or raised details that fits perfectly in modern interiors. Flat vanities are distinguished by clean lines and can be finished in a variety of colors, from white to black to bold and bright hues. They come in a range of materials, such as wood, metal, glass, or MDF, and work well with minimalist hardware. Flat vanities are often paired with other modern design elements, such as vessel sinks, wall-mounted faucets, or frameless mirrors, to create a cohesive and contemporary look.
Vanity sink styles
Once you decide on the vanity style you want to see in your renewed bathroom, the next step is to consider a suitable bowl and taps. They should match other fixtures and the overall bathroom color scheme. On top of that, the size of the sink bowl matters as it impacts the look and utility of your vanity. If you put a priority on counter space to store more of your bathroom essentials, go for drop-in and semi-recessed sinks that are popular when it comes to incorporating counter space.
Make sure a selected sink complements the shape of your vanity. For example, if you have a rectangular vanity, a rectangular sink may look best. A round sink may be a better fit if you have a rounded vanity. Decide on a sink material that is durable and easy to clean. Some popular sink materials include porcelain, ceramic, glass, and stainless steel.
Consider how the sink will be mounted on the vanity. Options include drop-in, under-mount, and vessel sinks. Choose a mounting style compatible with your vanity that provides the look and functionality you desire. Next, select the type of faucet you want to install. Some sinks have pre-drilled holes for faucet installation, while others may require customization.
Bathroom vanity finishes
The best bathroom vanities and cabinets come with an extensive range of finishes to select from. Here are some of the most common of them:
Painted finish. Paint can be used to achieve a range of colors and textures. This finish provides an opaque-colored finish that makes it a decent choice for contemporary and traditional styles alike.
Stained finish. This finish is a great option for those who want to highlight the natural beauty of the wood. It can be used to achieve a range of shades, from light to dark, providing rich color and dimension.
Laminate finish. This finish is a low-cost option that can mimic the look of natural wood or stone. It is easy to clean and maintain, making it a popular bathroom choice.
Veneer finish. This finish is a thin layer of real wood that is applied to a substrate. This option can give the appearance of solid wood at a lower cost.
High-floss finish. This finish is a shiny, reflective surface that can create a modern and contemporary look. It is a popular choice for modern bathrooms.
Matte finish. This finish is a low-shine option that can create a more subtle and understated look. It can be a good choice for traditional and transitional styles.
Textured finish. This finish can add depth and interest to the bathroom vanity. It can be achieved through techniques like distressing, wire-brushing, or sandblasting.
Water-based UV finish. This finish does not contain any volatile compounds and emits no toxic fumes or chemicals, which makes it the ultimate choice for homeowners prioritizing an eco-sustainable way of living. UV finish gives the same look to vanity as glazed or painted finishes.
Bathroom vanity materials
You should carefully approach the choice of vanity material as it will come in contact with hot water, cleaning detergents, soap, and spilled makeup, to name a few. On top of that, the selected material should be able to stand up humid environment. That is why we recommend relying on material durability and water resistance rather than cost and a visual aspect. Also, avoid materials susceptible to staining or scratches if you don't want to turn your bathroom maintenance into a nightmare. Finally, we warn you against vanity grouting as it will be complicated to clean them later.
Bathroom vanity customization
If you thoroughly approach your bathroom design, you might want to add a personal touch to it. A custom vanity can bring zest to your bathroom, giving the interior a gentle hint of sophistication. Custom design does not restrict your imagination, offering vanities in endless design styles, garnishings, and configurations. With a custom unit, you can experiment with design and form, placing a sink bowl off-center or putting electricity in the cabinet box. When you're your own designer, you can consider the smallest details that often get overlooked when buying a pre-assembled vanity.
Bathroom vanities vs. bathroom cabinets - What is the difference?
When it comes to the difference between vanities and cabinets, you should point your attention if the selected unit is connected to a sink. Units that serve for extra storage space only and are not topped with a sink are called cabinets. Another distinctive feature of bathroom cabinets is that they feature built-in cabinet boxes drilled into the wall, while vanities are most often standalone pieces with a countertop, sink, and storage space underneath.
Vanities are designed to be functional and stylish pieces of furniture that are used to store toiletries, towels, and other bathroom essentials. Vanities come in a range of sizes, styles, and materials, from small, single-sink units to large double-sink units with elaborate designs.
Bathroom cabinets, on the other hand, are standalone pieces of furniture that are typically used for storage only. They can be mounted on walls, placed on the floor, or installed in corners. Cabinets can have a range of features, such as shelves, drawers, and doors.
So while both bathroom vanities and bathroom cabinets are used for storage, a bathroom vanity is a complete unit that includes a sink and countertop, while a bathroom cabinet is a standalone piece of furniture that is used for storage only.
What are the types of bathroom vanities?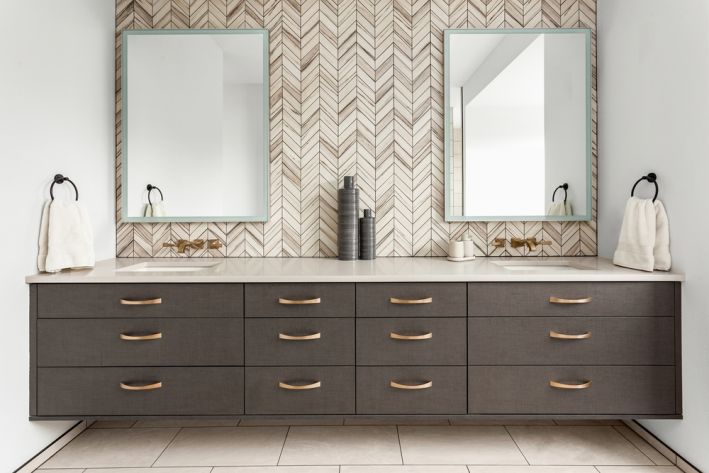 The correctly selected vanity can become the linchpin of your entire bathroom layout. Fortunately, today's bathroom fixtures and furniture market is so diverse that you will hardly have any trouble finding a vanity that will fit in your space and still have the function you need. Vessel or floating, double or single, the sky is the limit to bathroom vanity options you can select from. If the measurements were taken correctly and you have considered all bathroom space possibilities and restrictions, your new vanity will fit in the layout the perfect way.
Here are the major types of bathroom vanities that you might add to your updated bathroom:
Single bathroom vanity. Cabinets that come with a single sink basin are called single bathroom vanities. They are ideal for use in smaller spaces and typically range from 24 to 48 inches wide. Single vanities typically include a countertop, a cabinet base, and a sink basin that is designed to fit seamlessly with the countertop. The placement of a sink can vary according to your custom needs, adding an interesting visual effect to the bathroom.
Double bathroom vanity. This widespread vanity type is often referred to as "his and her sinks".This bathroom fixture features two sinks, along with counter space and storage options, all in one unit. Designers often integrate double-sink vanities in spacious master bathrooms, turning them into focal points of the interior. These fixtures provide functionality and can add a touch of luxury to a bathroom, while also offering ample storage space for toiletries and other bathroom essentials.
Corner bathroom vanity. This space-saving furniture piece is designed to fit snugly into the corner of a bathroom. It typically consists of a sink, countertop, and storage cabinets or shelves, all arranged in a compact, triangular, or angular shape to maximize space utilization in small or awkwardly shaped bathrooms. Corner bathroom vanities come in various styles, materials, and finishes to match different bathroom decor preferences. They provide functionality and style while making the most of limited bathroom space.
Floating bathroom vanity. These vanities are best for half bathrooms. They are mounted to the wall, creating a clean and minimalist look while also providing easier access for cleaning and additional storage opportunities. This modern and stylish design typically consists of a sink, countertop, and storage cabinets or drawers, all combined into a single unit. The open area underneath floating vanities makes them an excellent choice for bathrooms that must be ADA-accessible for wheelchairs.
Pedestal bathroom vanity. This type of bathroom fixture features a free-standing sink supported by a single pedestal or column. Unlike traditional bathroom vanities with cabinets and storage space, pedestal vanities have a more streamlined and minimalist design, focusing primarily on the sink and faucet. They work well in small or tight spaces, as their slim design takes up less room than a conventional vanity with storage.
Free-standing bathroom vanity. This piece of bathroom furniture is made up of a sink, countertop, and storage cabinets or drawers, all combined into a single unit that sits directly on the floor. Standalone vanities are not attached to any walls, making them versatile and easy to install in various locations within the bathroom. They can be a great option for renters or those looking for a relatively simple bathroom upgrade, as they don't require extensive modifications to the existing bathroom structure.
Vessel bathroom vanity. This type of bathroom furniture features a vessel sink, which is a bowl-shaped basin that sits on top of the countertop rather than being recessed into it. This vanity style typically includes a countertop, storage cabinets or drawers, and a unique above-counter sink as a focal point in the bathroom. Vessel sinks are made from glass, ceramic, stone, or metal and are available in various shapes and designs.
Materials for top bathroom vanities and cabinets
Depending on the design idea, budget, and space possibilities, you can select from functional, minimalistic, and accent vanities made of various materials, from wood and steel to MDF and laminate.
Materials play a significant role in the vanity's durability, style, and overall appearance. Plus, the choice of vanity material can affect its maintenance requirements, water resistance, and cost. Take a look at the common materials used for bathroom vanities and their distinctive features:
Solid wood
This is a classic material choice for bathroom cabinets. Solid wood cabinetry comes in affordable softwood variations like pine and cedar and their more durable counterparts like oak, maple, cherry, and hickory. Wood can be stained, lacquered, and refinished, which means you can update the look of your cabinets multiple times through their lifespan.
Chief benefits of wood cabinets
Durability. Solid wood cabinets are known for their strength and longevity. They can easily withstand the wear and tear of daily use, making them a durable option for your bathroom.
Aesthetic appeal. Wood's timeless and natural beauty can add warmth and elegance to any bathroom design. Cabinets made from solid wood are available in various wood types, finishes, and styles, making it easy to find the perfect match for your bathroom.
Customization. Solid wood cabinets can be easily customized to fit your specific needs and preferences. You can choose from a wide range of wood types, finishes, and hardware options to create a one-of-a-kind look for your bathroom.
Increased home value. Installing solid wood cabinets in your bathroom can add to the overall value of your home. High-quality wood cabinets are often considered a luxurious feature, making your home more attractive to potential buyers.
Downsides of wood cabinets
Porousness. Wood cabinets have a porous surface that can swell if regularly exposed to humid air. It results in warping and cracking issues, aggravating the look of the bathroom cabinets. Selecting top-quality solid wood cabinetry is recommended to prevent this issue. Besides, regular recoating and using an efficient bathroom fan can greatly help prolong the service life of your wood cabinets.
Maintenance. Solid wood cabinetry requires regular maintenance, such as sealing, staining, or painting, to keep them looking their best and protect them from moisture damage. This is time-consuming and may require additional costs for materials and labor.
Heavy weight. Solid wood cabinets are generally heavier than those made from other materials, making installation more difficult and time-consuming. This may also put additional stress on your walls and floor, requiring extra reinforcement.
Limited design options. While solid wood cabinets can be customized to some extent, they cannot offer the same range of design options as other materials like MDF or laminate. This could be a drawback for those looking for a specific style or design.
Wood bathroom cabinets cost
Solid wood bathroom cabinets are more expensive than those made of other materials like particleboard or MDF. You can expect to spend around $1.300 for a designer-grade solid wood bathroom vanity. The cost can be as high as $1.800 for large vanities with double sinks and custom doors.
Laminate
Thanks to their low price and diverse design, laminate cabinets are gaining momentum among bathroom furniture pieces. They have a core made of engineered wood and are covered with a thin veneer layer. Laminate comes in two types - low-pressure and high-pressure. The latest is more durable and long-lasting, while its cost is higher than its low-pressure alternative. The top laminate layer is made from vinyl film, hot-stamped thermofoil, hard-pressured plastic, and thin sheets of wood.
Laminate is versatile and can mimic solid wood, giving a touch of sophistication to modern bathroom designs. This material also offers significant cost savings over real wood cabinetry. However, when it comes to moisture resistance and durability, laminate is considerably inferior to solid wood.
Benefits of laminate cabinets
Affordability. Laminate bathroom cabinets are generally more budget-friendly compared to solid wood cabinets. This makes them an attractive option for homeowners looking to save money on their bathroom renovation.
Wide variety of designs and finishes. Laminate cabinets come in a vast array of colors, textures, and patterns, allowing homeowners to customize their bathroom cabinets to match their style preferences. This includes options that mimic the appearance of wood or other materials.
Low maintenance. Bathroom cabinetry made of laminate is easy to clean and maintain. They do not require regular sealing, staining, or painting like solid wood cabinets. Wiping them down with a damp cloth or gentle cleaning solution is usually enough to keep them looking their best.
Easy installation. Laminate cabinets are typically lighter in weight compared to solid wood cabinets, making them easier to install. This can save time and effort during the installation process.
Consistent finish. Unlike natural wood, which can have variations in grain and color, laminate cabinets offer a consistent finish and appearance throughout the entire surface.
Downsides of laminate cabinets
Poor durability. Laminate cabinets are generally less durable than solid wood cabinets. They are susceptible to chipping, scratches, and dents, reducing life and increasing maintenance.
Difficulty in repairing. Unlike solid wood cabinets, laminate cabinets are difficult to repair if damaged. Small chips and scratches can be touched up, but more significant damage may require replacing the entire cabinet or panel.
Difficult to customize. While laminate cabinets come in various colors and finishes, they may not offer the same level of customization as solid wood cabinets, which can be crafted into unique shapes and designs.
Vulnerability to heat. Laminate cabinets can be susceptible to damage from heat, such as curling or delamination of the laminate surface. This can be an issue if your bathroom has poor ventilation or if you use heat-producing appliances, such as hairdryers, near the cabinets.
Laminate cabinets cost
One of the key advantages of laminate cabinets is their affordability. You can expect to spend around $750 for installing laminate cabinets. A general price range for laminate cabinetry is $450 - $1.200. Of course, the more custom options you add, the higher the price of your bathroom cabinets will be.
Fiberboard (MDF)
Medium-density fiberboard cabinets and vanities are made of a combination of wood fibers, resin, and wax, which are compressed together under high pressure and heat. They offer an alternative to solid wood and laminate cabinets and come with their own set of pros and cons. MDF does not expand and contract as much as real wood does. Nevertheless, it can also expand from overexposure to moisture and steam.
Benefits of fiberboard cabinets
Low cost. MDF bathroom cabinets are generally more budget-friendly than solid wood cabinets, making them an attractive option for homeowners looking to save money on their bathroom renovation.
Resistance to warping. MDF cabinetry is less prone to warping and shrinking due to temperature changes compared to solid wood cabinets. This can make them a more stable option for bathroom use.
Smooth surface. Fiberboard (MDF) cabinets have a smooth and consistent surface, which makes them easy to paint or apply veneers. This can result in a professional and polished appearance.
Customizable. MDF cabinets can be easily cut, shaped, and drilled, allowing for a wide range of design options and customization possibilities.
Downsides of fiberboard cabinets
Vulnerability to moisture. MDF bathroom cabinets are susceptible to damage from moisture and humidity. When exposed to these conditions, the material may expand, warp, or even disintegrate over time. Proper sealing and maintenance can help mitigate this issue, but moisture damage remains a concern in bathroom environments.
Durability concerns. MDF cabinets may not be as long-lasting as cabinets made of steel and solid wood. They are prone to dents, scratches, and other types of damage, which can affect their appearance and functionality over time.
Environmental concerns. MDF cabinets are made using formaldehyde-based resins, which can emit volatile organic compounds (VOCs) into the air. This can lead to poor indoor air quality and potential health issues.
Fiberboard bathroom cabinets cost
The cost of MDF bathroom cabinets ranges between $400 and $800 for material only. However, this price range can vary depending on the cabinets' size, the design's complexity, the finish or veneer applied, and the quality of the MDF material used.
Stainless steel
Bathroom cabinetry made of stainless steel serves as a modern and sleek alternative to traditional wooden or MDF cabinets. Except for being moisture and impact-resistant, stainless steel offers incredible functionality and can serve for decades without showing visible signs of deterioration. Two types of stainless cabinets include 201- and 304-grade ones. The latest is costlier due to a higher gauge of steel used.
Benefits of stainless steel cabinets
Durability. Stainless steel vanities are highly durable and resistant to damage, such as dents, scratches, and stains. They are built to withstand daily use and can last for as long as 20 years with minimal maintenance.
Corrosion resistance. Stainless steel is a non-corrosive material, making it highly resistant to rust and other types of corrosion. This and its moisture resistance make it an ideal choice for bathroom environments with high humidity.
Easy maintenance. Stainless steel vanities are easy to clean and maintain. They can be wiped down with a damp cloth or cleaned using mild soap and water, making them a low-maintenance option for busy households.
Hygienic. Stainless steel is a non-porous material, which means it doesn't harbor bacteria or germs. This makes stainless steel cabinets a hygienic choice for settings where cleanliness is essential.
Downsides of stainless steel cabinets
Industrial appearance. While the minimalistic look of stainless steel cabinets may appeal to some, others may find it too cold or industrial for their taste. It might not suit every bathroom interior, particularly traditional or rustic designs.
Limited customization options. Compared to wood or laminate cabinets, stainless steel cabinets may have fewer customization options in terms of colors and finishes. This can be a drawback for those looking to create a specific look or style in their space.
Susceptibility to smudges. Stainless steel surfaces can show fingerprints, smudges, and water spots quite easily. This means that the cabinets may require more frequent cleaning to maintain a pristine appearance, which can be a concern for some homeowners.
Prone to dents. Although stainless steel is a durable material, it can be prone to scratches and dents, particularly from heavy or sharp objects. Over time, these imperfections can be visible and affect the overall appearance of the cabinets.
Stainless steel bathroom cabinets cost
Stainless steel cabinets cost more than MDF and laminate ones. The average cost of cabinetry made of 304-grade steel varies from $2.000 to $3.000, depending on custom options, basins number, and size.
Bathroom vanity countertop variations to consider
Vanity top material is another critical thing to consider before installing a new bathroom vanity in your house. The countertop material should be durable, water-resistant, and easy to clean. Popular materials for bathroom countertops include granite, marble, quartz, solid surface, laminate, and tile. Each material has pros and cons, so choosing one that fits your needs and preferences is essential.
Ceramic countertops. These vanity tops are made from kiln-fired clay and topped with a glaze, making them an attractive and durable addition to your bathroom. They are strong, resistant to scratches and stains, and can withstand daily wear and tear. You can easily maintain them as a glazed surface is non-porous, which prevents the growth of bacteria and mold. The cost of ceramic slabs is $6 - $19 per square foot.
Granite countertops. These vanity tops are made from a natural stone material composed of various minerals, making them durable, aesthetic, and resistant to scratches, chips, heat, and moisture. Granite can withstand daily wear and tear, making it a long-lasting option for countertops. The cost of granite countertops ranges from $40 to $60 per square foot for the slabs.
Cultured marble countertops. Cultured marble is a manufactured material that combines natural marble dust with polyester resin and pigments to create an attractive and durable surface. Countertops made of cultured marble imitate the look of natural marble, providing an elegant and sophisticated appearance. The average price of cultural marble ranges from $45 to $55 per square foot, depending on the density and design.
Quartz countertops. Countertops engineered from natural quartz, resins, and pigments are popular for bathrooms due to their durability, low maintenance, and aesthetic appeal. They are incredibly durable and resistant to scratches, chips, and stains. To maintain their appearance, one should simply clean them with a soft cloth and mild soap. The cost of quartz countertops averages $75 per square foot.
The cost to install bathroom cabinets and vanities
The cost of bathroom vanities in 2023 ranges from $750 to $3.800, depending on their size and configuration. Other factors affecting the total vanity installation cost include the material of the countertop and the vanity's core, its size, style, and the number of custom elements.
Depending on the location and the scope of work, labor costs vary from $200 to $1000 per installing one unit. If any plumbing or electrical wiring changes are needed, the average labor costs may hike considerably. Ask your bathroom contractor if the vanity installation cost includes the demolition and disposal of the old vanity.
Here are the common bathroom vanity types and their associated costs:
| | |
| --- | --- |
| Vanity type | Cost (material + labor) |
| Freestanding vanities | $250 - $2.000 |
| Wall-mounted (floating) vanities | $300 - $2.500 |
| Corner vanities | $250 - $1.500 |
| Vessel sink vanities | $300 - $2.500 |
| Pre-made vanities | $150 - $2.600 |
| Custom vanities | $1.000 - $5.000 |
Additional costs involved in installing a bathroom vanity
The bathroom vanity mounting includes preparing the space, cutting the wall, and installing the new plumbing lines. These services may cost you an additional $1.750 - $2.000. Installing a bathroom backsplash costs $4.50 to $30 per square foot, while a plumber will charge you $350 - $500 for installing the vanity and faucets.
Please note that replacing an old vanity may not be included in the estimate. If you need a complex of vanity removal services, including changing the old plumbing lines, replacing the old vanity, and installing the new one, expect to spend $1.700 - $3.500 in total.
Sought-after home repair services near you
WE DON'T SEND THE NEWS
GET THE ESSENCE OF RELEVANT HOME
IMPROVEMENT TOPICS IN LESS THAN 5 MINUTES
Please enter a valid email