Best-Rated Storm Damage Roof Repair Companies Near You
Please enter a valid zip code
MyHomeQuote puts you in touch with trusted roofing contractors in your area. Complete our short questionnaire to get clear-cut roofing quotes at no cost.
MyHomeQuote - Your best bet to book services from vetted roof storm damage contractors in your area
Mother Nature can be unpredictable, wreaking havoc on our property. Roofs often cannot resist the power of a storm and fall victim to high wind and hail. The damages occurring after the storm may include missing or broken shingles, dents from hail, leaks, or structural issues. When you're in that trouble, you lack time to search for storm damage roofing repair companies near you. That is when MyHomeQuote comes to rescue you. With our pool of certified roofers, we can quickly respond to your problem, matching you with qualified pros. Our storm damage roof repair companies will not only inspect your roof and make the necessary repairs but also give recommendations on how to prevent damage next time. Get your roof back in shape after a storm with the best storm damage roofing repair companies in your area!
GET ACCURATE ESTIMATE
Including price quotations from local pros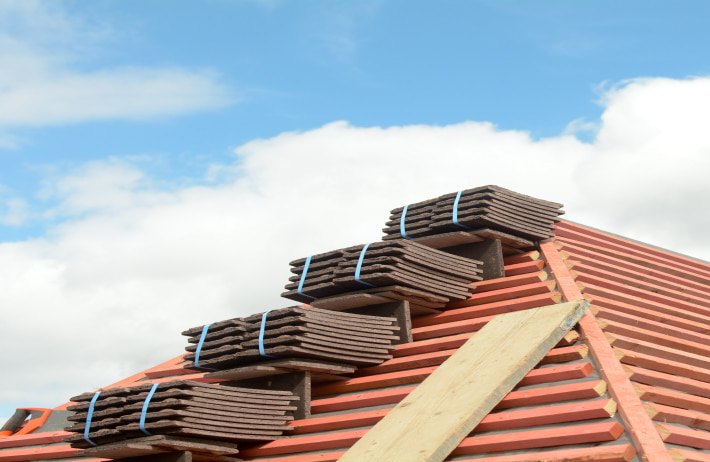 Streamline Your Roofing Project With MyHomeQuote

Step 1
Discover Top Local Roofers
Complete the form to book certified roofers in your county, ready to repair or replace your roof.

Step 2
Get Free Project Estimation
Calculate your roofing project by specifying your needs, preferences, and location.

Step 3
Get Custom Roofing Quotes
Get up to 4 offers from local roofing pros and pick the best bid based on your budget and expertise needs.
Transform Your Home with Expert Roofing Contractors

Locate Roofers for Free
Browse through local roofing professionals, acquire their rates, communicate, and book appointments without no cost upfront

Compare Roofing Quotes
Review proposals for your roofing project, assess bids, and examine contractor profiles and qualifications - all in real-time

Hire Vetted Roofers
Partner with top-rated professionals in the local market, renowned for their exceptional work and complaint-free reputation
12.000 +
homeowner requests processed daily
80.000 +
renovation projects performed annually
73%
homeowners get back to us for more quotes
3 out 5
contacts with contractors end up closing a deal
Here's what clients who found local roofers through MyHomeQuote say
roofing
Love the way this platform works
I'm writing to express my gratitude to the support managers who helped me find a professional roofing crew in Atlanta.
roofing
My roofing installation project was completed successfully
I hired roof installation guys through MyHomeQuote. No suggestions for the platform work. Will definitely use it again.
roofing
Prompt service, clear-cut quotes
I found handy roofing contractors in Charlotte's suburbs through this platform.
roofing
The work is done okay
I experienced no trouble booking contractor services. Fair pricing for the job provided.
roofing
It worked out well for me
It took them time to find good roofers for me. But I ended up hiring an expert roofing contractor in Omaha.
roofing
The more services like this, the better
I found a crew of skilled roofers here for less than an hour. They did a great job. I would recommend MyHomeQuote to friends.
How to get personalized storm damage roof repair quotes with MyHomeQuote?
We made our process of getting roofing estimates as simple as possible. It only takes one to complete the short quiz, answering the questions about the nature and extent of the roof damage, the roofing material, and the location where the repairs should take place. We also ask for personal information, like a phone number and email, to keep our clients updated with personalized offers.
Follow these steps to book storm damage roof repairs with us:
Complete the request form. Answering all questions in our simple quiz will take up to 3 minutes. Check the correctness of your ZIP, home address, and other personal details, so we can locate storm-damage roof repair contractors operating nearby and confirm the damage information for your further insurance claims.
Get free quotes. After scrutinizing your request, we will contact our partner roofing contractors in your area to check their availability for your project. The matching process may take a few minutes to a few hours. Once finished, we will get back to you with personalized storm damage roof repair quotes.
Compare quotes and sign a deal. Every time you leave your request with us, you get 3 to 5 estimates, depending on the number of local roofers specialized in the roofing service you seek. That means you have a bunch of offers to choose from. You can conveniently compare them on our website and sign a deal with a provider of storm damage roof repairs whose rates and expertise best meet your expectations.
FAQ
Do roof storm damage contractors provide emergency services during or immediately after a severe storm?
Most roofing contractors dealing with storm damages offer emergency services. These services are designed to provide immediate assistance during or immediately following severe weather incidents, helping to prevent further damage to your home.
What should you check about a storm damage roofing repair company before signing a deal?
Make sure to verify the company's credibility before signing a deal. Check its licensing, insurance, and certifications to ensure you hire a roofer who is legally allowed to conduct roofing repairs in your area. Moreover, remember to check customer reviews and past work portfolios to understand the quality and reliability of the storm damage roof repair company.
Are there cases of unfair behavior by roof storm damage contractors in the US?
Unfortunately, there have been instances of unfair behavior by storm damage roofing contractors in the US. Some homeowners have reported issues like shoddy workmanship, vastly inflated prices, or contractors who take a deposit and then never complete or even start the work. To save you from dealing with unfair contractors, seek MyHomeQuote's help. We carefully screen our roofers so you can enjoy peace of mind booking their services through our website.
Find thoroughly assessed and
approved local professionals
for major home improvement tasks
Please enter a valid zip code