Reasonably-Priced Commercial Roof Repair Near Me
Please enter a valid zip code
MyHomeQuote puts you in touch with trusted roofing contractors in your area. Complete our short questionnaire to get clear-cut roofing quotes at no cost.
MyHomeQuote - Your reliable source of commercial roof repair contractors in the state
Are you a commercial property owner needing reliable roofing repairs, not for an overwhelming price? Look no further than MyHomeQuote! We offer a comprehensive contractor-matching service to help you find your perfect commercial roof repair company operating in the area of 10 miles from you. Avoid the headache of guessing and receive free quotes specifically tailored to meet your custom needs. With MyHomeQuote, you're not just hiring a commercial roofing repair contractor, you're making an informed decision and choosing peace of mind. By leveraging our free services, you secure access to a pool of vetted, highly skilled professionals ready to exceed your roofing repair expectations. Tap into the power of choice and get the best commercial roof repair company near you. Don't leave your roof to chance - secure lucrative deals with MyHomeQuote today.
GET ACCURATE ESTIMATE
Including price quotations from local pros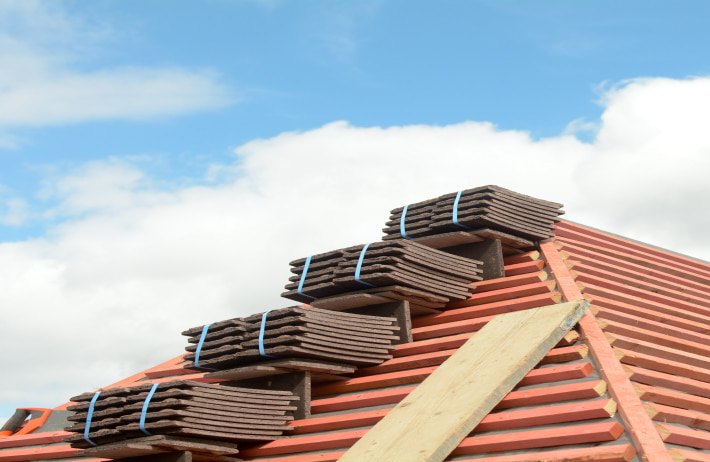 Streamline Your Roofing Project With MyHomeQuote

Step 1
Discover Top Local Roofers
Complete the form to book certified roofers in your county, ready to repair or replace your roof.

Step 2
Get Free Project Estimation
Calculate your roofing project by specifying your needs, preferences, and location.

Step 3
Get Custom Roofing Quotes
Get up to 4 offers from local roofing pros and pick the best bid based on your budget and expertise needs.
Transform Your Home with Expert Roofing Contractors

Locate Roofers for Free
Browse through local roofing professionals, acquire their rates, communicate, and book appointments without no cost upfront

Compare Roofing Quotes
Review proposals for your roofing project, assess bids, and examine contractor profiles and qualifications - all in real-time

Hire Vetted Roofers
Partner with top-rated professionals in the local market, renowned for their exceptional work and complaint-free reputation
12.000 +
homeowner requests processed daily
80.000 +
renovation projects performed annually
73%
homeowners get back to us for more quotes
3 out 5
contacts with contractors end up closing a deal
Here's what clients who found local roofers through MyHomeQuote say
roofing
Love the way this platform works
I'm writing to express my gratitude to the support managers who helped me find a professional roofing crew in Atlanta.
roofing
My roofing installation project was completed successfully
I hired roof installation guys through MyHomeQuote. No suggestions for the platform work. Will definitely use it again.
roofing
Prompt service, clear-cut quotes
I found handy roofing contractors in Charlotte's suburbs through this platform.
roofing
The work is done okay
I experienced no trouble booking contractor services. Fair pricing for the job provided.
roofing
It worked out well for me
It took them time to find good roofers for me. But I ended up hiring an expert roofing contractor in Omaha.
roofing
The more services like this, the better
I found a crew of skilled roofers here for less than an hour. They did a great job. I would recommend MyHomeQuote to friends.
Commercial roofing repair near me - Booking on your own vs. Booking through MyHomeQuote
Embarking on the quest to find an excellent commercial roofing repair pro can be daunting if you decide to do it alone. Sifting through piles of reviews, comparing quotes, and negotiating contracts can be time-consuming and stressful. With our contractor-matching services, though, you are provided with free, customized quotes from local commercial roof repair contractors. No more vague estimates or surprise expenses. We save you time and increase your chances of securing a more reasonable, cost-effective deal.
Having a choice from a multitude of local pre-screened professionals, you get an extra layer of assurance, reducing the odds of the mistake to zero. We ensure that you'll only be dealing with qualified roofers, thus promoting your peace of mind. In essence, booking commercial roofing repair near you through MyHomeQuote gives you access to quality, transparency, and convenience. Say bye to the tedious work, and welcome a seamless roofing repair experience!
Here are the benefits you lose out on looking for commercial roof repair companies without going for professional assistance:
Time efficiency. Finding and vetting commercial roofers can be a highly time-consuming process. With MyHomeQuote, we expedite this process significantly, saving you valuable time.
Access to vetted professionals. At MyHomeQuote, we take the responsibility of vetting contractors, ensuring they are certified, experienced, and trustworthy. On your own, it may take more work to validate the authenticity of the commercial roof repair companies you find.
Competitive pricing. With MyHomeQuote, you receive multiple quotes from local contractors for the same job. This competition ensures that you get the best price for your required service. Doing it on your own may not offer this level of price versatility.
Reliable reviews. MyHomeQuote provides reliable, unbiased reviews about each commercial roofing repair contractor we partner with. Finding authentic reviews while searching on your own can be challenging.
Peace of mind. We are always on standby to assist and resolve any problems or concerns during the roofing project. By taking matters into your own hands, you might not have this vital backup when things go awry.
FAQ
How much can I expect to pay for a commercial roofing repair job?
The national average cost of a commercial roofing repair goes from $4 to $17 per square foot, including material and labor. The total estimated price varies drastically based on the scope of the repairs needed, the type of materials used, the roof's construction and design, and the project's complexity.
How does a commercial roof repair differ from a residential roof repair?
Commercial roof repair differs from residential roof repair primarily in terms of scale, type of roofing materials, complexity of design, and requirements. Commercial roofs typically cover a larger surface area and may require specialized equipment to repair. They often use different materials like metal, built-up roofing, modified bitumen, or single-ply membranes compared to the shingles or tiles commonly found in residential roofs.
Is it possible to accomplish a commercial roof repair without professional help?
It is not recommended to accomplish a commercial roof repair without professional help. Commercial roofs often come with intricate designs and may require specialized knowledge and equipment to repair accurately and safely. Attempting to fix it yourself could lead to further damage and potential risks. That's where the MyHomeQuote contractor-matching service comes in. Reach out to us today to discover premium commercial roof repairs near you suited for your specific needs.
Find thoroughly assessed and
approved local professionals
for major home improvement tasks
Please enter a valid zip code