Find Bathroom Painters Near You
Please enter a valid zip code
MyHomeQuote puts you in touch with trusted bathroom contractors in your area. Complete our short questionnaire to get clear-cut bathroom quotes at no cost.
Hire a Qualified Bathroom Painter with MyHomeQuote
Have your old floor-to-ceiling bathroom tiles become an eyesore? While retiling can cost you a bundle, wall painting can become a stunning alternative. An experienced bathroom painter can help you transform your bathing space from dull to dazzling. To locate a true expert who knows their way around painting always-wet-never-dry areas for a long-lasting finish, come to MyHomeQuote. We have built a vast database of the best American contractors and regularly add new names. So, connecting you with credible bathroom painters near you won't take long. If you want to initiate your bathroom transformation project any time soon, dispatch your request by filling in the form below. Once we find certified bathroom painters in your neighborhood, we'll let you know. Point out your ZIP code for an area-restricted search
GET ACCURATE ESTIMATE
Including price quotations from local pros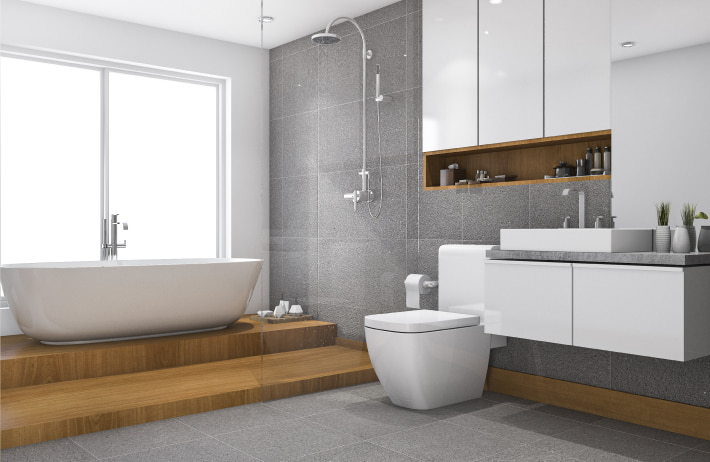 Streamline Your Bathroom Renovation Project With MyHomeQuote

Step 1
Find Local Bathroom Pros
Seek to hire licensed bathroom contractors to revive your space? With us, locating local pros and getting their FREE estimates takes a couple of clicks.

Step 2
Budget Bath Renovation
Get a ballpark cost of your bathroom makeover by specifying your needs and location. Our bathroom pros will contact you with personalized estimates.

Step 3
Get Free Bathroom Quotes
Get up to 4 estimates from bathroom contractors whose service area covers your region. You will be able to compare rates and get the perfect match at no cost.
Secure Top-Tier Bathroom Repair Services to Refresh and Customize Your Space

Find Nearby Bathroom Pros
Rely on our free contractor-matching service to discover the finest bathroom professionals in your area. With our expert recommendations, detailed customer reviews, and tailored search options, hiring a skilled professional will be a breeze.

Compare Bathroom Quotes
Compare quotes from vetted nearby bathroom professionals and secure the best value for your dream bathroom makeover. By evaluating multiple estimates, you can confidently hire a skilled expert who combines quality craftsmanship with budget-friendly solutions.

Hire Top-Rated Contractors
Elevate your bathroom experience by hiring a skilled local professional who understands your unique needs and style preferences. With MyHomeQuote, you can match contractor offers and pick the one who can ensure you a successful and stress-free renovation process.
12.000 +
homeowner requests processed daily
80.000 +
renovation projects performed annually
73%
homeowners get back to us for more quotes
3 out 5
contacts with contractors end up closing a deal
Here's what clients who found local bathroom remodelers through MyHomeQuote say
bathroom
Thank you for your recommendations
For those who seek bathtub installers in Austin, don't hesitate to leave your request on MyHomeQuote. They recommend worthy tradesmen companies you won't regret hiring.
bathroom
A fair bathroom renovation cost
We spent almost a month searching for local bathroom contractors. The prices have jumped twice since the last time we remodel our walk-in shower. However, we still managed to hire an affordable specialist via MyHomeQuote.
bathroom
Good experience
First time using this service. It was a positive experience. Will use it again for sure.
bathroom
Easy-to-use service
I find this way of seeking bathroom contractors quick and efficient.
bathroom
I ended up with great results
There is one bathroom in our flat, and it looked so shabby that we were forced to search for remodelers in pandemic months. Fortunately, we managed to find an independent tradesman via this platform.
bathroom
MyHomeQuote helps find great pros to do the job
MyHomeQuote pairs you with certified pros, not charging for its services. It's a cost-efficient option compared to subscription-based services.
MyHomeQuote: Protect Yourself from Hiring an Unskilled Bathroom Painter
It's common knowledge that finding a trustworthy and knowledgeable specialist is half the battle. However, reaching this point means you need to make your way through all nine circles of Hell. Are you willing to cut corners and switch to the good part right away? Use the MyHomeQuote platform. We do all it takes to pinpoint qualified bathroom painters near you and filter out those who don't meet the requirements. Among other things, we check:
If the license and insurance are valid
Whether a bathroom painter is experienced enough
Online ratings and reviews
Such a strategy allows us to screen out unskilled contractors who will hardly comply with the regulations and do the job that will live up to your expectations. All US cities are covered so that you can use MyHomeQuote to good advantage from any corner of the country.
Why Does MyHomeQuote Check Online Reviews When Searching for Bathroom Painters Near You?
When looking for contractors, many homeowners overlook the importance of customer reviews. Meanwhile, they make for a valuable source of information about the strengths and weak sides of a professional. Poor ratings often suggest recurring issues and concerns, so we filter out such companies to nip such a probability in the bud. That's why you can make more informed decisions when using MyHomeQuote for locating and hiring a bathroom painter.
FAQ
Can I Paint the Bathroom Walls Myself?
Yes, you can make it a DIY project if you have some experience. If you don't, it's better to hire a pro, as there are many things to consider to achieve a stunning result.
How Much Does It Cost to Hire a Bathroom Painter?
Your expenses can vary depending on the bathroom size, location, type of paint chosen, and complexity of the job. However, on average, you can expect to pay between $180 to $500 for a small to medium-sized bathroom, as bathroom painters charge from $20 to $50 per hour.
Are There Any Alternatives to Painting Bathroom Walls?
If you don't feel like painting your bathroom walls, you can use ceramic or porcelain tiles, vinyl wallpapers, wall panels, or natural stones. You should consider your bathroom's moisture level when selecting a brand-new option.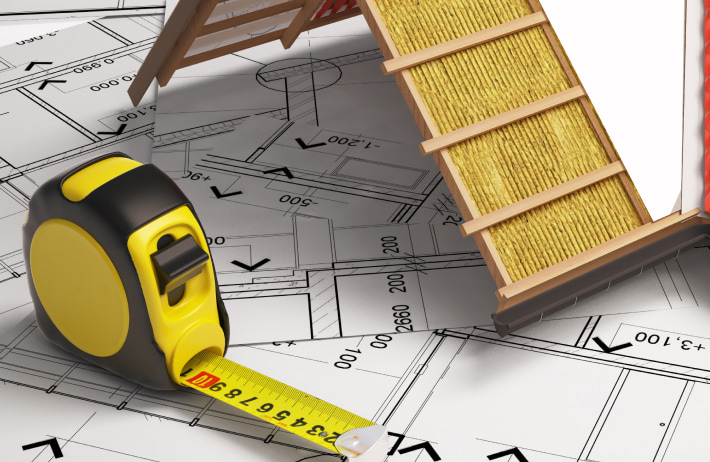 Find thoroughly assessed and
approved local professionals
for major home improvement tasks
Please enter a valid zip code