Roof shingles have been used in the residential segment for over a century, and for a good reason. They combine unmatched aesthetics, ease of installation, and versatility. A wide diversity of materials may come in shingles, including wood, asphalt, metal, slate, and composite. Understanding the difference between their features, costs, and factors affecting their performance will help you make an informed decision when selecting shingle roofing for your home.
Read on to discover the average cost of a shingle roof by type, brand, size, and location. We also dwell on the additional factors affecting the total roofing cost, like getting permits, installing underlayment, and removing the existing shingles.
The national average cost to reshingle a roof
Estimating the cost of installing a new shingle roof, one should consider the roof size and shingle material as two major cost-formation factors. The actual roof area determines the amount of supply needed and the project's scope. The type of material makes up about 30% of the total project cost and affects the contractor's rate per square foot or hour. Other factors contributing to shingle roof cost volatility include the complexity of the project and the location where it takes place.
Please note that around 70% of the total shingle roof installation budget goes to labor. That is why it is essential to know the up-to-date rates of local roofing contractors specializing in the roofing type you have selected for your project. Fortunately, with MyHomeQuote, you can always stay updated with the actual installation prices in your region.
The national average cost to shingle a roof of a standard size (1.500 - 1.700 square feet) is between $5.500 and $18.000, including material and labor. However, as we said before, the price may greatly hinge on the material. For instance, asphalt shingles, the most economical roofing type, cost $9.000 - $12.000 to install, while slate shingles may cost as high as $50.000 for a roof of 1.700 square feet. All in all, when it comes to shingle roofing, you always have some room to wiggle by selecting the cheaper material or tackling some part of the installation job yourself.
The average cost of shingling a roof by shingles type
The shingle installation cost is significantly influenced by the type of roofing material used. Roofing shingles are constructed from various materials arranged in a horizontal and overlapping manner. Certain materials are pricier and require more time for installation, leading to increased expenses. Premium shingle roofing options like clay, slate, wood, and metal require a higher upfront investment but bring a better return over time. Roofs with a lower lifespan, like 3-tab asphalt shingles, are cheap to install, but you should be ready to replace them in less than 15 years.
Here are the common shingle roofing materials and their costs per square foot:
| Shingle material | The average cost per sq. ft. |
| --- | --- |
| Asphalt shingles | $3 - $15 |
| Architectural asphalt shingles | $6 - $16 |
| Metal shingles | $8.00 - $12.65 |
| Composite shingles | $8.50 - $17.00 |
| Wood shingles | $8.00 - $18.50 |
| Slate shingles | $12.00 - $25.00 |
Asphalt shingles
We can bet that every second home in your neighborhood is covered with one of three types of asphalt shingles - designer, architectural, or 3-tab. Asphalt roofing is a synonym for the cozy US suburbs. It comes in multiple colors, styles, and textures, making it easy for homeowners to find a suitable option that complements the design of their home. Although the lifespan of asphalt roofing is around 30 years with consistent upkeep, it is still considered a cost-effective solution, requiring modest investment compared to slate or wood. The shingles roof cost varies from $2 to $10 per square foot, including installation services.
Architectural asphalt shingles
Architectural asphalt shingles, also known as dimensional shingles, are a more durable alternative to 3-tab asphalt shingles. They can serve for 30-40 years with proper maintenance, showing resistance to moisture and warping. Architectural shingles are made from multiple layers of asphalt-impregnated fiberglass or organic material, topped with mineral granules for added protection. They can mimic the look of wood shakes or slate tiles, adding curb appeal to a home.
Architectural shingles are more expensive than 3-tab shingles, with costs ranging from $6 to $16 per square foot. However, their longer lifespan and better performance can make them a cost-effective choice in the long run.
Metal shingles
Metal is an evergreen trend in roofing that is highly valued for holding up against virtually anything life throws at it, from high winds and stormy rain to scorching sun. Variations of metal roofing like zinc, tin, and aluminum have a lifespan of over 50 years, bringing the best return on investment. Low-end metal roofing materials like steel suit homeowners with a restricted budget, while roofs made of copper may cost more than $55.000 with a high possibility of paying off for over 100 years of lifespan.
The national average cost to replace roof shingles made of metal alloy varies from $8 to $12.65 per square foot, including material and labor. The price may vary depending on the size and construction of the roof, the rates of local roofers, and the material that forms the basis of the roof tiles.
Composite shingles
Synthetic shingles come in the range of top-level roofing materials, with the average cost ranging from $8.50 to $17 per square foot. This durable and versatile roofing option is made from a combination of fiberglass, recycled plastics, rubber, and other materials that ensure its weatherproofing, robustness, and fire- and wind resistance. In addition, composite shingles mimic the appearance of wood and slate while offering the benefits of a more durable and low-maintenance roofing solution with a lower initial price.
Wood shingles
Wooden roofs come in two types - shingles and shakes. They are typically made from pine, cedar, cypress, or redwood. Wood shakes offer a more rustic and organic appearance, whereas wood shingles provide a cleaner, thinner cut that resembles other roof styles. Both wood roofing options have a lifespan of approximately 40 to 50 years. Shingles are generally cheaper, with an average cost of $15 per square foot compared to $17 per square foot for shakes. The cost of a shingle roof made of natural wood can also hinge on the wood species. Thus, premium choices like red cedar and maple are the most expensive.
Slate shingles
Natural slate has the highest durability compared to all other types of roofing. It may last for over 100 years, requiring moderate upkeep. The secret of uncompromised slate roofing's durability, fire- and moisture resistance lies in its origin. It is made from a natural rock that is cut into shingles. This material is often used for high-end residential and historical buildings, giving them an elegant appearance.
However, as expected, the advantages offered by slate roofing come at a high price. You should expect to spend $12 - $25 per square foot installing slate shingles on your roof.
The average cost for a shingle roof by brand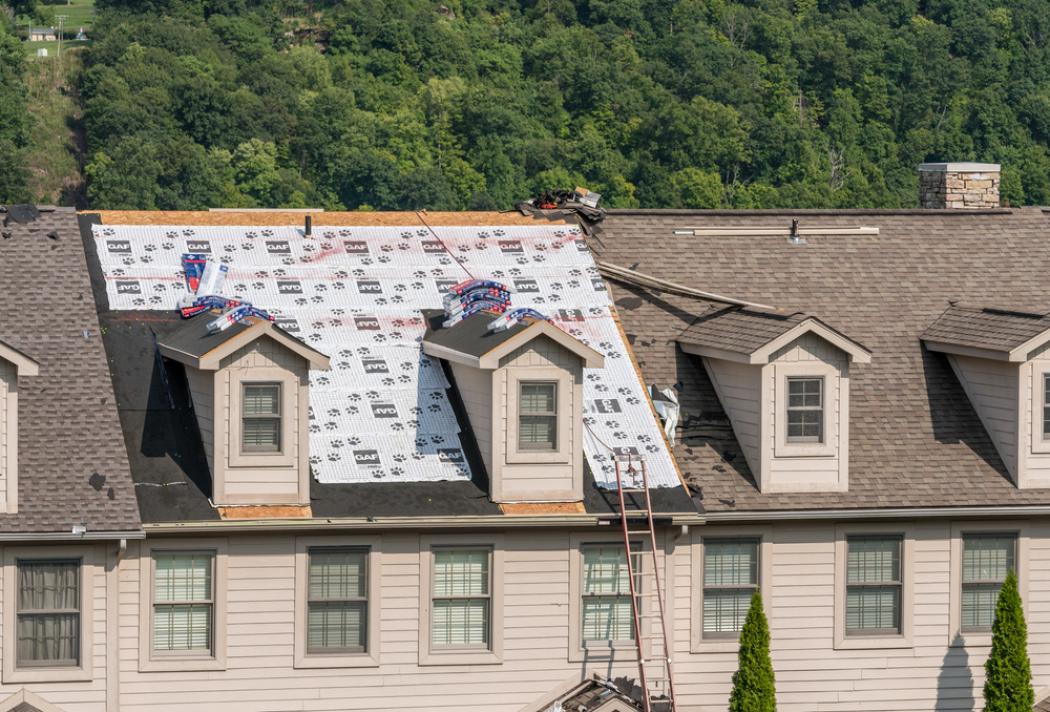 A few US brands have established themselves as leading manufacturers of roofing shingles, offering a wide variety of options to suit different tastes and budgets. For your convenience, we have collected these brands and their costs per square foot of shingle roofing in the table below. Nevertheless, we expect mentioned costs for shingle roofing to rise by 10% - 12%.
Manufacturer

The average cost per square

(materials only)

GAF

$70 - $300

CertainTeed

$100 - $500

Owens Corning

$110 - $200

Tamko

$90 - $400

IKO

$70 - $200
GAF
GAF is a prominent roofing manufacturer located in North America. It offers a wide gamut of premium, high-performance shingles with distinctive designs and advanced features, including the sought-after Timberline and Designer Shingle series. The GAF's assortment covers traditional asphalt shingles, as well as underlayment and ventilation products. Depending on their types and series, the average cost of roof shingles by GAF varies from $70 to $300 per square, with the GAF Designer Series roofing being the most expensive.
CertainTeed
CertainTeed is a reputable manufacturer in the construction industry that offers a variety of roofing shingles, including the Landmark, Presidential Shake, and Belmont series. Besides, CertainTeed creates efficient solar roofing solutions like the Apollo II and Apollo Tile II, as well as hip and ridge accessories, flashing, and sealants. The CertainTeed luxury and architectural asphalt shingles are known for their durability and high performance. Their cost per square varies from $100 (for Landmark architectural shingles) to $500 (for Grand Manor Series luxury shingles).
Owens Corning
Owens Corning gained credibility in the US roofing market as a leading shingles producer known for its innovative products and sustainable practices. It produces high-performance architectural shingles, insulation materials, ventilation systems, and underlayment. Roofing options from Duration and TruDefinition WeatherGuard HP Series are the most sought-after. The average cost of these roof shingles per square ranges from $110 to $200.
Tamko
Tamko Building Products is a trusted US roofing manufacturer with a long history of producing top-notch roofing materials for residential applications. Their assortment counts multiple roofing shingle variations, underlayments, ventilation products, and related accessories. Their notable shingle series include Heritage (laminated asphalt shingles that mimic wood shakes) and MetalWorks Series (metal shingles resembling traditional roofing). The average shingle roof cost by Tamko varies from $90 to $400 per square.
IKO
IKO is a global roofing manufacturer known for its commitment to quality and innovation. It has solid positions in the US roofing market, providing a wide range of shingle roofing products for residential and commercial applications. The best shingle product lines from IKO include Cambridge, Royal Estate, and Nordic Series. Most of the offered roofing options have perfect impact resistance, combining the aesthetics of architectural shingles with added protection against impacts. The average cost of IKO roofing starts at $70 per square for 3-tab shingles and goes as high as $200 per square for architectural shingles.
Labor cost to install shingle roofing
As stated, around 70% of the total shingle roofing installation cost is labor. Any factors affecting the labor intensity of the roofing project raise its cost. For instance, a steep roof with a complicated structure or limited accessibility will cost more to reshingle. Besides, roofers charge extra for working around features like dormers and skylights, as well as for tearing off old shingles.
As a rough estimate, the labor cost for installing roofing shingles ranges from $2.50 to $9.00 per square foot. This translates to $250 to $900 per square (100 square feet). A more accurate estimate can be made by knowing the material type used for shingle roofing. For example, roofers charge higher for installing slate and metal roofing compared to asphalt and wood shingles.
For a more accurate estimate, it is recommended to consult with local roofing contractors, who can provide a detailed quote based on your specific project requirements.
Additional factors affecting the cost of a new shingle roof
While the size of the roof and the type of roofing material are primary factors affecting the total shingles installation price, here are some additional spending to consider. See below to reveal the common roofing services that must be added to the shingle roof cost calculator.
| Roofing service | The average cost |
| --- | --- |
| Getting permits | $100 - $500 |
| Roofing removal and disposal | $1 - $5 per sq. ft. |
| Roof repair | $250 - $1.000 |
| Skylight installation | $1.185 - $3.170. |
| Flashing replacement | $200 - $500 |
| Attic fan installation | $300 - $900 |
Roofing permits
The starting point of any roofing project, be it replacement or installation, is obtaining permits in the building department. The project should comply with the local building codes. Otherwise, it might be considered illegal. Generally, getting permits cost around $300, but the sum varies widely on the location and the roofing project extent.
Roofing removal and disposal
Installing new shingles almost always involves removing the existing roofing material. An exception goes to lightweight aluminum and asphalt shingles that can be used as overlays by installing directly over existing shingles. Generally, roofers include the cost of roof replacement and disposal services in their total estimate, and you should expect to be charged $3 per square foot for them.
Roof repair
Professional roofers never start a roofing replacement project without evaluating the roof's current state and carrying out repairs if needed. The average cost to repair shingle roofing can vary depending on the extent of the damage, the roofing material, and the location of the repair. On average, homeowners can expect to pay between $250 to $1.000, while the cost of extensive repairs can go up to $3.000. You should request quotes from 3 - 5 roofing contractors in your region to get a more precise rate.
Skylight installation
Many homeowners want to integrate skylights into their home structures as they allow a lot of natural light inside, provide efficient ventilation, and work as an attractive architectural element. Besides, they can improve the home's energy efficiency by providing passive solar heating in the winter and reducing the need for artificial lighting. The cost of installing skylights may range from $1.185 to $3.170, depending on their number and the materials used.
Flashing replacement
Roof flashing plays a crucial role in maintaining the roof's integrity and preventing water damage. Therefore, it is essential to replace the flashing when it is damaged, corroded, or improperly installed to ensure the long-term protection of the roof. Your roofer may insist on replacing the existing flashing to ensure the new shingle roofing's integrity and long service life. You should expect to spend around $350 for installing new flashing. The cost may hinge on the selected metal and the local labor rates.
Attic fan installation
If you want your new shingle roofing to serve the most of its expected service life, consider installing an attic fan. This add-on will improve attic ventilation, removing hot air and preventing moisture buildup. Plus, proper attic ventilation will help to reduce the home's cooling costs in the summer. The average cost to install an attic fan is between $300 and $900, depending on the brand and local labor rates.
How to skimp on the cost of roofing shingles?
If you have a limited budget for installing a new shingle roof, determine the average sum you are ready to spend and keep it in mind shopping for roofing materials and reviewing installer quotes. Here are some other tried-and-true tips aimed to help you skimp on your roofing project:
Shop around for materials. Go for basic asphalt shingles to save the cost. For instance, installing 3-tab asphalt shingle roofing can cost you less than $5.000 for material and labor. Compare prices from different national and global suppliers to catch the best deal on the selected roofing material. Please note that buying shingles in bulk or during sales may result in additional savings.
Contact as many local roofers as you can. Getting an objective roofing pricing picture helps to get the deal that offers the best price-quality ratio. Research the local roofing services market yourself or with the help of free contractor-matching services like MyHomeQuote. Be cautious about choosing the lowest bid, as it may indicate lower-quality work or materials.
Use your DIY skills. If, by any chance, you have some roofing experience, you may remove or patch your old shingles yourself or assist with the installation to save on labor costs. Nevertheless, always put your safety first. If you have a sloped roof with a complex structure, it would be better to entrust all roofing jobs to professionals.
Time your project strategically. Schedule your roofing project during the off-season or when contractors are less busy, as they may offer discounted rates. The low seasons for roofing jobs can vary depending on the climate and region. Generally, roofing contractors are less busy during the late fall and winter months.
Licensed shingle roofing companies near you
FAQ
What are the strongest roofing shingles?
Among the different shingle roofing materials, the most robust ones are typically metal and composite shingles. Metal roofing presented by copper, zinc, and aluminum is known for ultimate resistance to harsh weather conditions and can last up to 100 years. Composite is another long-lasting shingle roofing that offers superior strength, durability, and weather resistance. It can last over 70 years if properly installed and maintained.
What are the cheapest roofing shingles?
The most affordable type of shingles is 3-tab asphalt shingles. They are made from a fiberglass or organic base saturated with asphalt and coated with mineral granules. They are lightweight and easy to install but have a shorter lifespan and lower durability than architectural asphalt or metal shingles.
Is shingle roofing suitable for flat roofs?
Shingle roofing is designed for sloped roofs that allow water to run off and not accumulate on the top. Flat roofs require different roofing materials like modified bitumen, rubber membranes (EPDM), or built-up roofing (BUR) systems, specifically designed to prevent water infiltration and provide better protection for flat or low-slope roofs.