Bamboo flooring - Costs and buying tips
Are you thinking about changing the flooring coverage in your house? If yes, consider installing wooden or wood-imitating flooring types, as they're always in trend. The selection of floors is mind-boggling, and it might be challenging to get the right one without doing provisional research or consulting a dedicated professional. In a series of articles about flooring materials, we give our readers all-encompassing information they can leverage to make their final purchasing decision. This article is dedicated to bamboo as it is one of the prominent variations of wooden flooring with good performance without having a sky-high price tag. From costs to maintenance and installation method - we cover everything you need to know before installing bamboo flooring.
The basics to know about bamboo flooring before investing
Floors made of bamboo became a great alternative to traditional hardwood as they are 100% eco-sustainable and affordable while having the same or even better aesthetics than natural wood. Bamboo is considered to be grass rather than wood. It needs about five years to mature, then harvested, cut down into strips, dried, and machined into flooring planks.
Bamboo comes in multiple types, styles, and finishes. It is resistant to moisture and can be installed in areas of fluctuating temperature and humidity. Bamboo flooring does not require special skills to be installed, and as it is a stable flooring material, it can be used with underfloor heating.
How hard is bamboo flooring?
The sturdiness of bamboo mainly depends on its type and is measured relative to hardwood flooring. Thus, Carbonized bamboo is considered the lower grade material and can be matched in its durability to black walnut hardwood (with a Janka hardness rating of just 1010), while natural bamboo has similar properties as red oak hardwood, which has a Janka rating of 1290.
The simple principle to determine the sturdiness of bamboo is to check its color. The darkest shade it has, the less durable it will be. This is explained by a carbonization process that changes the initial color of the material, making it less durable.
The service life and warranty of bamboo floors
As a rule, bamboo flooring serves less than quality floors made of solid wood. Nevertheless, if properly installed and maintained, they can last for about 25 years, showing fewer signs of wear and tear than a parquet of natural timber.
Most bamboo flooring manufacturers offer a structural integrity warranty on their products that mainly covers the physical strength of the floor. Besides, prefinished bamboo flooring variations also come with a surface warranty. The average warranty length varies from 10 to 25 years, depending on the material type, color, and finish.
What are the types of bamboo flooring?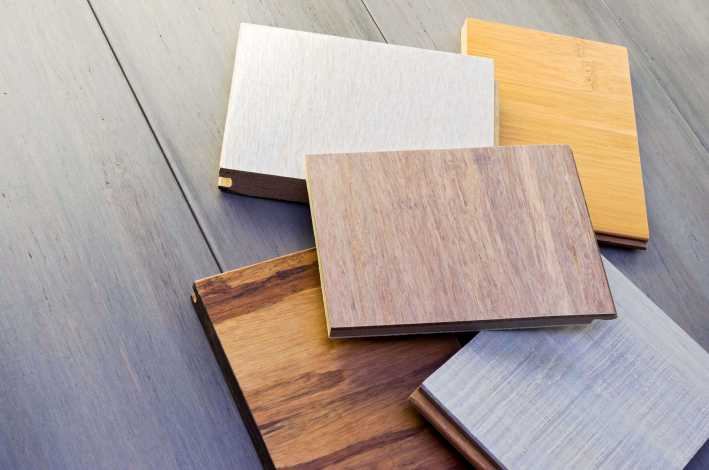 Bamboo flooring is divided into three main types depending on how the bamboo slices are laminated together. Read on to find out how they differ from each other:
Horizontal bamboo. The strips are laid flat and glued together to form the flooring plank. This way of laminating enhances the natural bamboo features, ensuring a smoother surface look with fewer joint lines.
Vertical bamboo. The bamboo slices are glued together vertically to form the plank of flooring. This way of laminating creates a surface with more visible joint lines than horizontal bamboo flooring.
Strand-woven bamboo. This type of bamboo is one of the densest ones with a consistent look. It's made by woven together bamboo strands that are compressed under high temperatures and pressured to form the plank of flooring.
Please note that all three types of bamboo flooring come in both engineered planks and sold bamboo, with either a tongue and groove or click system profile.
What are the styles and finishes of bamboo flooring?
Generally, bamboo hues come into two groups - lighter ones (blonde and yellow tones) that are common for natural bamboo and darker ones (light and dark brown tones) that result from a bamboo smoking process. Nevertheless, homeowners are not limited by these tones as they can apply different stains and finishes to their bamboo floors, getting virtually any hue they desire. From a distressed vintage look to the lacquered or satin surface of natural shade, the choice of styles is abundant.
Solid bamboo flooring vs Engineered bamboo flooring
Bamboo floors come in both solid and engineered options. While it is difficult to tell the visual difference between them, they vary by their properties and the way of construction. Solid bamboo is manufactured purely from bamboo fibres that have been compressed together using glue. In their turn, engineered bamboo features a plywood base with a thin top layer of woven bamboo. It cannot be refinished and has a shorter service life than solid-strand woven bamboo flooring. Nevertheless, if you need wide planks for your interior, you might be interested in getting engineered bamboo flooring.
How to upkeep bamboo flooring?
Floors made of bamboo don't require special upkeep. To keep them clean, you just need to vacuum and dam mop them several times a week. Spills are recommended to wipe out immediately to avoid wrapping and discolouration. As they are not waterproof and are prone to mold build-up, bamboo floors should not be installed in rooms with high humidity levels. Regular exposure to moisture can cause the buckling of planks, reducing the service life of the floor.
Sanding and staining can be made at least once a year to minimize the appearance of scratches. As different types of bamboo have different upkeep approaches. It's advised to consult the manufacturer about the special recommendations to follow and detergents to use.
What are the advantages and downsides of installing bamboo flooring?
Bamboo has multiple benefits, making it an attractive choice for homeowners looking for a green flooring solution with proper density, simple maintenance, and an adequate price. Let us have a closer look at the strong sides of a bamboo floor:
Eco-friendliness. Unlike traditional hardwood trees that require ten to twenty years to mature, bamboo stalks can have up to six harvest cycles. Bamboo is developing in a five-year cycle and does not need to be replanted to give a new harvest.
Durability. Bamboo flooring, especially its strand-woven type, is naturally resistant to wear and tear and can be installed in areas with high foot traffic, like living rooms and entryways.
Affordability. Bamboo is a relatively cheap flooring option, with the cost ranging depending on a variety of characteristics. Engineered hardwood flooring will cost you as low as $2 per square foot, which is definitely a good price for wood-like flooring.
Multiple refinishing. Depending on the type, bamboo flooring can get discolored and scratched over time. However, you can renew its appearance by sanding it down and applying a new coating seal. Please note that engineered bamboo flooring is not the subject of refinishing.
Simple installation. Bamboo flooring planks with a "click-lock" system are quick and easy to install. If you have an even subfloor and don't need any other flooring issues to be solved, you can skimp on professional installation, mounting the "click-lock" planks yourself.
In order to give you an objective overview, we also want to enumerate the downsides of bamboo floors. By the way, they're pretty similar to those the average hardwood floors possess, like vulnerability to scratches and poor water resistance. Read on to make a well-thought-out buying decision.
Prone to scratches. As we said before, bamboo flooring can be refinished, which fully or partially solves the issue of scratches. Nevertheless, it is worth pointing out that bamboo flooring, especially its carbonized variation, can be easily scratched.
Poor water resistance. Bamboo flooring is made from grass, making it more susceptible to humidity than hardwood. If floors of this type are installed in rooms with high humidity levels or drastic temperature changes, they will likely swell and buckle.
How much does bamboo flooring cost?
Cost efficiency is one of bamboo's advantages, making it a sought-after flooring option for residential use. The average cost of this material ranges from $2 to $9 per square foot, depending on the type, manufacturing and finishing approach. Strand-woven bamboo flooring is the most highly-priced of all types, with the average cost per square foot ranging from $4 to $6. The cost to install bamboo flooring by a professional crew can vary from $3.50 to $5 per square foot, depending on the location and complexity of the job. Please note that you should always consider extra flooring for any additional cuts needed. For instance, if you have a 150-square-foot room, you should get 170 to 185 square feet of flooring to account for all possible adjustments.
If you want to acquire the exact cost of bamboo flooring per square foot for your project, leave your request on MyHomeQuote. We will ask you a few questions about your flooring needs and match you with our partner flooring installers in your area to estimate the clear-cut installation cost for you.
Sought-after home repair services near you
WE DON'T SEND THE NEWS
GET THE ESSENCE OF RELEVANT HOME
IMPROVEMENT TOPICS IN LESS THAN 5 MINUTES
Please enter a valid email