Architectural shingle roof: From A to Z
When you face the need to select between a few roofing materials, you consider factors like cost, aesthetics, durability, moisture resistance, and compatibility with the climate in the region. Such a crucial buying decision requires thorough market analysis and even professional advice as we bet nobody wants to invest in a costly roofing replacement every 5-10 years. This article is devoted to architectural shingles as one of today's most widespread covering materials. We made a complete overview of this variety of asphalt roofing, answering frequently asked questions. Read on to learn about the types and styles of architecture roof shingles, their advantages, and installation costs. By the end of this article, you should get a clear idea if this roofing material is right for your house.
What are architectural shingles?
The history of architectural asphalt shingles goes back to the 1980s. That time was marked by the massive enhancements to the dimensional shingles that led to the appearance of second-to-none asphalt roofing products. They were distinguished by their durability and distinctive look.
Architectural shingles are also called dimensional and laminated. This top-quality roofing material is traditionally made of a fiberglass mat base and ceramic-coated mineral granules built in preliminarily prepared and refined asphalt. The non-traditional variations of architectural shingles are made from a synthetic slate and cedar wood. These materials look no worse than the real ones while possessing better fire- and moisture-resistant properties. Architectural asphalt shingles come in various colors, sizes, and designs that give you the freedom to play with light and shadows, creating a unique roof style.
The average lifespan of laminated shingles is 30 years with proper installation, regular maintenance, and adequate ventilation. This material is heavy and resistant enough to withstand storms and winds up to 120 mph. If you live in a hail-prone area, you can go for architecture roof shingles with Class 4 impact resistance to reduce the risk of damage. Besides, this material ensures adequate insulation and doesn't crack when exposed to direct UV rays.
What are the main styles of architectural roofing?
If you put a premium on the visual aspect of your roof, consider covering it with architectural asphalt shingles. This material might look like genuine cedar shakes or natural slate tile while not preserving the installation, upkeep, weatherproofing, and flammability issues the original materials have. Besides, the price of synthetic shingles is much lower than genuine wood and stone roofing.
Slate architectural shingles provide a stylish look without the original material's weight issues. This synthetic material does not require additional roof support and allows skimping on building structural reinforcement. Shingles made of architectural slate can last 25-30 years with annual maintenance.
Synthetic cedar shakes come into the range of the most sought-after roofing materials due to their unmatched look, energy efficiency, and thickness. Thanks to the random slots similar to natural shakes and a wide gamut of textures, this type of architectural roofing cannot be told from natural wood.
Laminated asphalt shingles are distinguished by their versatility as the sky's the limit to their shades, dimensions, and textures. Those shingles that imitate wood have the same color blends as those found in nature. You can combine different shades to create an unmatched design. If you seek the effective means to visually highlight the sections of your roof like gables, turrets, or ridges, the random styles, and colors of architectural roofing shingles will create the right accents. Laminated shingles can be used for both - to enhance the appearance of the old roof and give a dramatic look to the new one.
What to know about the architectural shingles cost?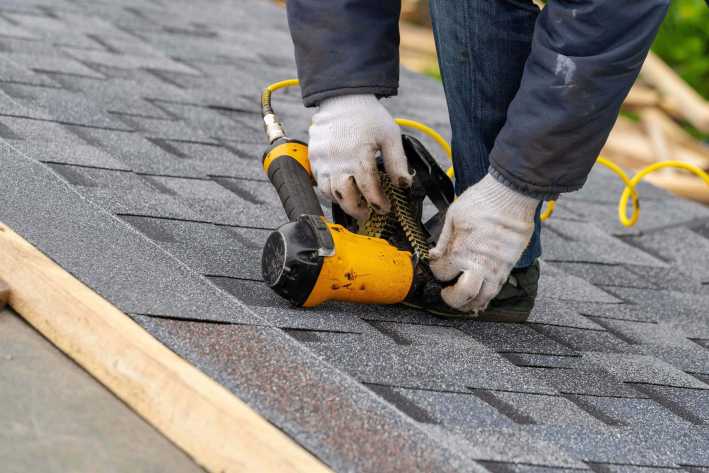 When calculating the average cost of architectural shingles roofing, you should consider the existing roof's size, slope, and pitch. Besides, the labor costs may vary depending on the region and project complexity.
The average architectural shingles price is $5.86 per square foot. If you have an average-sized two-story house, you should expect to spend $14.500 to $22.100 to cover its roof with laminated shingles. Architectural roofing with a 50 years warranty may cost $7.85 per square foot or higher.
To get the most accurate price quotation for your roofing project, consider leaving your request on the MyHomeQuote platform. We have a vast database of roofing professionals from different states who offer a wide range of services, including roof shingling. They compete for your request, so you can pick the most lucrative estimates and arrange a call with the selected companies' representatives. The best part of it is that we provide our contractor-matching services for absolutely free.
Spend less than 10 minutes to find the average cost for an architectural shingle roof in your region.
Sought-after home repair services near you
WE DON'T SEND THE NEWS
GET THE ESSENCE OF RELEVANT HOME
IMPROVEMENT TOPICS IN LESS THAN 5 MINUTES
Please enter a valid email