Compare Quotes From Local Bathroom Contractors
Please enter a valid zip code
MyHomeQuote puts you in touch with trusted bathroom contractors in your area. Complete our short questionnaire to get clear-cut bathroom quotes at no cost.
MyHomeQuote - Your One-Stop Service for Hiring Bathroom Contractors Near You
When it comes to updating your bathroom or building a new one from the ground up, hiring a crew of certified contractors is crucial to ensure a smooth and fruitful cooperation. Using MyHomeQuote to spot local bathroom contractors, you can benefit from multiple advantages that make the remodeling process easier and more convenient. First, you get the upper hand locating pre-screened pros experienced in bathroom remodeling. Second, you narrow the search to your county, approaching bathroom remodel companies good in local building codes. Third, you optimize the time spent on hiring the pros as we eliminate the hassle of searching through countless websites or directories. Complete our request form to connect with qualified bathroom remodeling contractors near you with a reputation for delivering quality work.
GET ACCURATE ESTIMATE
Including price quotations from local pros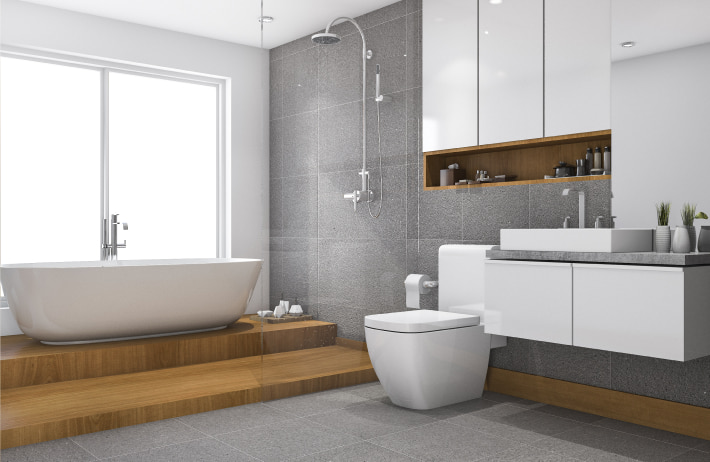 Streamline Your Bathroom Renovation Project With MyHomeQuote

Step 1
Find Local Bathroom Pros
Seek to hire licensed bathroom contractors to revive your space? With us, locating local pros and getting their FREE estimates takes a couple of clicks.

Step 2
Budget Bath Renovation
Get a ballpark cost of your bathroom makeover by specifying your needs and location. Our bathroom pros will contact you with personalized estimates.

Step 3
Get Free Bathroom Quotes
Get up to 4 estimates from bathroom contractors whose service area covers your region. You will be able to compare rates and get the perfect match at no cost.
Secure Top-Tier Bathroom Repair Services to Refresh and Customize Your Space

Find Nearby Bathroom Pros
Rely on our free contractor-matching service to discover the finest bathroom professionals in your area. With our expert recommendations, detailed customer reviews, and tailored search options, hiring a skilled professional will be a breeze.
Compare Bathroom Quotes
Compare quotes from vetted nearby bathroom professionals and secure the best value for your dream bathroom makeover. By evaluating multiple estimates, you can confidently hire a skilled expert who combines quality craftsmanship with budget-friendly solutions.

Hire Top-Rated Contractors
Elevate your bathroom experience by hiring a skilled local professional who understands your unique needs and style preferences. With MyHomeQuote, you can match contractor offers and pick the one who can ensure you a successful and stress-free renovation process.
12.000 +
homeowner requests processed daily
80.000 +
renovation projects performed annually
73%
homeowners get back to us for more quotes
3 out 5
contacts with contractors end up closing a deal
Here's what clients who found local bathroom remodelers through MyHomeQuote say
bathroom
Thank you for your recommendations
For those who seek bathtub installers in Austin, don't hesitate to leave your request on MyHomeQuote. They recommend worthy tradesmen companies you won't regret hiring.
bathroom
A fair bathroom renovation cost
We spent almost a month searching for local bathroom contractors. The prices have jumped twice since the last time we remodel our walk-in shower. However, we still managed to hire an affordable specialist via MyHomeQuote.
bathroom
Good experience
First time using this service. It was a positive experience. Will use it again for sure.
bathroom
Easy-to-use service
I find this way of seeking bathroom contractors quick and efficient.
bathroom
I ended up with great results
There is one bathroom in our flat, and it looked so shabby that we were forced to search for remodelers in pandemic months. Fortunately, we managed to find an independent tradesman via this platform.
bathroom
MyHomeQuote helps find great pros to do the job
MyHomeQuote pairs you with certified pros, not charging for its services. It's a cost-efficient option compared to subscription-based services.
How to Track Down Expert Bathroom Remodel Contractors in Your Area With MyHomeQuote?
Locating a certified bathroom professional familiar with local building codes, regulations, and suppliers is great luck as you can expect not only a quality makeover of your space but also lucrative deals on supplies and plumbing fixtures. Some homeowners spend weeks, if not months, finding a company or individual bathroom contractor who can realize their renovation plans. If hiring the first company that comes across is not your method, the search process might be delayed as you need to get in touch with virtually every local professional, checking their certifications and requesting price quotes. The higher your requirements, the more troublesome it will be to catch the offer that truly fits them. The same goes for low-budget bathroom remodeling projects and extraordinary updates requiring specific materials and contractor skills.
Fortunately, contractor-matching services, like MyHomeQuote, can greatly assist in this task. Our service represents an easy-to-navigate platform where you can search, compare, and connect with bathroom remodel contractors in your area from the comfort of your home. Just open our website, find the needed service, and leave the request while we take care of the rest. Sounds less stressful than searching for bathroom remodeling near you on your own? And so it is! Plus, we don't charge you a dime for our services, ensuring you get personalized price quotes from qualified local bathroom remodeling companies for free.
Our assistance, though, is not limited by contractor-matching services. We also provide you with reviews, ratings, and project portfolios of contractors, as well as resources aimed to help you make an informed decision about the budget you need to overhaul your bathroom. Ultimately, our service saves you time and effort by simplifying the finding and evaluating local bathroom remodel companies.
Take the stress out of finding the right contractor. Complete our request form and let our contractor-matching service match you with top-rated professionals specializing in a broad spectrum of bathroom remodeling jobs.
Remodeling Services You Can Get by Hiring One of the Bathroom Remodel Companies From Our Pool
Hiring a professional from our nationwide network can offer you a wide range of services to transform your space. With their expertise, you can expect services such as complete bathroom renovations, fixture upgrades, tile installation, custom cabinetry, and even accessibility modifications. Our bathroom remodel companies are equipped to handle any size project, whether a small powder room or a master bathroom overhaul. From concept to completion, they will work closely with you to bring your vision to life and create an inviting and functional space that suits your needs and style.
Here are the key bathroom update services you can book through MyHomeQuote:
Tub-to-Shower Conversion
If you're looking to enhance the functionality of your bathroom and maximize space efficiency, transforming your existing bathtub into a stylish and accessible walk-in shower is the best bet. Our bathroom renovation contractors will handle the entire process, from removing the old tub to designing and installing a new shower system tailored to your preferences. They can also assist you with the best shower model that falls within your budget.
Shower Installation and Replacement
Seeking bathroom remodelers near you who have expertise in installing modern showering systems? Now, you can book shower installation and replacement services through our network of trusted professionals. They will help you select the perfect shower design that fits your style and requirements, handle all the necessary plumbing and electrical work, and ensure a precise and efficient installation or replacement process. With our contractor-matching service, you can find a skilled bathroom contractor who understands the intricacies of shower installation, guaranteeing a functional addition to your bathroom.
Bathroom Remodeling
Whether you aim for a cosmetic update or capital overhaul, booking it through MyHomeQuote will have no trouble. Services offered include but are not limited to layout redesign, fixture replacement, flooring installation, cabinetry installation, and countertop upgrades. Our bathroom remodeling contractors have the expertise to deliver high-quality craftsmanship and ensure that your bathroom makeover is completed to your satisfaction. Let us connect you with the best-fit local contractor to create a charming and functional bathroom that enhances your home's value and brings higher ROI.
Bathroom Fixtures Upgrade
Our certified bathroom renovation professionals specialize in a broad spectrum of remodeling services, including furniture and fixture upgrades. Whether you want to replace your outdated faucets, install a luxurious rainfall showerhead, or upgrade to a sleek and modern vanity, our contractors can handle it all. They will assist you in selecting fixtures that match your style and budget, ensuring that your bathroom reflects your personal aesthetic. With their expertise, you can expect a smooth installation process and high-quality craftsmanship. Trust us to connect you with experienced local bathroom remodelers who will transform your space by upgrading the existing fixtures.
Not sure what service you need? Start by completing our quiz. After receiving your contact information and project requirements, we will follow up with clarifying questions to ensure we match you with a crew that can meet your specific needs.
FAQ
What Distinguishes a Bathroom Renovation Carried Out by a Professional Bathroom Contractor from a DIY Makeover?
A bathroom renovation carried out by a professional crew differs from a DIY makeover in several ways. Firstly, a professional contractor has the expertise to handle the entire renovation process, from design to installation, ensuring a high-quality result. They also have access to specialized equipment and materials, which may not be available to DIYers. Additionally, professional contractors are knowledgeable about building codes and permits, ensuring compliance and safety. Overall, hiring a well-proven bath remodeling contractor guarantees a professional finish, while a DIY makeover may lack the same level of skill and precision.
When is the Right Time for a Bathroom Remodel?
The best time for a bathroom remodel may vary depending on individual circumstances and needs. However, common indicators for a bathroom renovation include outdated fixtures, signs of wear and tear, functionality issues, or simply a desire to upgrade the space. It is best to consider your budget, availability of contractors, and personal preferences when deciding on the timing of a bathroom remodel.
How Can I Find Reliable Bathroom Remodeling Contractors in My Area?
When looking for reliable bathroom pros in your area, MyHomeQuote is a great online source to consider. Visit our website and enter your location to browse a list of qualified contractors providing bathroom remodel near you. You can compare their offers, view their portfolios, and even request quotes directly through the platform. Make an informed decision for your bathroom remodeling project by starting your search on MyHomeQuote today.
Can a Bathroom Remodeling Company Provide Design Suggestions?
Yes, a full-stack bathroom remodeling company can provide you with valuable design suggestions. They typically have experienced designers or consultants on their team who can provide guidance and recommendations based on their expertise in the field.
Do I Need to Hire a Plumber to Replace Bathroom Fixtures, or Can a Remodeling Crew Handle This Task?
In most cases, a remodeling crew specializing in bathroom renovations can handle the task of replacing bathroom fixtures without hiring a separate plumber. They are typically skilled in plumbing tasks and can handle the installation of new fixtures such as sinks, faucets, toilets, and showers. However, it's always a good idea to clarify with the remodeling crew beforehand to ensure they have the necessary plumbing expertise and are equipped to handle the specific fixtures you want to replace.
How Long Does Remodeling a Standard Full Bathroom of 40 Square Feet Typically Take?
The time required for remodeling a standard full bathroom of 40 square feet can vary depending on the project's complexity, the extent of renovations, and any unforeseen issues that may arise. However, on average, a bathroom remodel of this size can take anywhere from two to four weeks to complete
What Does a Major Bathroom Overhaul Entail?
A comprehensive renovation of the entire bathroom space may include removing existing fixtures, such as the bathtub, shower, toilet, and vanity, and replacing them with new ones. It often involves updating or completely replacing plumbing and electrical systems, installing new flooring, tiles, countertops, and updating lighting fixtures. Additionally, a major overhaul often includes structural changes, such as relocating walls or expanding the size of the bathroom. Looking to book a major bath remodel near you? Stop your choice on MyHomeQuote. We streamline the hiring process by matching homeowners with pros who meet their location, expertise, and budget requirements. It has never been easier to book renovation services!
Should I Expect Disruptions to Water and Electricity During a Bathroom Remodel?
You should expect disruptions to water and electricity during a bathroom remodel. Depending on the scope of the project, the water supply and electrical connections may need to be temporarily shut off or rerouted. It is important to discuss these potential disruptions with your remodeling contractor and make any necessary arrangements to minimize inconvenience.
What Kind of Warranty Comes With a Professional Bathroom Overhaul?
The warranty that comes with a bathroom update can vary depending on the contractor and the specific terms of the agreement. On average, the term of warranty varies from one to five years. However, it is best to discuss and clarify the warranty details with your bathroom remodel contractor before beginning the project.
May I Keep My Existing Layout While Updating a Bathroom?
It is often possible to keep your existing layout while updating a bathroom. This would involve making cosmetic changes, such as replacing fixtures, tiles, and countertops while keeping the plumbing and electrical configurations intact.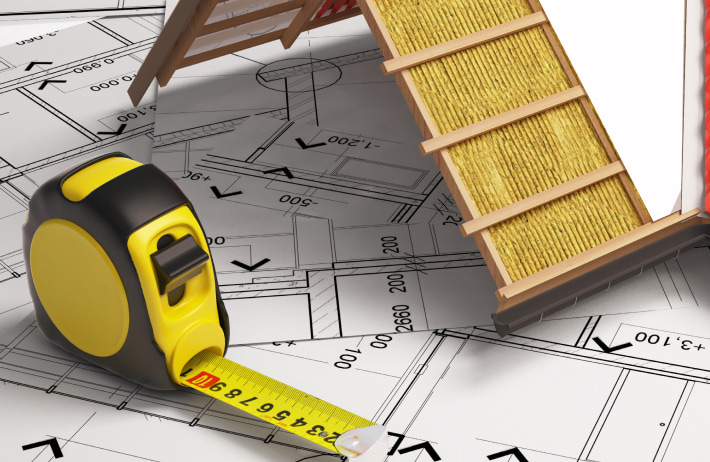 Find thoroughly assessed and
approved local professionals
for major home improvement tasks
Please enter a valid zip code